Things to Do in Ibiza Island, Spain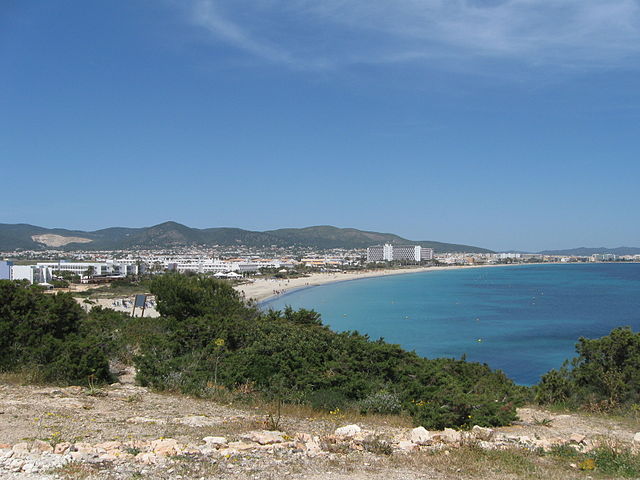 This is a complete travel guide to do the best things to do in Ibiza Island, Mediterranean Sea, Spain.
Spanish islands are the least mentioned island escapes on the web. I have been blogging about several islands in the world. I rarely come across the islands of Spain.
Today, I stumbled onto an old article that covered the ten best places to see in Ibiza. The title spurred me to look up Ibiza on the internet.
I found out it is a Mediterranean island belonging to the Balearic Islands chain that is part of Spain.
I decided to write about the best things to do in Ibiza Island and here are my findings.
Location of Ibiza Island.
Ibiza Island is located in the Mediterranean Sea, to the east of Spain. Its nearest city in Spain is Valencia which is the third most important city in Spain. Madrid and Barcelona occupy the first two positions.
How to go to Ibiza Island?
There are no hassles, friend! Ibiza has an international airport and receives flights from the major cities of Spain. Several other cities of Europe also operate flights to Ibiza Island.
Alternatively, if you want a sea voyage on the lovely Mediterranean Sea, you can go by ferry to Ibiza Island.
There two ports in Ibiza Island's two major cities namely Ibiza Town and Saint Antoni town. You can book your sea passage from Barcelona, Valencia, and Denia. These are the coastal cities of Spain.
In addition, the beautiful island Majorca also operates ferry service to Ibiza Island.
From Valencia city in Spain, the sea journey to Ibiza Island takes about 5 hours only.
Best Things to Do in Ibiza Island
Before we explore the important sightseeing places to see in Ibiza Island, I will tell you about what to eat and where to stay in Ibiza.
Unless you have the information about boarding and lodging in Ibiza Island, I am sure you will not proceed to book your flight tickets-right?
First, let us see know about the cuisine of Ibiza Island.
You can expect the names of the food and drinks very Spanish on the menu card provided by the restaurants in Ibiza.
Things to do in Ibiza- Food
The cuisine will be the Mediterranean of course with the strong influence of Spanish flavor.
I hope you got my point.
Therefore, when you see the following names of the food and drinks on the restaurant menu cards, you can make out what they mean by reading further.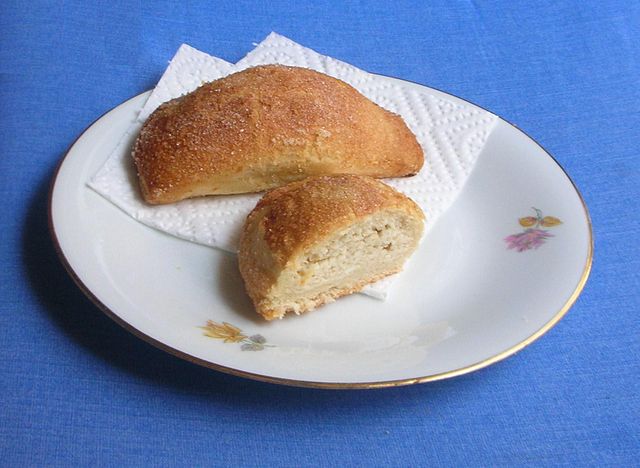 If you want a sweet flaon, you can expect it to be sweetened by honey. Otherwise, the restaurants generally serve flaon as a savory. Yes, it is a bakery dish.
This is a national dish of Spain. Therefore, you can expect it on all the menu cards in Ibiza Island.
There are a few variations of this staple food in Ibiza and in the Spain mainland. I am covering Paella as a rice dish mixed with different meats and vegetables.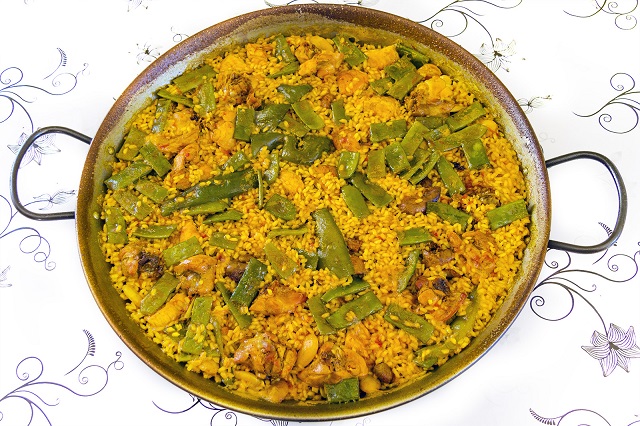 Rice is boiled to perfection. Usually, duck meat is used. Based on availability, rabbit meat is also added. As far as the vegetables are concerned, you will be happy to find the rare 'artichoke' along with broad beans. You will be able to detect the fragrances of saffron and rosemary.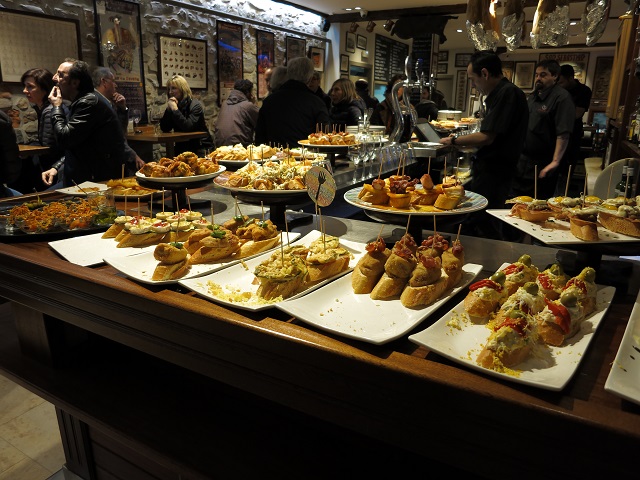 Did you notice the 'skewers' (toothpick) on some of the dishes on the tray? They are all called 'pintxos' alternatively called 'pinchos'.
Pintxo is a snack, a savory mainly that is made with fish and bread. It is a sort of starter in the bar and in houses too.
Fish varieties in Ibiza Island
Names of fish species that are found on the menu cards. If the names are alien to you, then, you will have the urge to try these freshly caught fish. After all, you are visiting an island located in the Mediterranean Sea-eh?
Lubina- a kind of sea bass
Sirvia
Sturgeon-the source of authentic caviar
Cigala Real-a lobster dish
Bullit de Peix- fish stew-this is a must-eat food in Ibiza Island.
Sofrit Pagés-a lamb stew
Sobrassada-a sausage that is a Balearic specialty
Things to do in Ibiza island- Local drinks.

You cannot leave the shores Spain and its islands without sipping a glass of Sangria, a sort of official drink. I think it means a drink to toast. It is a fruit-based drink.
Ah, this is again an Ibiza's special drink made mainly from herbs with a tangy citrus taste.
Hotels and resorts to stay in Ibiza Island.
Well, the options are just too many for you to make your task of choosing difficult. Since the nightlife of Ibiza Island is very popular all over Spain and other neighboring countries, there are countless hotels, resorts, and inns there in Ibiza.
Try to find a hotel to stay in the West End of Ibiza or Portinatx, the northern part of Ibiza Island.
I have mentioned about a few beach resorts under the "Places to see in Ibiza Island" subheading below.
Shopping things to do in Ibiza Island
Next to our eating interest comes shopping. We certainly would like to know beforehand what to buy in Ibiza, a remote island of Spain.
Visit the following market places and flea markets in Ibiza Island:
Punta Arabi
Las Dalias Market
San Jordis Flea Market
San Juan Market
From these street markets in Ibiza, you can buy purely locally made clothes, memorabilia and food products.
More Things to do in Ibiza island- More Popular Places to Visit
Ibiza Island does not offer many places to see. Of course, there are different beaches where you can find full-fledged resorts to stay and spend your weekend holiday.
In addition, Ibiza Island as a whole is frequented for exciting nightlife.
Let us first get to know some of the beautiful beaches in Ibiza Island.
It is a less-crowded beach with some beach games and walking trails.
Ah, it is beautiful with a typical island appearance. Surround by small mountains and posh buildings, San Antoni is one of the most visited towns in Ibiza Island.
San Antonio de Portmany is known to attract thousands of visitors mainly for its long nightlife.
West End is an area in San Antoni where a strip dance club is located along with several bars and restaurants that are open until the wee hours of the next day.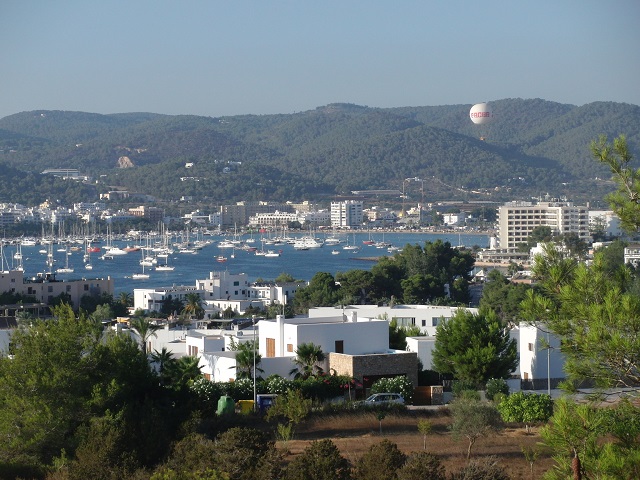 In addition, there is a sprawling promenade called Passeig de ses Fonts where you can see the tourists lingering around till late in the night, enjoying the sound and breeze of the Mediterranean Sea.
San Antoni has a harbor and several ferry docks. You can enjoy a joy ride in one of the ferries. It will take you to some untouched corners of Ibiza Island, secret beaches and even to an uninhabited island called Es Vedra.
A cruise to Es Vedra Island is a must when you go to Ibiza Island, Spain.
Portinatx Beach has a big seafront resort and a few low-priced hotels.
How about an aerial view of the beautiful Ibiza Island and the blue Mediterranean? If that's your cup of tea,  trek to Sa Talaia, the highest point in Ibiza.
The hiking time will be around 30 minutes only. It is worth the breathtaking view. Watching the sunset from atop the Sa Talaia is the sight of your life.
Water sports- Best things to do in Ibiza Island.
Being a remote island in the Mediterranean, you can expect at least the basic water sports that include:
Snorkeling
Kayaking
Banana boat ride
Scuba diving
Diving from cliff at Cala Tarida Beach
Cala Tarida is a lovely beach in Ibiza.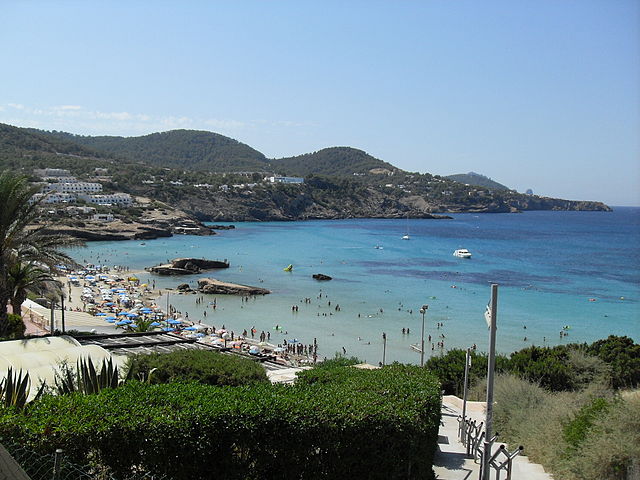 There are some rocky mountains surrounding the beach with minimum height. They are conducive for adventurous dive from the cliff in to the sea below.
Wow! The water is very clear and very blue! I dare not jump from the cliff but I sure would like to cheer up those who jump from the cliff.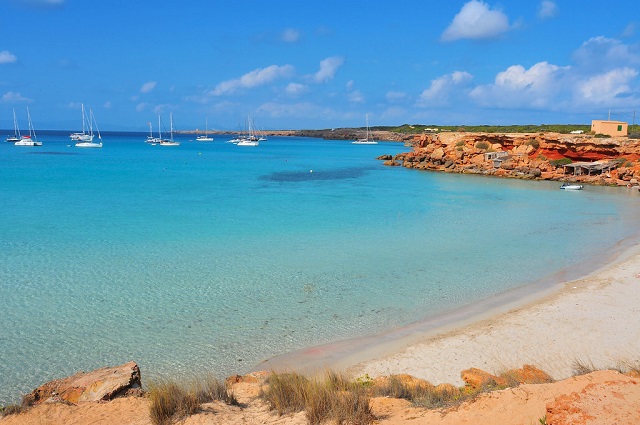 Formentera Island also belongs to the Balearic archipelago. It is located a short distance away from Ibiza Island.
The ferrying time will be less than an hour only. That must be 20km or so, I reckon.
You can go and come back from Ibiza in half a day. You will have the satisfaction of visiting one more Mediterranean island.
Enter the caves of Can Marca
There are some sea caves on the coast of Ibiza and they are known as Can Marca caves.
Sea Caves are rare in the world. If you are able to enter them during day time, you will be fascinated by the still water teeming with marine creatures.
Moreover, the sunlight coming from the crevices of the caves will brighten up the caves with inexplicable brilliance.
So, how do you like this guide to do the best things to do in Ibiza Island, a Spanish island in the Mediterranean?