15 Hong Kong Islands frequented by Hong Kongers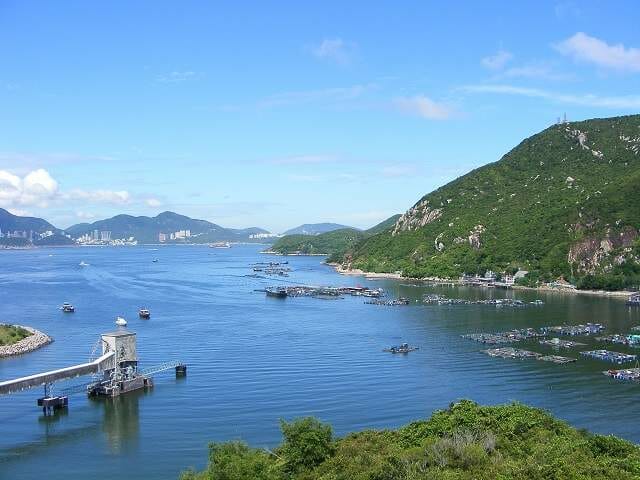 Hong Kong, an extended Chinese nation, comprises 263 islands and islets. Out of them, very few are inhabited.
The Hong Kong Islands are visited mostly by the Hong Kongers and Chinese. However, the local Hong Kongers know the value of uninhabited islands' natural beauty, marine lives, and water based adventure sports and accordingly goes to such islands also where no one lives.
In this blog post, we will look into the Hong Kong islands that the locals go to, quite often. If they are good for them; then, why not for us also?
Where the Hong Kong islands are located?
Since Hong Kong is surrounded on all sides by the South China Sea, all of its islands are located in the South China Sea. Please be aware that Hong Kong is physically attached to China.
Several islands' name in Hong Kong ends with the word, 'chau'. Chau points to the uninhabited islands. It is a Chinese word.
Much of the island is mountainous resulting in steep and sloppy roads.
15 Hong Kong Islands frequently visited by Hong Kongers
Hong Kong islands for holiday.
Tsing Yi Island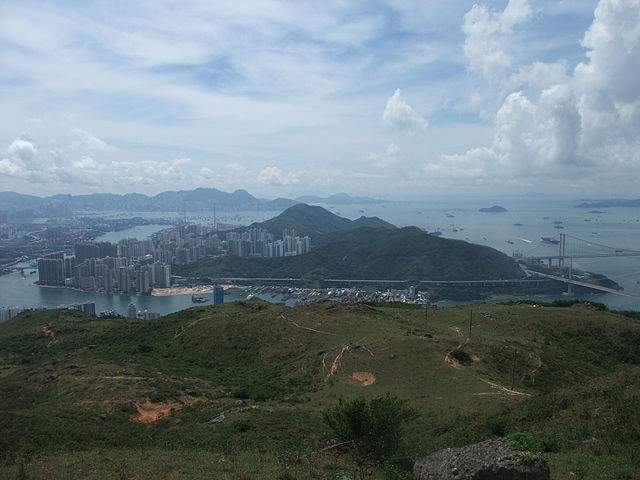 The majority of the islands are situated in close proximity to each other and also from the mainland. I reckon 10 km is the starting distance from the mainland. In 30 to 40 minutes, you can reach them both from the mainland and also from each island. Some islands require two hours of sea crossing.
It is one of the nearest islands to the mainland and is largely urbanized. In fact, the island's natural harbour area too is taken for building constructions.
For a small area comprising just a little less than 11 sq. km, the island is over populated. As many as 200k people live on such a small island measuring just 5 by 4 km in length and width respectively.
Being hilly with abundant green top, Tsing Yi Island is an ideal island for holiday.
Tsing Yi Island is connected with the Hong Kong mainland by as many as 8 bridges. As a matter of fact, the Hong Kong International airport is directly connected by a bridge with the island. In only 10 minutes, you can reach the island from the airport.
The mountains have a few trekking trails that attract the locals from the mainland. If you join a local tour of Hong Kong, you will be taken to the trekking trails of Tsing Yi on your first day itself as it is located very close to the city of Hong Kong.
From Tsing Yi Island, you can visit Lamma Island, another nice island for holiday. The island has a very big shopping arcade where you can buy cheap electronic goods and mobile phones.
Tap Mun Island
It is alternatively called "Grass Island". You can call it an islet as it comprises just 1.69 sq. km.
Youth come to the island mainly to enjoy the unspoiled natural beauty of this small island. On top of the mountain, there are a few campsites to stay. The view of the South China Sea, the Hong Kong city and some of its islands beckon tourists here.
Frequent ferries ply to the island from Hong Kong ferry docks. There is only one restaurant here. If you have never eaten squids, taste them here as boiled squids. I thought squids are eaten raw.
Veteran surfers prefer the waves in Tap Mun. I read kayaking facilities are also available on the island.
There is no hotel to stay on Tap Mun. It is good only for day trips.
Ap Chau
Most of the Hong Kong Islands bear Chinese names as well as English names. For example Ap Chau is alo called Robinson Island.
You can arrive at this island by boat from Kat O Island. The time taken is 2 hours. Hong Kongers visit Ap Chau mainly to enjoy the 2 hours sea passage.
Ap Chau is inhabited by a handful of fishermen. They have a small village on the island.
Occupying just 0.4 sq. km land, Ap Chau is the smallest island for Hong Kong.
Yim Tin Tsai
It is another small island that has a road access over the South China Sea to the mainland.
The biggest attraction is an "isthmus' on this island. When a small piece of land has sea on its either side, it is called an 'isthmus'. It is a rare geographical occurrence and the sight is simply awesome.
When you visit Hong Kong islands, don't miss an opportunity see this isthmus. It has two islands on its sides; they are Yim Tin Tsai and Ma Shi Chau.
It is blessed with 21 ferry docks (mini harbours). Tolo Harbor is one of them. Yim Tin Tsai is situated near this harbour, in the New Territories.
No one lives on this island. No shops or restaurants on this island, not even during the weekends.
However, Hong Kongers visit it just to enjoy the deserted beach all to them.
Reaching Yim Tin Tsai Island:
Sai Kung town is in Sai Kung peninsula. You have to reach this place first. It is located about 18 km north-east of city.
Ferries ply from Sai Kung town to Yim Tin Ysai. Don't imagine a big ship (ferry) that can also take vehicles. Moving between the islands is by 'kaito' ferry which is a small motorboat.
This short ferry rides to Yim Tin Tsai Island takes just 15 minutes.
These are known as 'pleasure vessels' in Hong Kong. You can hire an exclusive kaito ferry that takes you on a tour of Hong Kong Islands. Drinks and food are provided on board.
Soko Islands
This is a chain a few islands and islets that have no public access. I mean there is no kaito shuttling to these islands. A total of 11 islands and islets comprise the Soko archipelago.
However, you can hire a kaito exclusively for yourself (chartering). The kaito will leave the docks of Central Piers, Hong Kong Island.
Two hours will be the sea passage to Soko Islands.
All the islands are empty of human beings. There are quite a handful of rare marine creatures that need protection. Hence, the Soko Islands come under South Lantau Marine Park.
A few rare marine-lives:
Green Turtle
Chinese White Dolphin
Finless Porpoise
It certainly appears rare; I have not come across this marine creature before.
Peng Chau
People live on this island. It is a tiny island with a hill known as Finger Hill. From its peak at 300 feet, you get a spectacular view of the South China Sea.
Reaching Peng Chau is possible in a kaito ferry from the Central Piers, Hong Kong Island. 40 minutes is the voyage. The distance covered is only 9 km.
Since Peng Chau is very close to Lantau Island (10 km) the largest of Hong Kong Islands, kaito operates between the two islands.
Three temples are the top tourist attractions. But the beaches that see no crowd at all are great to spend time.
Tai Lei Island
It is more of a small islet that is connected by a road bridge to Peng Chau.
There are no human settlements on the island but for a electric power house. Walking on the bridge over the sea is anytime a pleasant thing to do.
Tung Ping Chau
Interestingly, this island is located very close to China than its parent. China's southern tip is only 4 km away.
The eastern shore faces a special kin kind of rock that looks like layered sediments. It is called 'Shale' rock. See its video below.
The island is full of hundreds of species of flowering plants including orchids.
Since the island is invariably deserted, only Hong Kongers come here during the weekend just to enjoy the beach.
As there are small cliffs at comfortable heights, the visitors enjoy jumping from the cliffs into the sea.
To cater to their needs, instant eateries are setup and make noodles, rice, and fish curries.
It was an inhabited island once. You can still see some remnants of a few temples and a school. The island is empty of human settlements.
In addition, they enjoy the nearly 2 hours of kaito ferry ride to the island from Ma Liu Shui ferry docks.
Tung Ping Chau is part of Hong Kong UNESCO Global Geo Park.
Ma Wan Island
It is surely an island for holiday in Honk Kong. Uniquely, it lies on the way of a road bridge over the South China Sea linking Lantau Island and Tsing Yi Island. The road connection is known as 'Lantau Link'.
The length of the Lantau Link is 3.5 km. Driving or walking on the link over the sea is simply spectacular and memorable. The sea breeze will sweep you off your feet.
The Lantau Bridge is a two level transportation facility. While upper level is for vehicles, the lower level is a railway link connecting Lantau Island with Hong Kong mainland.
I think these attractions are enough to lure the Hong Kongers to Man Wab Island.
Due to the infrastructure development, Ma Wan Island is a coveted residential area outside mainland.
Park Island apartment complex, Ma Wan Island, one of the Islands.
There is a public park and an amusement park on this island of Hong Kong. There is even a museum on the island.
Hotels are a few in which, you can stay and visit the amusement park and the lovely beaches.
Kat O Island
Like many other islands of Hong Kong, Kat O Island has an alternative name, "Crooked Island", christened due to its shape.
With only 2.3 sq.km area, it is considered as one of the largest Islands. Its location being closer to Mirs Bay, the Chinese mainland is also very near to Kat O Island.
This island is also a part of Hong Kong UNESCO Global Geo Park.
The access is by a ferry from Ma Liu Shui piers. The voyage takes two hours.
Po Toi Island
Did you notice a rock that resembles a human hand in the image? The rocky place is known as "Buddha's Plam Cliff", one of the attractions of Po Toi Island.
As a matter of fact, there is a few more such unique rock formations that the Hong Kongers love to visit. They include:
Monk Rock
Tortoise Rock
Coffin Rock
The rocky backdrop gives the island a wild look. The island is actually a group of small islands and they are situated at the extreme south-end of Honk Kong. They are the farthest of all islands.
Some of its islands include:
Mat Chau
Beaufort Island
Lo Chau Pak Pai
Mat Chau Pai
These plus a few more islands that are part of Po Toi archipelago are uninhabited. Moreover, they are out of any access.
Reaching Po Toi:
The island's beach is said to be very clean and a favourite diving spot for the locals. The island can be reached in about 45 minutes from Aberdeen Ferry terminus, Hong Kong City. The ferries ply only during the weekends.
Stanley, a port town in Honk Kong Island also serves as a gateway to Po Toi Island. In this case, the travel time by a kaito water taxi is only 15 minutes. All the ferries to Po Toi from Aberdeen stops at Stanley to pick up passengers.
Aberdeen Ferry Pier is a quite a busy terminal. Watch the video below.
In addition, there is a promenade to stroll and drink in the beautiful view and to enjoy people watching.
Wherever you tour, people watching is one of the most enjoyable activity. Plazas, piazzas, promenades, and motor-free roads are excellent places for public watching.
Lantau Island
Lantau Island is the largest of all islands.
It occupies 147 sq. km.
The top most attraction in Lantau is the Lantau Peak. Its height is 3060 feet. Imagine the magnificent view of the sea below the mountain from such a height.
It is a highly developed island with several residential towers. One of them is called Tung Chung.
As you have read earlier in this post, Lantau is connected to the mainland by Lantau Link via Tsing Yi Island. The road bridge ends in Kowloon peninsula. It is the most thickly populated area in Hong Kong.
The Disney Land on this island is the biggest attraction and makes it an ideal island for holiday because you can stay on the island's resorts and hotels.
Another tourist attraction in Lantau Island is the cable car ride through mist.
It is called "Ngong Ping 360". The ride takes you to an entertainment village known as Nging Ping Village.
The sky ride in a capsule is not short but it lasts for nearly half an hour! That must be quite an enjoyable ride through the sky filled with mist at sometimes.
Lantau Island is blessed with some thick forests, giving habitat to a range of birds, snakes, and animals.
Nature lovers would walk through the Lantau South and Lantau North Country Park that are set through lush mountains with trekking trails to their peaks,
Other places to see in Lantau Island:
Poi Lin Monastery
Ngong Pin Plateau
Buddha statue installed at 85 feet height
Trappist Haven Monastery
Beaches are fun to spend time. Visit Silvermine Beach, Pui O Beach, and Upper Cheung Sha Beach.
People, who go to Hong Kong, don't miss visiting Lantau Island. As a matter of fact, it is highly recommended to stay on the island during your trip.
With so many things to do, Lantau Island is surely an island for holiday.
Hong Kong Island
Hong Kong Island is the second largest of all islands. It has an excellent natural harbour named 'Victoria Harbour'. On the other side of the harbour lies the Kowloon Peninsula. You can visualize a highly developed island in the southern part of Hong Kong with high-rise residential and commercial towers.
It is connected with Kowloon peninsula by rail and road. Ferries also ply between Kowloon and Hong Kong Island. The voyage takes about 45 minutes only.
Places to visit in Hong Kong Island:
Victoria Harbour
Victoria Peak
A marine park (Ocean Park) This is a water theme park with the usual slides and rides including a mammoth roller-coaster.
Beaches include Repulse Bay, the highly crowded beach.
A shopping mall that rises to a whopping 78 floors. It is called the Central Plaza.
Sky City Church is functioning from the 75th
Scenic trekking through Dragon's Back Trail
Antique shopping in Cat Street. Buy some jade artefacts here.
A museum of optical illusions will keep you visiting again.
Since staying on the Hong Kong Island is expensive, you better stay in Kowloon that offers hotels for all budgets.
Like several other islands of Hong Kong, this island is also mountainous at the heart of the island.
Tung Lung Chau
It is an uninhabited island with rocky backdrop. For the young Hong Kongers who are all mostly courageous, come here to enjoy diving into the sea from the cliffs.
Kaito water taxis take you to Tung Lung Chau from Kowloon. The sea crossing involves 30 minutes ride.
Lamma Island
Located to the west of main Island, it is the third largest of all Islands. It is a historical site with caves and tunnels dug by the Japanese during the World War II.
Reaching this island is possible by ferry from Hong Kong Island. Thirty minutes is the travel duration.
I hope this guide to visit Hong Kong Islands, useful.