20 Beautiful Malaysian Islands to Visit in 2022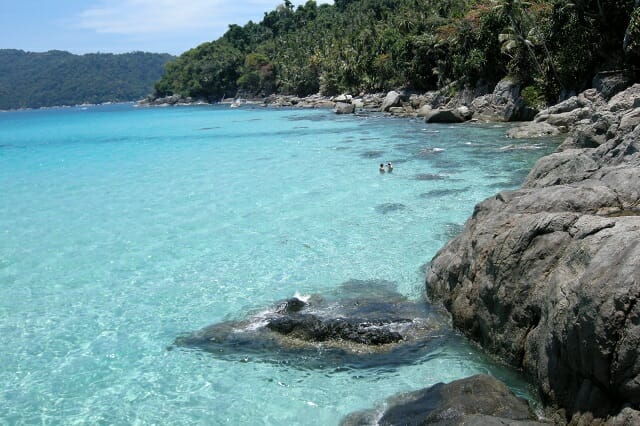 How many of you know that Malaysia has a mind-boggling 20,000 islands and islets? Sabah, one of states of Malaysia in Borneo Island, has its own islands numbering 390+ islands.
Another baffling fact is more than 500 islands in Malaysia are unnamed! This fact was as on 2015.
Sabah is in Borneo which is co-owned by Brunei and Indonesia (larger share). Out of Sabah's 394 islands, one is shared by Indonesia's North Kalimantan within Borneo.
Oh, let us skip these interesting features of Malaysian Islands and try to take a peek at some of the bewitching islands.
It is a difficult task to filter out a handful of islands in Malaysia out of 20,000 islands and islets. I reckon roughly about 500 plus Island in Malaysia are only occupied by human beings.
Still, it is extremely tough to filter them to get 15 or 20 islands that are worthy of visiting.
Which are the seas that surround the Malaysian islands?
Celebes Sea
South China Sea
Pacific Ocean
Sula Sea
Andaman Sea
Malacca Strait
23 Beautiful Malaysian Islands to Visit in 2022
In this blog post, I will skip the most visited Malaysian islands that are Penang, Langkawi, and Sipadan islands because they have been frequently covered by travel bloggers.
I will stick to the beautiful Malaysian islands that are less-crowded but don't lack in stunning places and give very good value to your money.
Banggi Island
It is the largest Malaysian island and surprisingly, it is part of Sabah, only a state of Malaysia. Sabah and Sarawak are two states of Malaysia which are located within the island of Borneo.
Borneo, the third largest island in the world is co-owned by the Sultanate of Brunei, Indonesia, and Malaysia.
Banggi Island is situated between Sulu Sea and South China Sea, north of Sabah.
This island in Malaysia should be your first choice if you want to explore the real Malay land. In addition, it is part of the huge Tun Mustapha Marine Park. There are 49 more islands within the marine park. Visiting at least 10 of them will be enjoyable as they are all uninhabited.
In spite of being a Malaysian island, the majority of the people speak Ubian language. Imagine the cultural history of the Banggi Island that must date back to several centuries.
Surely, their cuisine also will be very different from Malay cuisine.
To reach Banggi Island, you can take a ferry from Kudat, a port town in Sabah. The sea passage takes an hour.
Balambangan Island
It is another one of Malaysian Islands that is part of Tun Mustapha Marine Park. Its location is just 3 km west of Banggi Island.
There is a peculiar range of wildlife here. Bats are happily living here in thousands. I suppose they are hardly disturbed here. But then, on what is do they prey on this island?
Keeping the bats company are snakes and crocodiles! A couple of ancient caves that were naturally formed offer interesting stalactitee formation on their roofs.
Some natives live here, enjoying the island to themselves. They get busy fishing in the day and in the night, they just sleep out.
Malawali Island
If you like to dive alone without any onlookers, then, this is the ideal place for you. Malawali Island is the third island that we are exploring within the Tun Mustapha Marine Park. It is not far off from the previous two Malaysian islands.
Malawali Island also belongs to the Sabah state of Malaysia.
Lankayan Island
Lankayan Island also belongs to Sabah and is surrounded by Sulu Sea, on the eastern coast of Sabah. Whale Sharks are seen off the island's shore.
If whales are sighted, you can be sure of the presence of Barracuda.
There is a bigger range of marine lives here that attract visitors and marine biologists.
To name a few more marine species:
Giant Clams
Scads
Decorator Crabs
Guitar Fish
What an appropriate name!
More of thorns than pipes!
This is a stunning looking fish!
Turtles don't lag behind. Both the green and hawksbill turtles are spotted in large numbers on this Malaysian island.
Such a big range of marine lives naturally is warranted the creation of Sucud Islands Marine Conservation Area by the Sabah government.
Going to Lankayan Island is easy from Sandakan, Sabah. A fast-boat deposits the passengers in just two hours. I think I will enjoy the voyage in Sulu Sea.
Selingan Island
After including this island in the Turtles Islands National Park, it is re-named to Selingan Turtle Island.  Selingan and its two more neighbours are home to hundreds of turtles that are safely protected here.
I think the sea creatures somehow sniffed their safety here and hence started nesting, breeding, and hatching their eggs on the beach.
Rawa Island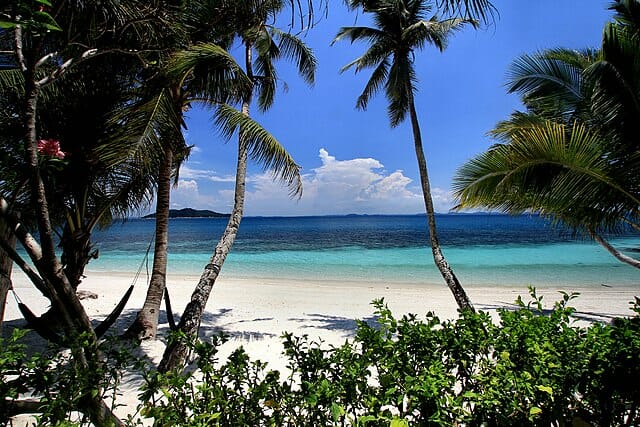 In Malay language 'Pulau' is the word for island. So, every island's name is preceded by the word, 'pulau'. For example, this island is locally known as Pulau Rawa.
Rawa Island is surrounded by South China Sea, on the west of Borneo.
What are specials on this island?
White doves (Rawa) are living freely on this island in Malaysia. In the sea, divers and snorkelers reported sightings of rich coral reefs.
Along with rich corals, the sea is pregnant with quite a number of fish species that include:
Jellyfish
Squids
Octopuses
Reef Sharks
The rich underwater lives have been attracting a number of tourists from Malaysia, Singapore, and Philippines. To meet their needs, two resorts have come up here.
For a change, we are turning our focus away from Sabah. Rawa is located close to Malay Peninsula. In this peninsula lies a town called Mersing, located almost at the tip of Malay Peninsula.
From here, boats ply to Rawa Island. The boat ride takes just 30 minutes to reach Rawa Island.
For your information, Rawa Island is part of Pacific Ocean.
Tiomen Island
It is an island in Malaysia that is strikingly beautiful. It is not spoiled by large-scale commercialism.
Look at the mountain that is abruptly rising from the South China Sea.
Apart from the island's dense tropical forests, its waters teeming with corals attract both forest walkers and snorkelers.
Quite a handful of staying options take care of the tourists. Among the hotels, there are some resorts also that the rich and famous seek.
Places to see on Tiomen Islands:
This beach is bit away from the center of the island but it is worth visiting. It is accessible only by boat. Near the Panuba Beach lies a well-known resort called Panuba Resort. Tiomen Islands have a few well-equipped resorts.
Panuba Resort is built in a private bay assuring the guests, the use of their own beach that is not open to others. Apart from the resort, one can rent an overwater chalet. Snorkeling masks are available for rent.
Salang is one of the villages in Tiomen Island. It is a popular scuba diving spot. The reefs offshore attract diving veterans.
It is a sort of upcoming town with necessary fundamental infrastructure such as some hotels to stay, a restaurant, a few bars, and even a bank. It is a calm village and lovely to look at. The slow-paced life on the island is quite appealing.
Image attached
Other activities on Tiomen Island
Yoga, ATV rides, bicycle tours are some of the outdoor activities that one can indulge in Tiomen Island.
The Berjaya Tiomen Resort in Tekeke village is a wonderful place to stay. The guest can even play golf. Golf on an island with sea breeze caressing you is nothing short of life in a paradise.
Recommended restaurants and cafes to eat in Tekeke, Tiomen Island
Though seafood is the predominant food on any island, the availability of different fishes, crabs, and squids can give us a different taste.
Tiomen Cabana Bistro is a seafront small, makeshift kiosk to eat.
Warong Syahirah-another eater functioning from thatched-roof shed
Sarang Seafood Restaurant
Don't expect a restaurant functioning from a real building. All are in the form of thatched or tin, or asbestos roof sheds.
Nonetheless, the Tekek village is a lovely place, sunny, and surrounded by lush mountains.
Tiomen Island has an airport! It receives domestic flights from Kuala Lumpur's Subang airport.
Ferries ply between Tiomen Island and Mersing, Johor.
Layang Layang Island
I am damn sure the majority of you have not heard of this small island in Malaysia. All the more, it is a secret heaven with unspoiled beauty.
In spite of being a hidden island, it is connected with flights from Kota Kinabalu, the capital of Sabah, Malaysia.
Layang Layang Island is a part of Sabah. It is actually an atoll. Do you what an atoll is? It is a ring-shaped island. On the rim of the circle, are small islands and islets. An atoll is usually a part of an archipelago. Layan Layang atoll is a part of Spartly Islands comprising numerous atolls, reefs, and cays.
Layang Layang island is locally known as "Swallow Reef" and is located in South China Sea. This means, these reefs are on the western coast of Borneo Island.
Note: Do you know the distance between mainland Malaysia and its state Sabah in Borneo? It is roughly 1500 km!
Layang Layang Island is a hotspot for scuba divers. The waters of this Malaysian island is a habitat for Hammerhead Sharks. Other marine lives that the divers show interest on include:
Jackfish
Manta ray
Pygmy Seahorses
Overall, Swallow Reef is a good destination for a weekend holiday.
Mabul Island
Inexplicably, this part of South East Asia is laden with exotic marine creatures. That fact attracts quite a lot of tourists, marine biologists, and scuba divers.
Mabul Island is south of Borneo and is rather very close to Sipadan Island, one of the popular Malaysian Islands. Just 15 km of South China Sea separates them. It is also a part of Sabah.
The underwater creatures in the waters of Mabul are:
Blue-ringed Octopuses
Cuttlefish
Bobtail Squids
Painted Frogfsih
Scorpion Fish
If these marine lives add to your curiosity, then, make a short half a day trip to Mabul Island from Sipadan Island. Only 15 minutes of boat ride is required to reach Mabul.
Considering the small size of this island, there are a number of overwater huts to stay.
Do you want to see these exotic fishes but don't know scuba diving? Absolutely no problem, mate. Hire a Molokini which is nothing but a fully-transparent kayak. Of course, you have to manouvere the kayak.
Even as you hit the water, you can watch all those underwater creatures through the transparent bottom of the kayak.
Here is a video of a transparent kayak.
What an innovation!
Have you ever watched the colorful Regatta festival? If you plan your trip to Mabul Island in April, check out the dates of regatta  festival prior to booking your flight tickets either to Sipadan or Kota Kinabalu.
Mabul is one of the must-visit Malaysian Islands during summer.
Pangkor Island
Before knowing the location of Pangkor Island, it is better to know a bit about the Strait of Malacca in which Pangkor is located.
It is lying between Malaysia and Singapore. It is almost an extension of Andaman Sea and merging with South China Sea.
Let us now get to Pangkor, one of the beautiful Malaysian Islands.
Now that you know the location, let us explore the ways to reach Pangkor Island.
Lemut, a beautiful coastal town in Manjung district, west Malaysia. Lumut is the gateway to Pangkor by ferries. The voyage takes 45 minutes only.
If you start driving from Kuala Lumpur, you can reach Lumut in just 3 hours.
Of late, there exists a bridge between Lumut and Marina Island. This cuts short your traveling time to Pangkor. Only 10 minutes of ferry ride remains once you drive up to Marina Island.
There is an airport here but it receives only chartered flights from mainland Malaysia.
Pangkor Island is visited by both the Malaysians, and Singaporeans. Their boarding and lodging needs are met by several hotels and resorts that dot the western coastline of Pangkor.
The beaches attract most of the tourists that stay in one of the hotels on west Pangkor.
Strangely, you can spot several hornbills on this island. I saw them in Singapore also on Sentosa island.
Pangkor Laut Island
What do you make of the picture? Can you recognize the infinity pool that seems to merge with the Malacca Strait?
It lies very close to Pangkor Island. Only 4 km is the distance between the two. Both the mother and daughter are situated in Malacca Strait.
The 300-acred island is converted into an excellent resort. At least to have a look at the infinity pool, Pangkor Laut Island is worth a visit.
Giam Island
It is too small an island to stay but you can make a trip to it by boat from Pangkor. Somehow, it got famous among snorkelers. I wonder what they see there that they don't see in Pangkor!
The distance between the two islands is approximately 400 meters. Rarely, when the tide is too low, people can walk up to the Giam island. That would be memorable-walking to an island from another island-right?
Kapas Island
What an ideal scene in an island! Coconut trees amidst a small jungle abutting a beach in any island add to the beauty of the place.
Officially also, this tiny island in Malaysia is known to possess tropical forests. This island is known for its coral reefs near the shore. The beaches wear attractive white sand.
That, plus the coral reefs pull divers and trepid snorkelers. Strangely, a particular species of land snail is found in abundance here.
The shell is beautiful!
Perhentian Islands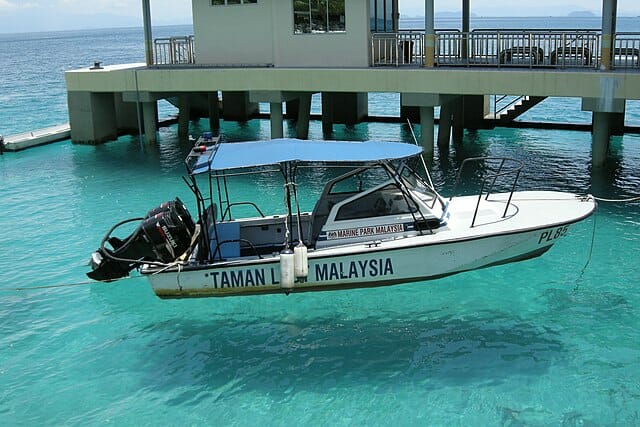 A group of 5 small islands form the Perhentian archipelago that is located in South China Sea, on the east coast of Malaysia. It is on the other side of Malacca Strait.
As the photo of one of the 5 Perhentian Island points out, the sand on the beach is a beautiful white. Out of the five islands, only two are worthy of visiting. They are Perhentian Besar and Perhentian Kecil. The other much smaller islands are uninhabited.
These Island in Malaysia are accessible only by a boat from Malaysia's Kuala Besut boat jetty.
Again, Green and Hawksbill turtles are found in large numbers on this island. It seems the Malaysian islands are world headquarters for these two rare sea turtles.
Mantanani Islands
Three islands comprise the Mantanani Island chain. They go by the name Besar, Kecil, and Lungisan; all these three names are preceded by Mantanai.
Wildlife watching in Malaysian Islands:



The waters of Mantanani islands act as a habitat for the sea mammal known as 'dugong'. It is also known as 'sea cow'.
On the island live several beautiful species of pigeons. I like this particular 'pied imperial pigeon'.
The Nicobar Pigeon also is quite attractive.
Other avifauna species that you can spot on this island include:
Three species of sunbird
Black-naped Tern
Brown Booby
Reaching Mantanani Islands
Boats leave from the Kuala Abai boat jetty that is located 80 km north-west of Kota Kinabalu, Sabah, Malaysia.
Tiga Island
Would you like to set afoot on an island that that was formed naturally only about 125 years ago?
Would you like see an island that has a few mud volcanoes?
At least, would you like to see an uninhabited island but still managed by a skeleton staff of Tiga Narional Park of which the island is also a part of?
Then, Tiga Island should be your destination. Malaysian islands are known for evergreen rainforests. They look lusher when not inhabited by human beings.
It is located on the western coast of Kota Kinabalu, in South China Sea.
Payar Island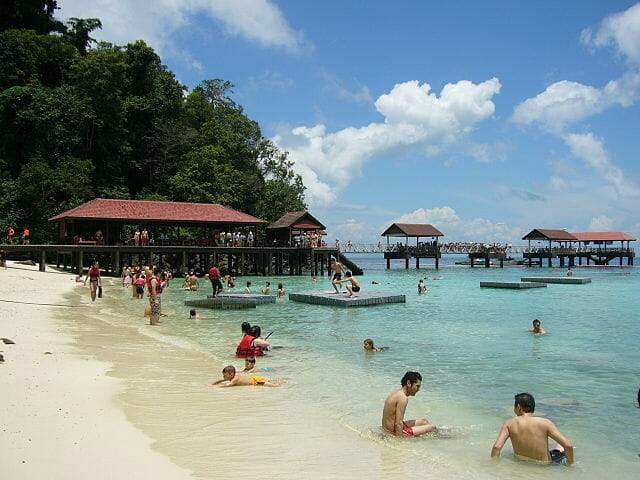 The sea is calm and looks almost like a lagoon here. That's why even children are seen playing in the water.
This island in Malaysia is located in Andaman Sea. It means, it is near the Northwest Malaysia and is part of Kedah, one of the states of Malaysia.
Payar Island is a part of Payar Island Marine Park that was created to protect the rich and diverse marine lives. That protection makes it an attraction for the divers and snorkelers. The island's water is a habitat for colorful corals.
You can walk across this island in 5 minutes as its width measures just 250 meters!
Since there are several facilities offered that include restaurants, barbecue tables, restrooms, and gazebos in the beaches, Payar Island is always filled visitors.
The highly popular Penang is the gateway to Payar Island. Ferries take you to Payar from Penang in about 2 hours.
If you are already touring Langkawi Island, you can quickly dash to Payar in less than an hour because Langkawai Island is located just 35 km south of Payar.
Redang Island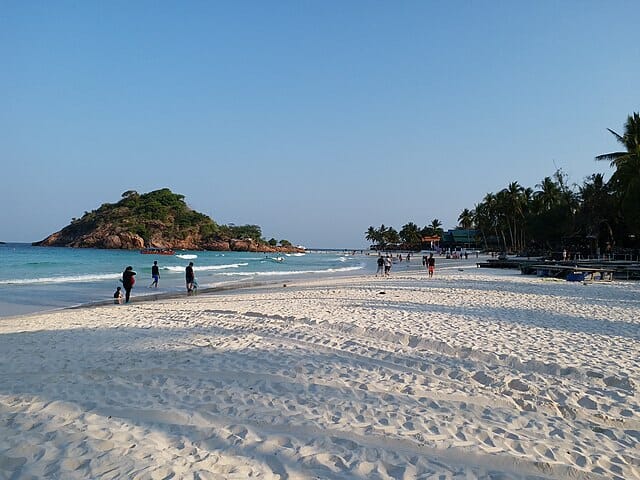 Look at the narrow strip of land with white sand! On either side of it is the South China Sea. It is very scenic and attracts filmmakers.
That narrow beach is known as "Pasir Panjang Beach".
Redang Island is surrounded by 8 more small islands and islets. All these islands are on the eastern coast of Malaysia mainland.  The other islands' name are not important here. Redang is ranked high the list of the most beautiful islands in the world.
I am sure it is news to you because you are coming across its name for the first time-right?
The rich marine lives and coral reefs are protected by a marine park.
The narrow white beach you saw above is dotted with a few resorts and they command high occupancy rate, right though the year. The Laguna Redang Island Resort is stunning with spectacular views of the South China Sea. The rate is comparatively cheaper than other resorts.
The resort has as many as 276 rooms of different sizes, vies, and rates.
It is extremely beautiful.
Warning:
Don't plan a trip to Redang Island anytime between November and March because of severe monsoon.
Manukan Island
The distance from Kota Kinabalu is only 8 km but the ferry takes nearly half an hour to cover the distance. As it is located very near to Kota Kinabalu, the capital of Malaysian state Sabah in Borneo Island, the traffic is good between Sabah and Manukan Island.
A couple of resorts with good restaurants meet the needs of weekend tourists from Kota Kinablu.
Mataking Island
This island in Malaysia also is on the east coast of Sabah. The island is floating in the Celebes Sea, below the Sulu Sea. It is the talk of the town because of its underwater post office. A shipwreck is used for the purpose. Only highly experienced divers can access the submarine mailbox.
The island itself is a resort island owned by a private businessman.
Another unique feature of Mataking Island is the facility for us to walk to its sister island named Mataking Kecil.  A sand-bar that is half immersed in the Celebes Sea is still visible for us to tread on it to reach Mataking Kecil. It will take 20 minutes of walking because of wet sand.
This is essentially a haven for scuba divers. As a matter of fact, most of the Malaysian islands are noted for diving and snorkeling.
Mataking is accessible from PomPom Island, and Semporna coastal town in Sabah by boat. The travel time is only 20 minutes from Semporna.
Apart from these less-visited Malaysian islands, there are highly popular and much-crowded islands that include Penang, Langkawi, and Sipadan.
For a world of diverse marine lives, unmatched and unspoiled natural beauty, and affordability, Malaysian islands are our best choice.