Best Things to Do in Banda Islands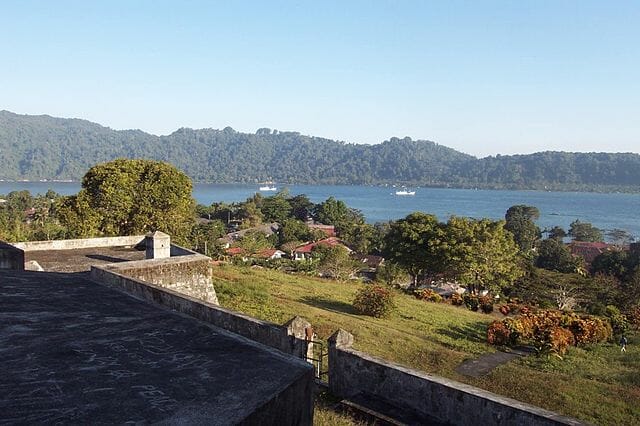 I am onto my familiar grounds; Oh, I should rather say "familiar ocean'. Yes, I am going to explore a few islands of Indonesia that posed some challenges to me as far as touristy information is concerned. Banda Islands constitute 10 islands of volcanic nature. All the islands are situated in Banda Sea which is part of South Pacific Ocean.
Yes, the Indonesian Islands extend that far, almost upto New Guinea! Oh, even part of New Guinea (Papua New Guinea) belongs to Indonesia.
Location of Banda Islands:
These 10 islands are east of Sulawesi Island, which is a large Indonesian Island. The Banda Island chain itself is part of Maluku archipelago that comprises over 1000 islands! OMG! I am sure more than 90% of them must be uninhabited.
Here is the location map of Banda Islands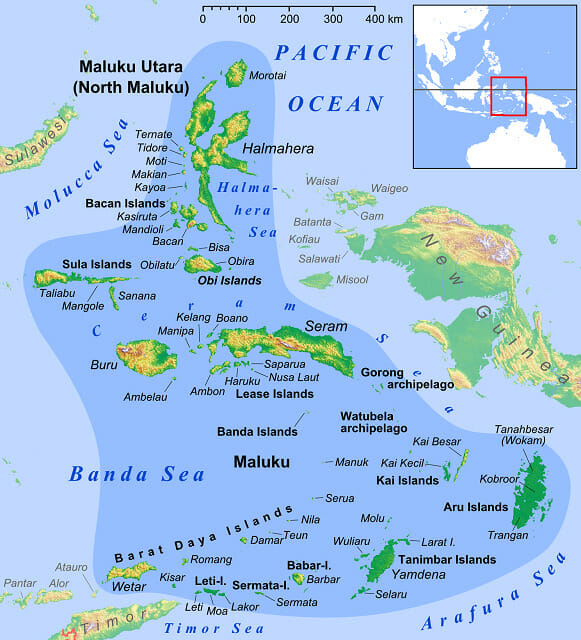 Did you notice the numerous islands in a large odd-shaped archipelago west of New Guinea? I could read the following chain of islands:
Banda Islands just above Maluku archipelago
Tanimbar Islands
Watubela archipelago
Kai Islands
Gorong archipelago
Aru Islands
Obi Islands
Bacan Islands
Lease Islands
Sula Islands
Barat Daya Islands
Indonesia's main island groups are:
Sunda Islands
Sumatra Island
Java Island
Borneo (Kalimantan)
Maluku
New Guinea
Do you know Indonesia owns as many as 17,508 islands? I think there is still a doubt about that total. There may be some more.
Only 6000 islands out of 17,000+ are inhabited. I am sure even 6000 inhabited islands is a staggering number.
Ah, getting back to the location of it, they are located a whopping 2000 km east of Indonesian capital Java.
They administer a part of their country that is located so far away.
How to reach Banda Islands?
What I am about to reveal will entice only true island lovers. Casual tourists may show disinterest.
Even from the location map, I could see Banda islands are way out of familiar sea routes. You have to travel nearly 9 hours by ferry from Ambon, the capital of Maluku Islands. You would reach Bandaneira, one of the Banda Islands.
Keeping in mind about the infrequent sea connection, you can explore the schedule of flight from Ambon to Bandaneira city in Banda Neira Island. The island carries an alternative spelling "Banda Naira".
Fact:
As of now, the Banda Islands are the major and largest source of nutmeg, cloves, and maze, the three main spices in the spice world. As a matter of fact, all the Banda islands and the islands of Maluku are called "Spice Islands".
By the way, you should know the names of all the ten Banda Islands.
Run
Ai
Pisang
Manukang
Hatta
Banda Besar
Banda Neira
Banda Api alias GunungApi
BatuKapal
Keraka
All are not inhabited. Nearly 16k people in them.
Best Things to Do in Banda Islands:
I watched a few video clips of it. The scene is really breathtaking. The ocean is generally calm. There are quite a few mountainous backdrops including a volcano; an active one, boss!
The atmosphere is tropical with evergreen trees and lush jungles. Maze and nutmeg trees are seen everywhere, filling the moist air with their aroma.
Banda Neira Island
The most important town in all of the Islands is located on this island in the same name. There is nothing much to see except an old, dilapidated fort.
On other Banda islands also, you can see some old forts built during the colonial era.
However, there are quite a few things to do here including:
Scuba Diving
Snorkeling
Boat trips to other islands
Hiking the volcano in Gunung Api. The summit is situated at 2100 feet. Depending on individual's fitness, the hike can take up to three hours. The views of the Pacific Ocean and other islands are likely to slow down your progress.
Interact with the natives
Visit a few villages where the fishermen live
What to eat in Banda Islands:
Fish, fish, and more fish. If you are looking for a variety in fish, you can order Barracuda the previous day. As a matter of fact, anything from the ocean has to be ordered a day earlier because there is no facility to store the fish. Remember, you can eat a variety of fish but the cooking method is only one and that is fried fish.
Wildlife viewing:
There is hardly any information about the wildlife of Banda islands in spite of lush forests. I expected a few sightings of birds but sadly no.
Whale spotting and dolphin sightings are possible but you have to charter a boat for a private trip.
Cruise tours:
From Ambon, a few exclusive cruise tours offered. They are all focused on the spices that the islands grow in large scale. Search for Spice Islands tour from Ambon to get the full details.
Since there are not many tourist attractions except scuba diving and snorkelling, tourists stay in Ambon, Maluku and plan a day trip to Banda islands that are totally pristine and everything looks fresh there.
Do you like such a scene?