22 Engaging Things to Do in Sarawak, Malaysia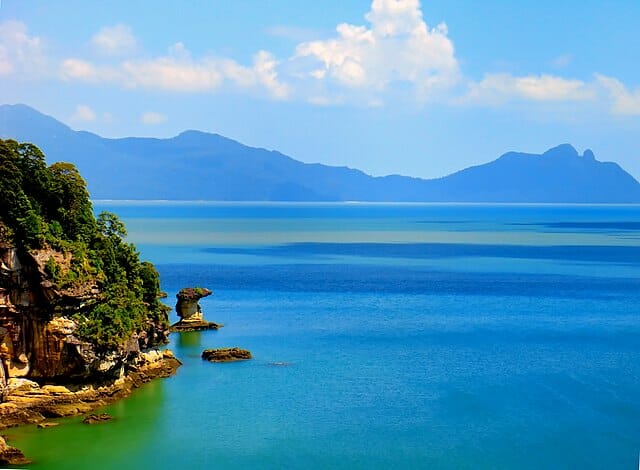 Sarawak is one of the largest states of Malaysia, but it is not located in the peninsular Malaysia. Sarawak is located in Borneo, an island that is surrounded by:
South China Sea
Sulu Sea
Celebes Sea
Java Sea
Borneo Island is owned by three countries:
Indonesia's part of Borneo is a lion's share and it is divided into 5 provinces namely:
East Kalimantan
Central Kalimantan
West Kalimantan
North Kalimantan
South Kalimantan
The Malaysia's part of Borneo is divided into two states that are:
A tiny portion of Borneo is owned by Sultanate of Brunei.
22 Engaging Things to Do in Sarawak, Malaysia:
In this blog post, we will look into all the things you can do in Sarawak, as a tourist. There are too many places to see in Sarawak and you need a full week to see all the Sarawak attractions.
Location of Sarawak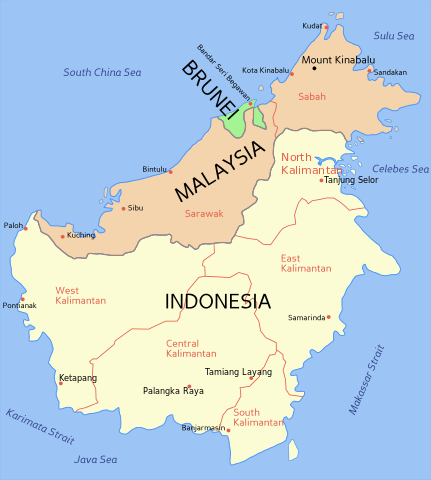 The map above clearly shows the location of it as a part of Borneo Island.
Size of Sarawak
It occupies a staggering 1, 24, 450 sq. km! That is equivalent to the entire size of Malaysia's mainland in South East Asia.
How to Reach Sarawak:
Sarawak's capital is Kuching. It is situated almost at the southwest end of Sarawak.
Thought there is an international airport in Kuching, Sarawak, not many countries give direct flights.
Of course, it is well serviced by flights from Malaysia's main cities. Even from Kota Kinabalu, the capital of Saba, the adjoining state of Malaysia in Borneo, connects to it by flights.
Singapore operates direct flight to Kuching. The flying duration is 25 minutes only. Interestingly, there is a ferry that plies between Singapore and Kuching, Sarawak. The voyage in the South China Sea takes only 4 hours. This will be a good experience when you think of traveling to Sarawak.
Mumbai in India operates direct flights to Kuching,, Sibu, Min, Bintulu, and Mukah, the main cities in Sarawak. All are long haul flights. The minimum duration is 11 hours and 40 minutes to reach Kuching.
There are no sea links to Sarawak.
Where to Stay in Sarawak?
Kuching is obviously the best place to stay in Sarawak. I found a little more than 200 hotels in Kuching alone.
That many numbers of hotels imply a diverse range of prices including small budget hotels for backbackers, single travelers, and professional vloggers.
Among the 200+ hotels to stay in Kuching, there are about a dozen hostels that suit the budget travelers.
Homestay options are also on, but strangely, I did not find any Airbnb listings, the primary source for hometsays in the world.
What to Eat in Sarawak?
The food scene in Sarawak suits those who are used to like Chinese cuisine. The food is predominantly non-vegetarian. Vegetarians may find it tough to get along in Sarawak, though Kuala Lumpur has vegetarian restaurants.
Here are the names of some of the Sarawak's specialties that you will find on the menu cards.
Kolo Mee-Egg Noodles eaten for breakfast. If you are on a budget, eat this Sarawak dish in street food stalls. The price is damn cheap and the quantity is also substantial, so much so that, you can even forego lunch.
Laksa-Rice and shrimps or noodles and shrimp (what a combination)
Midin-This is a veg. dish. A wild fern that looks like French beans and the fern is fried with onion and served with a kind of fish sauce.
Manok Pansoh-when you read this in the menu card, you can order without any further thoughts as it is a unique chicken that is cooked in bamboo shafts and served with rice or noodles.
Dabai
This Borneo-born fruit is seasonal. Try it when you are touring Sarawak. Eating the local food is one of the interesting things to do in Sarawak.
List of Sarawak Attractions:
Bako National Park
Malaysia is known for some of the top tropical forests in the world. Such dense jungles are home to unlimited and rare wildlife that are worth seeing.
In Bako National Park, the star of attraction is the funny-looking Proboscis Monkey.
Kuching city is not far off; 40 km is the diving distance. The national park looks absolutely lush and serviced by two tropical rivers namely Kuching and Bako.
As one of the main attractions, the forest is home to abundant wildlife, many of which are totally new to even a seasoned wildlife enthusiast.
Rivers, mountain streams, waterfalls can be seen if you trod on walking trails.
The Proboscis Monkeys alone are found in large numbers and they are diversified into 150 species!
Being a rainforest, there is no dearth of poisonous snakes that are capable of swallowing monster lizards.
Speak to your tourist guide and insist ion seeing the incredible 'sea stack' in the South China Sea.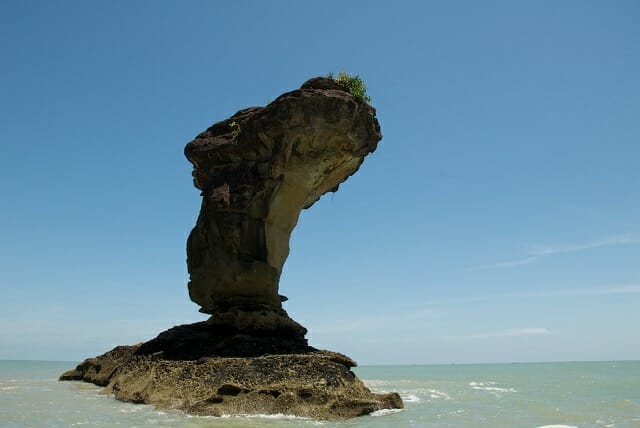 If you happen to come across a plant that looks like this: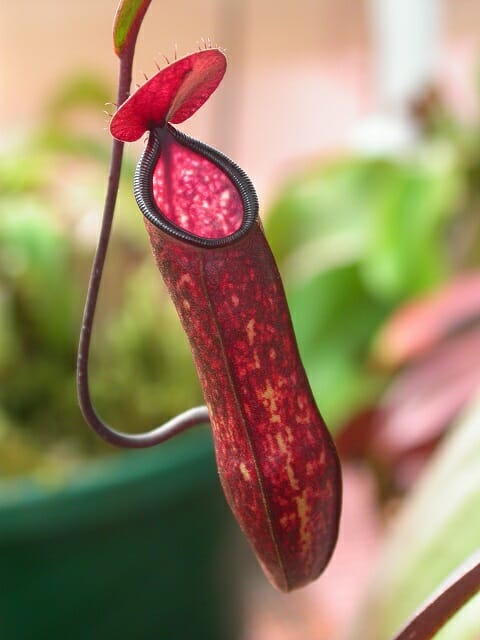 Know it is an insect eating plant. It is a rare sight. Wait patiently to capture a live video of the plant trapping a predator.
Please be aware that the Bako National Park is accessed through a boat only.
Visiting Bako National Park is one of the foremost things to do in Sarawak.
Kuching
Kuching is one of the main attractions in Sarawak. The city is known as the cleanest city in entire Malaysia. That must be a prestigious award considering the size of Malaysia measuring a huge 330,000 sq. km!
Do you know:
Do you know about an interesting fact about Sarawak? It was part of the kingdom (Sultante) of Brunei until 2 centuries ago.
Recognizing the help in suppressing a local rebellion, the Brunei Kingdom gifted it to an individual named James Brooke. Sarawak became its own territory until 1941, when the Japanese seized it.
Places to see in Kuching:
Podungan – shopping area, night clubs, and high-end hotels
China Town
Satok-budget hotels to stay and busy market during the weekend
Santubong Beach
Jalan India
If the displays of museums interest you, Kuching can engage you for a full day. There are several museums of which Sarawak Museum, Chinse History Museum, Cat Museum, Sarawak Timber Museum are noteworthy.
Sunset is said to steal your heart while you are in Kuching. Watching the blazing reddish-orange ball, sinking in the sea is one of the top attractions in Sarawak.
Here is a video that shows the life in Kuching.
The city of Kuching is surely a hotspot for tourists to Sarawak. Moreover, Kuching is the gateway to all the places to see in Sarawak, Borneo Island.
Darul Hana Bridge
Alternatively called the 'Golden Bridge', walking on it, is one the memorable things to do in Sarawak.
Choose to walk once, early in the morning, and once when the city lights are turned on. As the video above shows, Kuching seems to be the happening place.
Kuching Reservoir Park
It is a scenic place overlooking the Sarawak River. The local Malaysians are seen jogging along the scenic jogging track.
Sultan Planetarium
A planetarium is an anytime attraction, and all kinds of people are drawn towards watching what is happening high above them in the space.
Kuching Waterfront
Unlike a promenade abutting a sea, the Kuching Waterfront is on the banks of Sarawak River.
As one of the star attractions, peple can be seen walking on the 5.5 km long promenade that slowly rises up to 700 feet, expanding the view to stunning vistas.
Kuching Waterfront is the right place to hang around in the evening and watch diverse set of people. It is a place for perfect pastime.
Tua Pek Kong Temple
This is a Chinese temple and one of the earliest buildings in it. Pek Kong Temple is a major tourist landmark and is part of the Kuching city center.
Kapit
Kapit is one of the cities in Sarawak. It is situated on the banks of River Rejang. Visiting Kapit is one of the things to do in Sarawak and it is all the more interesting to note that you need to reach the city by a boat from Sibu, another big city in Sarawak.
The boat ride takes two hours.
Kapit is the gateway to go to Belaga, the place to meet the natives of Borneo Island. You reach Belaga from Kapit, again in a boat.
Please be aware of the fact that boat ride is in Rejang River and not in South China Sea. The boat ride is very picturesque. You can see dense jungle on both the sides of the river.
You can catch glimpses of the rainforest's wildlife as you move on. If you are a seasoned bird watcher, you will be glad that you have decided to undertake the long boat journey to Belaga.
From Kapit to Belaga, the boat journey takes up to 5 hours.
I read there are roads to reach Balaga but it won't be a smooth ride. I would prefer rive cruise; it is more enjoyable.
The natives of Borneo are called Dayaks. They live inside the rainforests of Borneo. The name 'Dayak' is basic.
There are several ethnicities within the Dayak. Surprisingly, they all speak different languages even though, they all live on one island.
Meeting the natives of any nation or island is one of the most interesting things to do.
Crocodile Farm
There is a crocodile farm in Kuching that attracts some tourists. I wonder what is there to see in a crocodile. When they are seen in clusters, they scare people away.
World's Largest Flower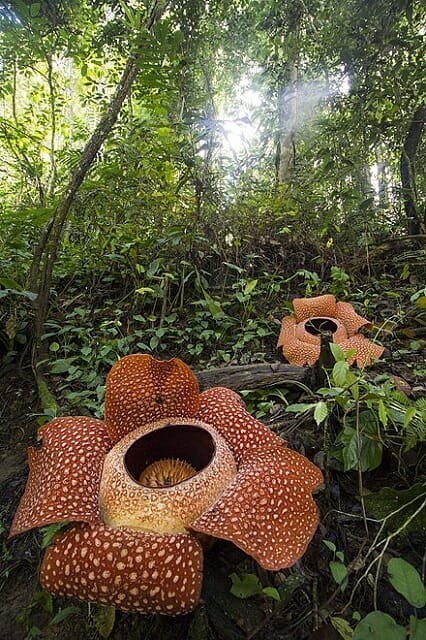 This huge flower is called Rafflesia. It is the largest flower in the world. It is amusing to mote that this flowering plant is a 'parasite'!
You too, flower Rafflesia?
This flower is found in the rainforests of Sarawak and also in some of the national parks, that come under the places to see in it.
More National Parks and Rainforests in Sarawak: 
We have already seen what you can do in Bako National Park.
Here are the other national parks that are important attractions.
Batang Ai National Park known for thick and lush green rainforests.
Gunung Gading National Park
Bukit Lumbir National Park
Loagan Banut National Park
Kubah National Park
This is a large national park occupying about 2,200+ hectares of land area. There is a pond here that is home to several species of frogs. The pond itself is called "Frog Pond".  I wonder who would show interest to see frogs of all the creatures!
In addition, there are walking trails that take you to hidden waterfalls.
The rainforest's flora and fauna keep the wildlife enthusiasts in a few overnight staying options.
Lambir Hills National Park
What a jungle that almost matches the Amazon rainforest. It seems, all the natural riches of entire Malaysia are seen only in Sarawak.
It is in Min city, far off from Kuching.  The park is known for rich bird species of which the giant-looking Hornbills alone count four.
Here is another view of the thick forest and a waterfall.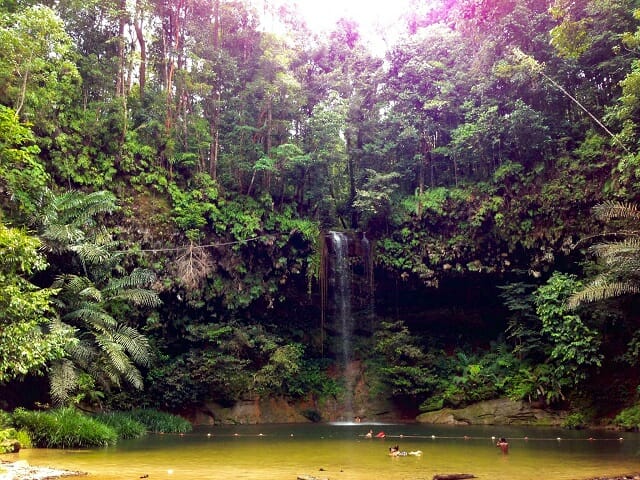 OMG! Look at the dense folio surrounding the waterfall.
Gunung Mulu National Park
Among all the top Sarawak attractions, I would rate the extraordinary "limestone pinnacles" as the best.
See them below, and you would see, it is no wonder that the UNESCO listed it as a World Heritage Site.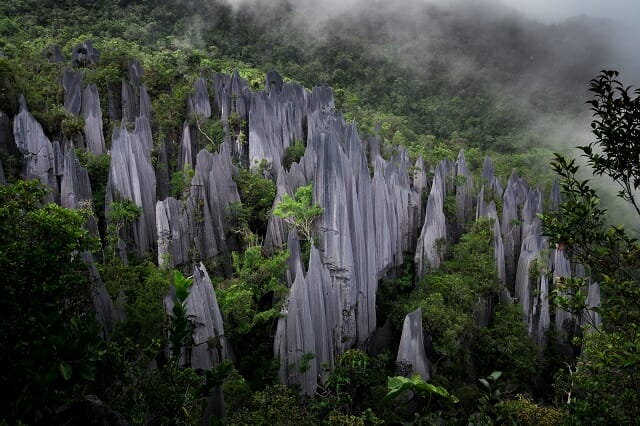 To see this most beautiful attraction, you have to travel nearly 575 km from Kuching, the capital of Sarawak.
The whole of the national park demands two days of your time. You have to walk through a rainforest to admire the lush flora and diverse avifauna.
There are waterfalls and caves that must be seen and explored. The caves are habitats to thousands of bats. You should see them leave the caves late in the evening for their hunt.
The second important attraction of the Gunung Mulu National Park is the Mount Mulu.
There are countless species of wildlife that include several snakes and bats.
This is rich ecosystem that you should not miss if you live anywhere near Malaysia.
There is a resort and a few forest lodges. Staying overnight is highly recommended. This is the best phase of your travel.
Niah National Park
Niah National Park is rated high among the national parks. Since visiting at least a couple of them is one of the important things to do in Sarawak, make a note of this one which is located close to the city of Bintulu.
Bintulu is quite far away from your hotel in Kuching. It is better to fly to Bintulu which is nearly 1000 km north of Kuching.
What draws the visitors to the Niah National Park is a complex of caves. You can explore the caves with the help of a local guide.
There are three more national parks, nature reserves and one more sanctuary of Orangutan in Sarawak for which there is not much information on the web.
Matang Wildlife Park
This is more of a sanctuary that keeps and protects endangered species of which, the large Orangutans are also included.
I think you can watch the Organutans only in Malaysian rainforests.
Beaches  of Sarawak:
Among the top sightseeing places to see in Sarawak, several beaches are listed.
Damai Beach-Orange Beach
It is a unique beach that is located 35 km north of Kuching. The uniqueness is the color of the sand which is orange!
Sematan Beach
Rated as the best beach in Sarawak, it is located more than 100 km north-west of Kuching. Resorts dot the beachfront. The beach here has white sand, a rarity but numerous islands in the world are known for white sand beaches.
Tusan Cliff Beach
It is in the city of Min, some 800 km north of Kuching. It is a wild beach with the backdrop of jagged rocks, awesome rock formations, and high cliffs
Look at the video of Tusan Beach and its stunning rocks.
Surely, visiting this beach is one of the top things to do.
If only I have 3 weeks of free time, I would go to Sarawak, Malaysia and the adjoining West Kalimantan, Indonesia. Both are part of Borneo Island.