Greek Islands: Best Island Day Trips from Athens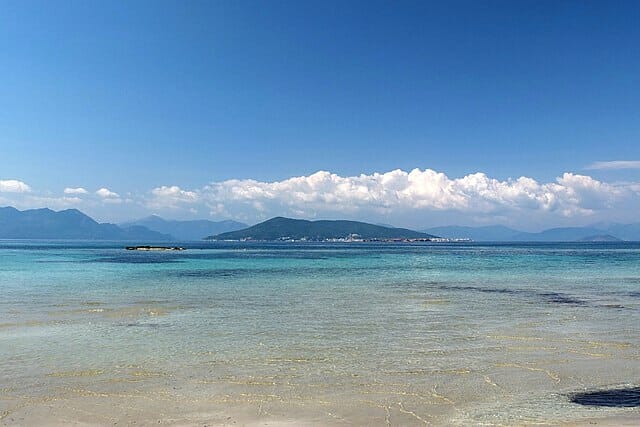 Athens has so many places to see and things to do. Probably, you may require four days in Athens alone. I read on the web about one raging question among prospective tourists to Greece. They don't want to return to their home without visiting at least a couple of Greek Islands and getting trolled. After all, a tour of the Greek Islands is more romantic and memorable than visiting the numerous Greek God's temples that we have heard and read.
Athens has close to 6000 islands but less than 5% of them only are inhabited.
Therefore, I searched for a one-day cruise tour of a few islands that are located closes to Athens city.
There are eight Greek Islands that are located close to Athens that include:
Aegina
Poros
Spetses
Siros
Kea
Agistri
Out of these 8 islands that are near Athens, the first three are the choice of the one-day cruise in a luxury yacht.
After I went through the sales brochures of a few cruise ships, I liked the one offered by cruise ship operators.
Look at the map below that shows Athens and the three islands (shown with a pin) that these particular cruise ships dock at.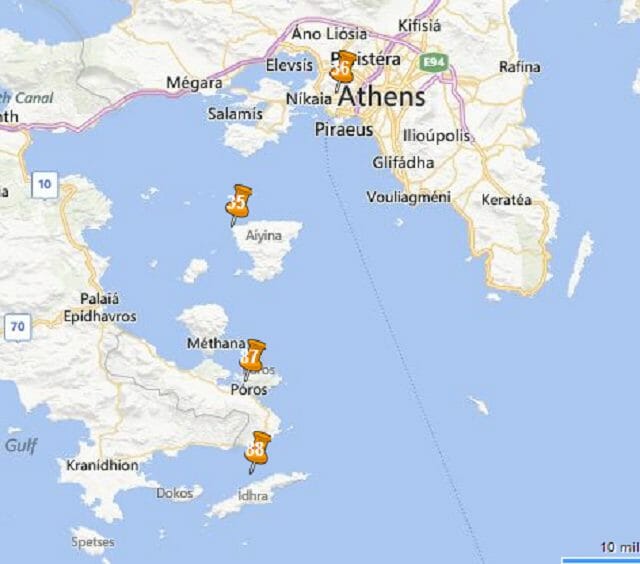 I think you have some clear idea now about your expectations of boarding a luxury yacht that takes you to three Greek Islands in the Aegean Sea. These three islands are classified under "Argo-Saronic Islands".
Best Island Day Trips from Athens to Nearby Greek Islands:
Before I tell you what you can see in Poros, Hydra, and Aegina Islands, I will fill you in about the cruise ship and the itinerary.
The ferry leaves the Piraeus port in Athens at 8.15 am and returns to the point of departure around 7 pm. You will have two hours each in the islands of Hydra and Aegina but a little less than an hour on Poros. The traveling time between each island slightly varies with a maximum of two hours.
You will be provided with authentic Greek lunch that mainly comprises seafood.
Wherever you are staying in Athens, the shipping company will pick you up and drop you back at your hotel.
There will be some entertainment onboard as you move between one island and the other.
You will be fortunate to get a seat in any one of the one-day cruises to the Greek Islands because they are always overbooked.
Only experienced island travelers opt for a 15-nights cruise to all the highly popular Greek Islands.
Now, let us explore each of the three islands that your cruise ship will dock at.
Aegina Island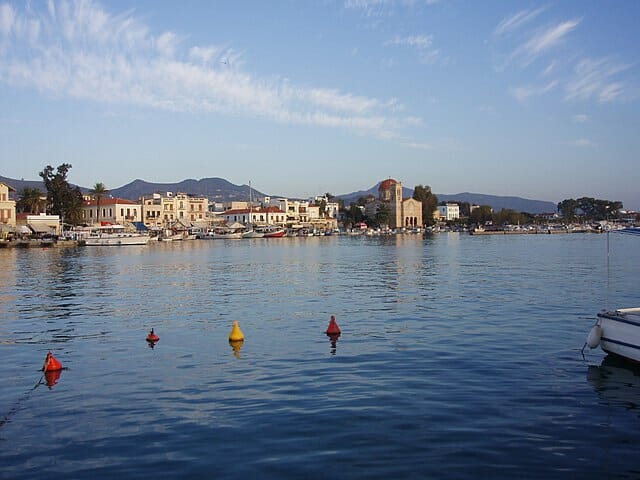 The distance between Athens and Aegina is only 27 km. Your ferry will take approximately an hour to deposit you on Aegina.
It is a fairly large island comprising 87 sq. km.  Its length is 10 km and the width is 15 km.
Aegina is volcanic but there is nothing that is spewing molten lava now. You have nothing to fear.
Be prepared to buy the delicious Pista (pistachio) nuts as it is wildly cultivated here. In addition, you can buy good-quality dried figs and olive fruits. However, I doubt the American tourist would be interested in buying olive because they get plenty in their own country.
Day-trippers from Athens usually buy myriad curious, drink coffee or beer on the quayside. Some tourists show interest in buying traditional Greek attire.
Top places to see in Aegina Island.
You are given two hours to spend on the island. Out of that, you are likely to spend half of it in buying souvenirs. You have to see the following landmarks; so bear that in mind while roaming casually in the marketplace.
This is a typical Greek temple ruins and an important one for your camera.
The Cathedral of Saint Nectarios of Aegina.
A few more temples that are dedicated to the Greek Gods will be included in your itinerary. To sum up your visit to Aegina Island, you will be happy with your purchase of Pistachio and the first glimpse of the life and style in a  Greek Island.
Poros Island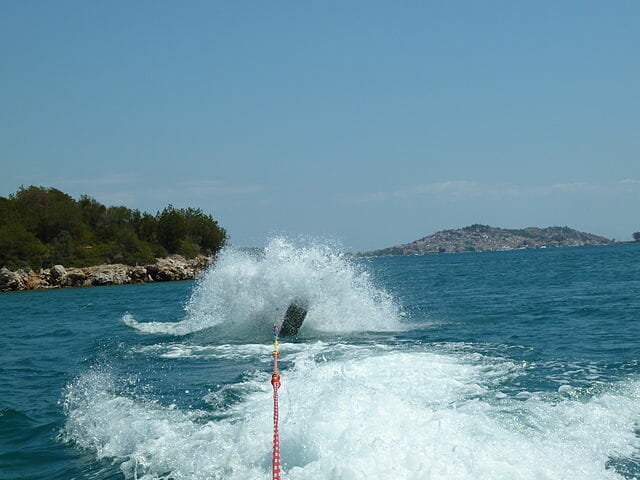 From the Athens ferry terminal, you can come to this Greek Island in your hired car. Yes, the Hydrofoil is a car ferry and a fast boat.
The distance is 60 km and hence it is popular among Athenese who own holiday apartments on this island.
Their main aim is to relax during the weekend. As a cruise ship voyager, you quickly go around the island in a bus, buy some memorabilia and return to your ship. The heat is not bearable almost throughout the year.
The harbor is the most active place on the island. You can see ferries coming in at regular intervals and leaving the dockyard in a hurry to make way for the incoming vessels.
Poros is divided into two islands, the north, and the south. In between them, is a strait. Both are interconnected by a road bridge.
Being a busy touristy Greek Island, there is no dearth of hotels and restaurants. Greek in one aspect has not evolved much. The food is predominantly Greek. The people have not embraced cuisines of Asia and other European countries.,
Places to see in Poros Island, Greece
It is a must-see for history and ancient civilization buffs.
Poros Beaches are refreshingly beautiful. Here are some of the beaches that you ask your cruise ship guide to take you to.
It is pebbles beach and the water is said to be clear that in inviting the swimmers. Snorkeling gear is also available for rent.
The beach is laden with lounges for sunbathers. I think you need to pay for their use.
Love Bay
Monastery Beach
Megalo Neorio
Island of Hydra
The life of the island centers around its old, white painted clock tower. Shops and cafes are scattered on the street.
Hydra Island in Greece is known for its importance in history. The monasteries stand as wonderful proof.
The Greeks flock to this island on weekends and enjoy the lazy life and sunny beaches.
This is a car-free island. Oh, even two-wheelers (motorized) are not allowed on this island. The island retains most of its old-world charm and it is Greek all the way. That's why this is one of the most visited Saronic Island near the Greek capital Athens.
Look for online sources on the internet to book your cruise day tour of three Saronic Islands of Greece, near Athens.