Kos Island Travel guide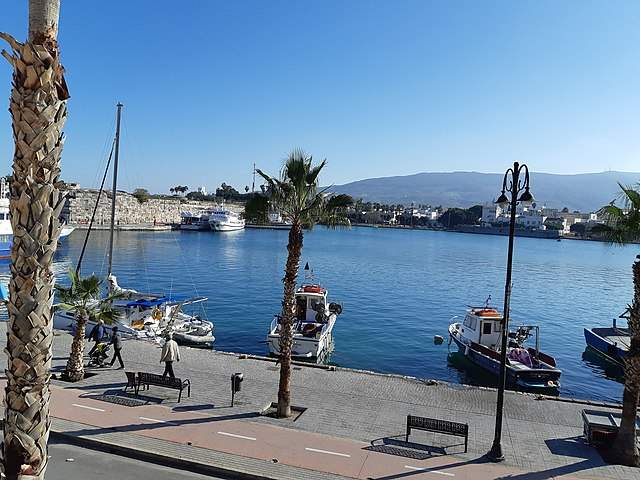 This is the scene at Harbour of Kos Island. It seems it is a favourite destination for those who either own a yacht or charter it for a private trip.
Greek Islands are all conveniently grouped and located close to each other. If you charter a yacht, you can visit 7 to 10 islands in a week.
Kos Island is grouped under "Dodecanese Islands". You can spot them (about 150+ islands and islets) in the world atlas.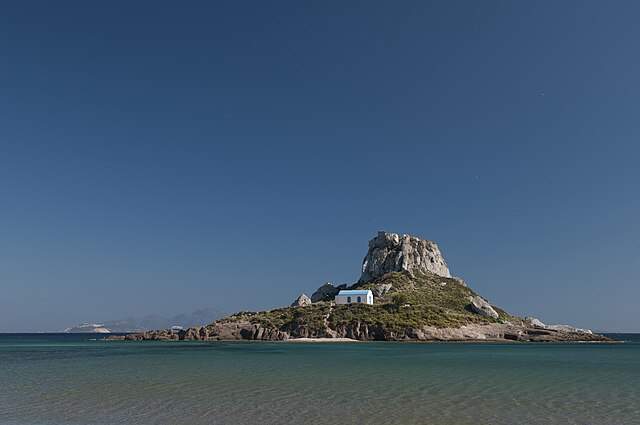 Crete, the largest of all Greek Islands, floats further south in the Sea of Crete.
About 15 islands are major in the group that attract large number of visitors. Rhodes is the largest of Greek Islands among the Dodecanese archipelago.
I mention below some of the 26 Dodecanese Islands,that are inhabited.
Kárpathos
Pátmo
Kásos
Astipálaia
Léros
Kálymnos
Agathonisi
Chálki
Kos
Sými
Leipsoí
Nísyros
Tilos
Kastellórizo.
These pristine islands are favorite among cruise ships that roam the Aegean Sea in the Greek's eastern coast; Mediterranean Sea on the south of Greece and the Ionian Sea on Greece's west that also hosts large numbers of islands, and islets.
Greece has some 6000 islands and islets. I think only about 150 are inhabited.
The location for this archipelago is Aegean Sea. The Dodecanese Islands are close to Turkey, in the south-east of Greece.
How many people visit Kos Island?
Kos Island receives nearly a million tourists every year. That is an impressive figure as far as tourism is concerned.
How big is Kos Island?
It is a fairly large island comprising approximately 300 sq. km area. By length, it measures 42 km and by breadth, it is 11.5 km. It is an east-west island. It's eastern tip faces a gulf in Turkey.
How to reach Kos Island?
By flight of course! From Athens, you can fly directly to the island in just an hour.
Alternatively, if you are ferrying or yachting, you can do from all its neighboring Dodecanee Islands and also from Athens.
However, by ferry from Athens, the voyage takes around 10 to 14 hours.
This would be my choice of transportation to it, if I am touring Athens.
Additionally, one can go in a ferry from Rhodes Island also. Try to get on board a high-speed ferry which deposits you on the island in just two hours.
Else, if you don't want to rush up things, get on board a normal-speed ferry. You can reach Kos in 3 to 5 hours.
How long should you spend in Kos Island?
Normally, one day is enough to see the island's beaches, historic places, and play some water sports. Therefore, a day trip from Rhodes will be ideal.
As it is less crowded, enjoy one more day on Kos Island.
Are there hotels to stay in Kos?
Yes, definitely. If you prefer beach-view hotel, you have to cough up a bit more.
If you travel with limited budget, choose hotels such as Aegean Hotel, Iris Hotel, and Veroniki Hotel.
Palm Beach hotel is a good one for 'adults only' hotel. It means, you can't take children or pets.
What local food is recommended in Kos?
Don't miss out eating Posa Cheese. I read the cheese is in red color because, it is seasoned in red wine. I have never seen a red cheese. It must be an exotic but traditional food in the island.
Marmanites are type of pan cakes with honey that is served with the main dish.
Pitaridia contains brothy-meat soup wth floating lasanga
Pasta is eaten widely with different flavours and veggies.
All over Greece, olive is a favourite of the Greek. Olive oil is the base oil to cook anything.
Kos Island Travel guide
What to see in Kos Island?
Roman Odeon
It looks like an open air stadium. Such buildings were in vogue in the ancient Roman bygone era.
Visiting it in the main island will be your first stop during your guided tour.
Being the top ranked attraction in Kos, you can find hotels surrounding it.
Lambi Beach
With a small coastline of a little over 100 km, I wonder why there should be a particular beach for visiting when you can hit a beach from any direction within a few minutes of walk,
Nonetheless, Lambi Beach became popular because of the presence of several pubs.
Any Greek Island is always hot. Visitors would be thirsty anytime and a chilled beer is the most welcoming drink which is quickly available near Lambi Beach.
It is a crowded beach but you will find empty beach lounges below large beach umbrellas.
Because of the proximity to the Turkish coast, you can taste Turkish beer and Turkish food.
Here is a video Lambi Beach.
The umbrellas and the benches are for hire and not free.
Paradise Beach
I think almost every major island in the world has a 'paradise beach'. It is a bit far off from Town. The name of the exact location of Paradise Beach is Kefalos Peninsula.
Yes, it's a peninsula within an island. This geographical feature is rare and should not be missed.
Here, the waves are friendly and is suitable for jet-skiing.
Since the location of Kefalos is away from the busy town, there are no taverns here.
Tam Tam Beach
It's a lesser known beach and under-visited because it is not visible from the main road. You can say Tam Tam Beach is a hidden beauty.
This beach also is not near the town. You have to travel roughly 15 km from your hotel in Kos.
Tam Tam Beach bar is situated close to the beach.
Kos Harbor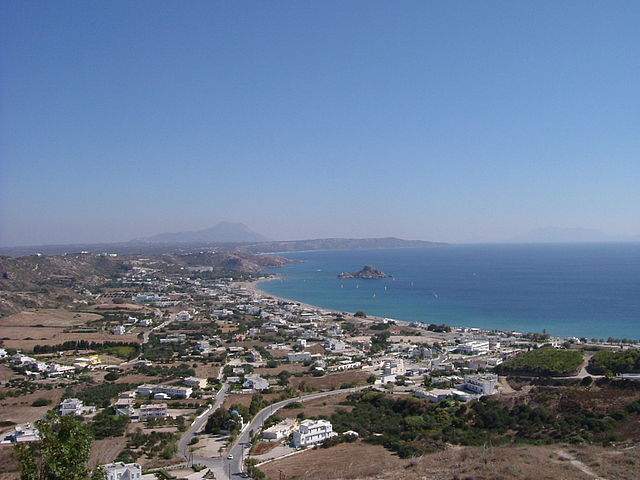 It is also known as Kos Marina. You can quickly haggle for a speed boat and go roaming the Aegean Sea and the Sea of Crete.
Step into islands where no one lives. Give company to all the seabirds that dart quickly into the sea and come up with a fish between its beak. It is fun to watch them.
Casa Romana
Ah, it is a Greek/Roman building written all over it. It belongs to the 3rd century A.D and was actually a residential building.
When they excavated it, it had 326 rooms. I think it was meant as living quarters for the Roman royal staff.
Nerantzia castle
It is one of the several historic ruins you can see in the island. I am sure not many people would be interested but these are the major attractions here.
Water theme parks
Not one but two water theme parks are in it. They are named Lido Water Park and Kardamaina water park.
In hot Greek Islands, you will always feel like staying in the water.
You will find all the slides and splashes that are also kids' friendly.
Sanctuary of Asclepius called Asclepieion
Asclepius was a Greek God of Medicine. According to Greek mythology, Asclepius was the son of Apollo, a Greek God of several aspects that include archery, Sun, healing power, truth, and dance, etc.
Walking tour
A walking tour will reveal the island's several archaeological sites of historic importance. Visiting them will take you back to the Hellenic and Roam era.
Mount Dikaios
This mountain's summit at 2775 feet serves as an observation platform to watch the sun set.
Hot Springs in Agios Fokas Beach
If you care to travel about 10 km from the center of the island, you will come across a board pointing to the direction of Agios Fokads Beach. This is also called 'Therma' beach.
Here, surprisingly, you will see natural geysers. The natural springs have therapeutical properties. The water is quite warm at 45 deg C.
Even for rheumatoid patients, a dip and soak in the hot springs is good.
It is a natural wonder. Look at the sea water and the natural spa are so close to each other. The beach is hardly 10 feet long!
To sum up, I think Kos Island is worthy of a visit only if you are interested in history.
When you go to Rhodes, the largest of Dodecanese Islands, you can quickly make a day trip to it in a high-speed ferry.