14 Best Things to Do in Mykonos
Mykonos island is a Greek Island. It is among the most visited Greek Islands.
It is part of the Cyclades islands group that lies east of mainland Greece.
And it is floating in the Aegean Sea.  Other Greek Islands that are neighbours of Mykonos are:
In this blog post, you will come to know why Mykonos is ranked among the top 5 islands of Greece to see.
I am sure some of the fantastic spots to see in Mykonos that I have covered here are not mentioned in other travel related blogs.
How to Reach Mykonos?
Mykonos has an international airport. It receives flights from Athens and several other European cities.
Ferries also take you to Mykonos from Athens, Santorini and many other Cyclades islands in Aegean Sea. The ferry ride from Athens is of 3 hours duration.
If you are a frequent flyer and globe trotter only through flights, you won't mind the 45 minutes of flying from Athens to Mykonos.
Interestingly, the international airport is located just on the outskirts of Mykonos town. You may like to know Mykonos is also called Chora, a bustling but still very much a Greek city.
14 Best Things to Do in Mykonos
Chora
Whenever you hear about a Greek City, especially on its islands, don't imagine broad roads, avenues, glossy lit shops, and skyscrapers.
Any Greek city is still full of life without any of the above.
The streets will be narrow, fully paved with houses attached to each other (no villas or independent bungalows).
Even in this jet era, Greece has fully and proudly retained its historic and rustic beauty. What I noticed in Greece is, the apartment culture has not caught up even now.
You can see taverns, and bars. The shops will be mostly open; you don't see any shops enclosed in airconditioned glass walls.
Here is an example of typical Greek Taverna.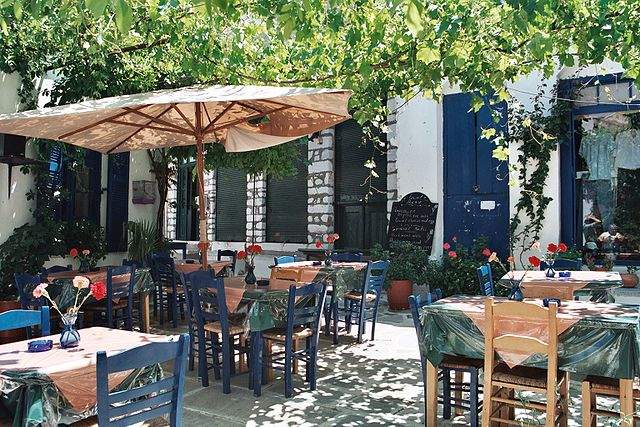 Somehow, the word taverna has shrunk to 'tavern'. It is an open restaurant
Some taverns have space for dance. Since drinks are also seved along with food, you can say Greek taverns are also called 'restobars' (restaurant+bar).
Here is a short video clip of the island city.
The houses that are lashed by the waves of Aegean Sea are in a neighborhood called, "Little Venice", appropriately so.
Little Venice
If Venice is known narrow canals instead of streets with paved roads, the Little Venice of Mykonos is known for narrow, criss-crossing streets. It is a maze where you can easily get lost. However, you can always get to a beach quickly and retrace your steps back to hotel.
Watch a scene of Little Venice area in Mykonos!
The roads are narrow, shops and restaurants are spacious inside. You will see numerous shops selling cotton dresses for the men and women, trendy taverns, handicrafts shops and loads of antique shops.
The curios shops are the moist hunted ones in any of the Greek Islands.
With a local guide towing you, he will take you to the Alefkandra Beach. This is where your tour of Little Venice begins. It is one of the inevitable sights to see in.
Spend quality time shopping for gifts and memorabilia.  Try exotic Greek seafood that you swallow with chilled beer. You will be always thirsty in Greek Islands because of the high temperature.
Sunset Watching from Moving Motorboats
The Little Venice area is facing the Greece mainland in the west. So, sunset watching is one of the must-see sights.
The views of the dipping sun will be more beautiful if you are on board a motorboat. Sunset watching boat tours are easily available in Little Venice area.
Buy Gifts With Creative Paintings On Cloth, Paper, Etc.
The local people who have developed great skills in capturing the beauty of Little Venice inn Mykonos, and recreating them in canvas, cloth, t-shirts, sell their wares that include etching on ceramics, metal, and glass articles.
If you linger around these artwork shops and buy several works of fine arts, you are looked upon by the vendors as discerning travelers.
Nightclubs in Little Venice.
If you are a tourist from big cities of Europe and the United States, you would not be able to resist a bit of Greek nightlife.
Taste some of the Greek liquor which will be definitely alien to you. Don't resist the urges to eat Greek food that you have not heard of thus far.
Island Hopping from Mykonos
Visiting the nearby Cyclades islands is aggressively persuaded by the tourists. Their curiosity to know what lies on other islands in the same Aegean Sea, cannot be suppressed.
In addition, tourists somehow expect to buy one or two curios that will make your wide open; of your eyes too, in candid appreciation.
I have already mentioned the neighboring islands of it in the beginning of this article.
Windmills
The windmills with different blades are iconic to this island.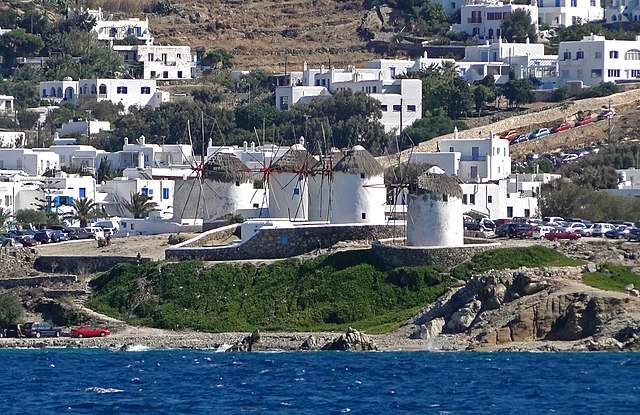 These dome-shaped windmills were originally used to mill wheat but with modernity taking over; these windmills were simply not taken down.
Of course, the gusty winds are clearly felt in here.  I wonder if power is produced from swirling fans.
Note:
Do you know Mykonos was a descendant of Apollo, the most worshipped God in Greek Mythology?
Don't Miss Out Eating.
Even if you want to, you cannot avoid eating this bakery product known as, "Baklava".
Throughout Greece, you will find them with some variations.
Greek Salad:
When you touring Greece, don't forget the Greek Salad that you eat in 5-star hotels paying hefty price.
A Greek salad is nothing but a vegetable salad that is garnished with feta cheese. Olive is one of the vegetables in te Greek salad.
Pink Pelican
Once upon a time, a Pelican was washed away in Mykonos. He settled to live a solitary life in the harbor.
The bird is no more, but the fishermen brought a successor and you can spot it.
The name of the Pelican is 'Petros', a typical Greek word. It is the official mascot of Mykonos Island.
Crazy story-eh?
Mykonos Beaches
It is an island and has beaches on all its four sides. While I am of the opinion that every beach on an island is beautiful, some of them lure more visitors because of infrastructure.
OMG! The whole sand area is covered with beach chaises under white umbrella.
More beaches that you will inevitably go to:
Alefkandria Beach
Ornos Beach
Super Paradise Beach
Gialos Beach
Hotels were developed around these beaches in the south.
Museum of Ancient Culture
Every part of Greece is steeped in great culture and tradition. In this island, you must visit an archaeological museum.
Maritime Museum
This museum is also one of the places to visit. You will be baffled to know the Greek maritime history in this museum.
Churches
Greece is famous for Greek orthodox churches and monasteries. The most popular church in it is the Church of Panagia Paraportiani.
Adventure in the Aegean Sea.
There is no dearth of water sports in most of the Greek Islands, especially in this island. You can test your courage by indulging in jetskiing, flyboarding, parasailing, and scuba diving.
People go to Mykonos mainly partying at quayside, Sunbathing, and Cruising the sea.