Things to Do in Kefalonia Island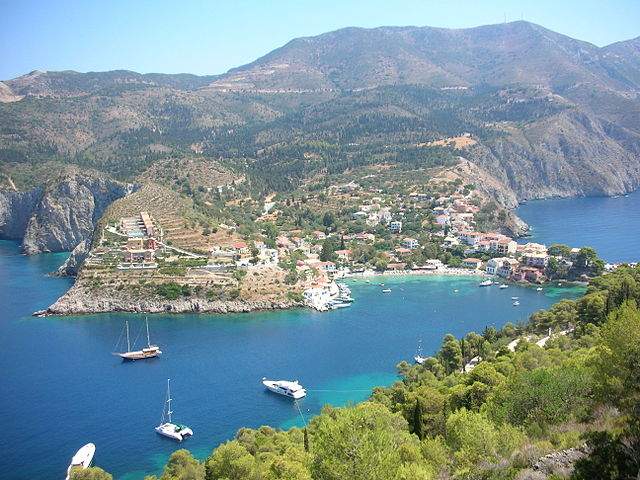 With a different spelling Cephalonia that appears like some medicine name, Kefalonia is the largest island of Greece in Ionian Sea.
Ionian Islands are all located on the west of Greece.
Here is a map showing all the Ionian Islands, on Greece's west coast:
Ionian Islands:
Corfu
Paxol
Lefkada
Ithaca
Kefalonoa
Zakynthos
We have already seen Zakynthos and today, it will be Kefalonia Island, located just north of Zakynthos
For your information, the Greek capital Athens is on the coast of Aegean Sea, on the eastern Greece.
Capital of it is Argostoli.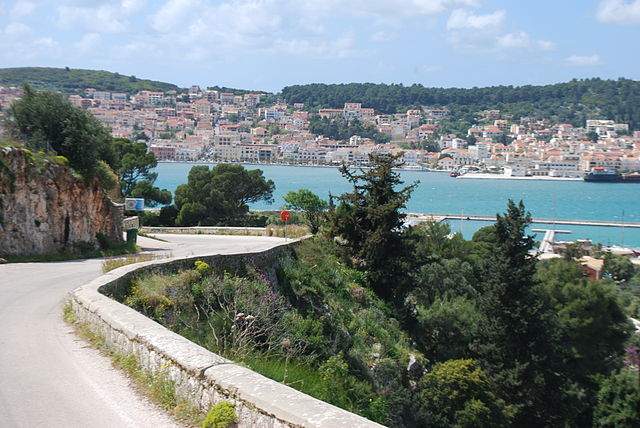 Typical Greek Islands setting with hilly backdrop, and winding roads overlooking the Ionian Sea. I think we are lured by such scenes of the islands of Greece. It is no wonder; the Greek Islands are world's top holiday destinations and high in the itinerary of cruise ships that roam the seas in Europe.
What is Kefalonia known for?
Interestingly, it is wine with a unique taste. Will it smell of rocks and fish?
The Greek wines brewed on Kefalonia Island are marketed in various brands. Some of them are:
Robola
Maschato Kefalonian
Mavrodafni –sounds like an Italian name
Do the American import the wines made in Kefalonia?
Yes, of course. Several south European countries also importers of Robola wine.
How to reach Kefalonia Island?
Sea access is from the port of Killini (Kylini) that is situated in the province of Peloponnese peninsula.
To reach the harbour at Killini from Athens, you need to cover a distance of 280 km by road.
The ferry ride from Killini port takes one and a half hours.
Kafalonia has an international airport. It receives flights from Vienna, London, Germany, Poland, Netherlands, several cities of Italy, Norway, Czech, and Sweden.
Of course, you can fly from Athens also. Even from the nearby Zakynthos Island, there is a flight service.
It is an hour long flight from Athens. From Zakynthos Island, the plane reaches in just 25 minutes.
So, Kefalonia Island is easily accessible.
Geography od Kefalonia Island:
Like many other Greek Islands, it too has rugged mountains abutting the Ionian Sea. The beaches are incredibly beautiful with the fragrance of rich Greek history and Greek food.
Oh, I must add the delicious taste of Rabola wine, made locally. The wine industry on the island implies, there are fertile plains also.
A mountain range named Gerania is 5 km long and its highest peak is called "Mount Ainos". Its altitude is 5300 feet!
On the mountain slopes, you can see clusters of the beautiful fir trees.
Fir is obviously a 'coniferous' type of flora. Since they are ever green plant, the Gerania Mountain range appears lush always.
Best Things to do in Kefalonia Island?
Trekking on the Gerania Mountains.
Pre-trodden trekking trails are many, on the mountain leading to the 'Ainos ' peak. The view of the Ionian Sea from the summit is simply mouth agaping.
Lixouri town is the gateway to Mount Ainos peak. Up to some distance, you can drive a car. The final trek up involves a climb of 6.5 km.  The time required is 4 and a half hours.
Wildlife spotting in Mount Ainos:
Don't be surprised if you come across a few wild horses grazing peacefully. Occasionally, you will spot fox, and ferret,
The avifauna includes 'common buzzards', Peregrine (a species of Falcom), Black Woodpecker (a rare bird species), and the beautiful Rock Partridge.
Promenade
You can spend quality time at the ferry terminal of Astroli. There is a promenade facing the Ionian Sea.
The length of the waterfront walk stretches up to 10 km!
Kefalonia Beaches
As many as 40 beaches are the icons of Kefalonia Island. I promise you one thing. The Greek Islands beaches have no match in the world.
The geography, the Mediterranean blue water, high temperature, and tourists from all parts of the world make the beaches perennial attraction.
The beaches boast of Blue Flag holders, a recognition of the cleanliness. This is very important to any beach in the world. If you face garbage everywhere, you will quickly retreat from that beach.
Some of the best beaches in the island, Greece: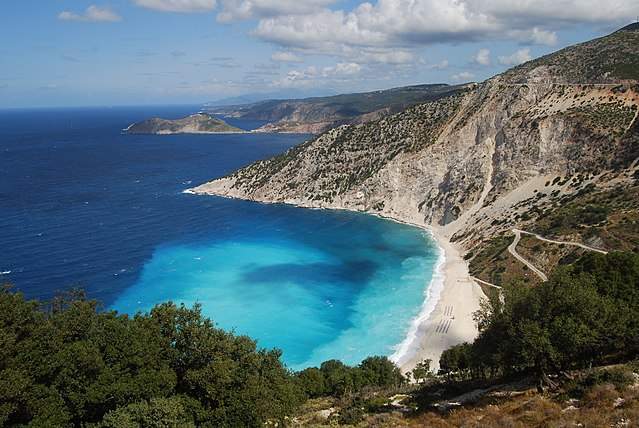 Its location between tow mountains is breathtaking. The aerial view is so spectacular that the beach is considered as the most dramatic beach in Greece.
You can collect white pebbles on the beach as souvenirs.
Petani
Skala
Kounopetra Beach-the sand on the beach is red.
Antisamos
Platia Ammos
Makris Gialos
Lourdas
Xi Beach-here the sand is bright reddish orange. It is a unique beach in Kefalonia.
Here is a video showing several beautiful Greek Beaches in the island.
Drogarati Cave
How about entering a naturally formed stalactite cave on a Greek Island? Here is a fact that will lure you. Drogarati Cave was formed approximately 150 million years ago.
I think it is a wrong estimate because I doubt even the island's age might not be that many years old.
Well, nonetheless, entering the cave system (a cave complex) is an adventure. You need to climb down through rocky steps to enter the cave.
OMG! Look at the jagged growth of stalactites. It is an incredible sight!
Warning! Don't touch the protrusions. Nothing will happen to you but your touch might affect their growth. Sriously?
Melissani Cave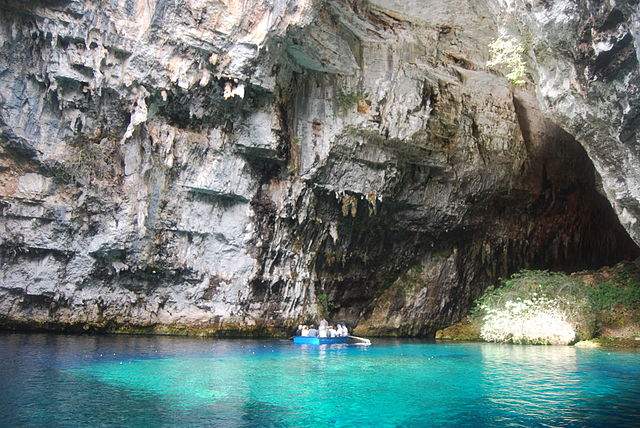 This cave is situated in Melissini Lake. You have to approach the cave through a boat only. The lake's water is unbelievably clear and inviting for a dive.
Agios Gerasimos Monastery
When you are touring Greece, you would be visiting several orthodox Christian monasteries that are revered.
Agios Gerasimos is one such monastery in Kefalonia that you would enter along with other tourists.
Staunch believers from various countries in the world are visiting the monastery because of a faith that mentally challenged people are cured of their status miraculously. It was founded by the SaintGerasimos in the 16th century.
Villages of Kefalonia
During your stay or tour in Kefalonia, you will be visiting some small fishing villages for their tranquil beauty.
Asos-it has the remnants of a Venetian castle facing the sea. Asos is rated as one the most beautiful places on the earth.
Fiskardo
Ithaca, another Ionian Island is located very close to this seafront village. Boat services are available to Ithaca and Lefkada islands. There is a stunning looking beach in Fiskardo and it is called Emblisi Beach. White pebbles are scattered all along the beach.
When is the best time to visit Kefalonia?
Plan your trip preferably from mid April to the end of October. This is the peak season and the prices of accommodations are high during this period.
How many days do you need in Kefalonia?
I reckon a weekend would be ideal to enjoy Greece on this island.
I could not find more things to do in Kefalonia Island than visiting all of its 40 beaches. After all, you are visiting an island where beaches and seafood are the main attractions-right?