Sizzling Cities and Towns in Sicily to Visit
If you are thinking of making a trip to Italy's Sicily, you better know about some sizzling cities and towns in Sicily. This blog post will be full of useful information about traveling to sizzling cities and towns in Sicily, their cathedrals and seaside castles.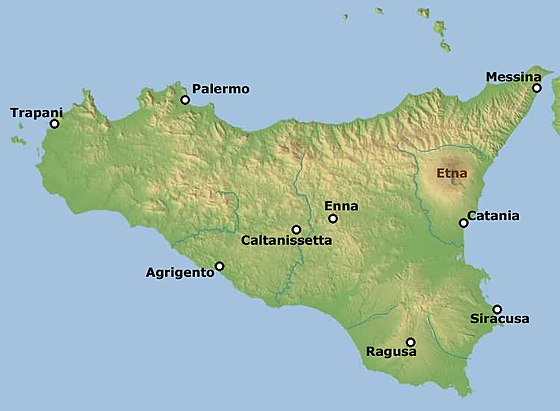 I am giving below just an image of a typical residential locality in Sicily.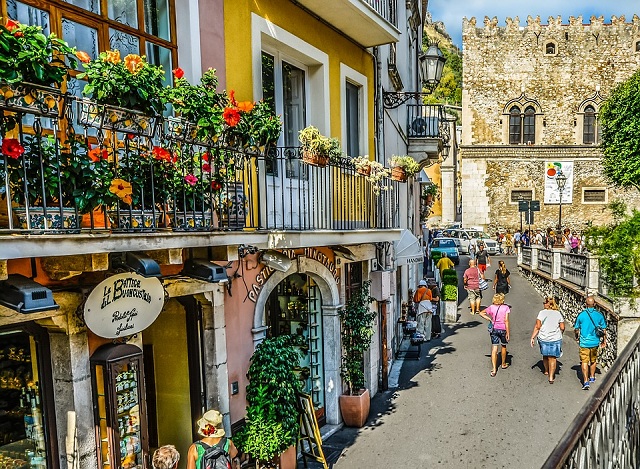 The atmosphere is colorful and the mood is laid back. It seems no one will ever hurry in Sicilian cities and towns. Sicily is described as a timeless vacation spot and the image above justifies.
Overview of Cities and Towns in Sicily:
Sicily is an island of Italy with the Mediterranean Sea on one side and the Tyrrhenian Sea on the other side.
The nation's geography is mountainous, the prominent being the Mount Etna, the eternal natural stove in the world. Yes, Mount Etna is an active volcano that alone attracts tourists in hoards throughout the year.
Palermo is the capital of Sicily.
The sizzling cities and towns in Sicily:
Palermo, Sicily

Being the capital city, naturally, we will land in Palermo and make it as our base of stay in Sicily. There is absolutely no dearth of comfortable hotels in Palermo. The food is authentic Mediterranean cuisine and the wine is just top class.
I have tasted Italian wine and to be frank, I rate them higher than French wine of which, the hype is just too much. As a matter of fact, our mind is subjected to believe that French wine is the best in the world, I beg to differ.
There are several tourist places of interest in Palermo that include charming palaces and serene churches.
Norman palace
Zisa Castle
Capo Gallo
Cefalu promenade
Cefalu beach and promenade is the most visited place in Palermo for its lively tourist traffic, swim-friendly lagoon, quaint cafes overlooking the Mediterranean Sea and several seafront hotels to stay.
Catania
Our second choice of Sicilian city is Catania. It is right on the Mediterranean's coast, on Sicily's east side.
As Catania is right on the foothills of Mount Etna, it acts the convenient gateway to the volcano Etna.
Etna can be easily looked up close through pre-trodden hiking trails on the scenic mountain. At any given time, you can see trekking enthusiasts making their way up on Etna.
Once you are done with prime travel destination in Catania, you can see around Catania's Piazza del Duomo, the city's center of gathering, shopping, eating, and celebration.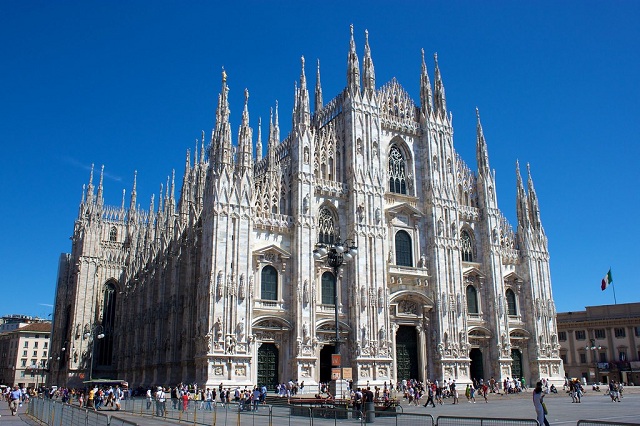 OMG! What a beautiful city square! The baroque architecture is simply breathtaking. If you get a chance to enter the palace, you would be stunned at the sprawling central courtyard, the 'feud's room and the spiral staircase.
Other tourist landmarks in Catania, Sicily's second most visited city are:
Fontana dell'Elefante statue, Sicily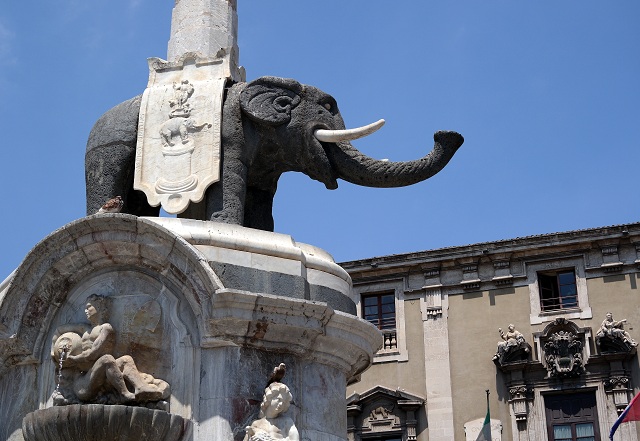 The figure of elephant looks so incongruous in this part of Europe. Hey, it's just my opinion..
Catania cathedral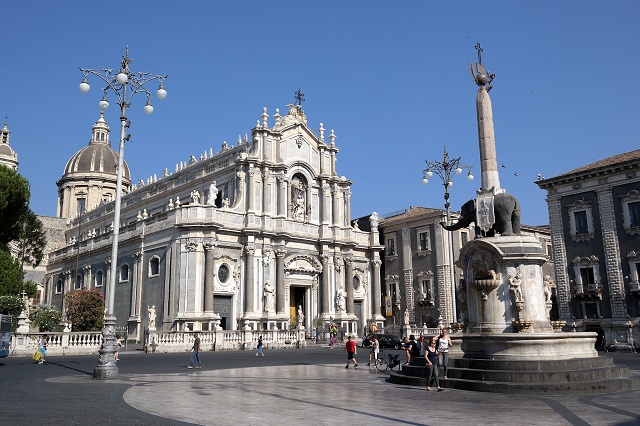 These imposing cathedrals are always eye-catching. These spectacular structures are seen even in remote India.
La Pescheria fish market along with freshly caught and just cut marine creatures, you can see heaps of seasonal fruits on sale. Do the Italians eat lots of fruits? It's just a thought.
Teatro Romano-Open-air theater called Romano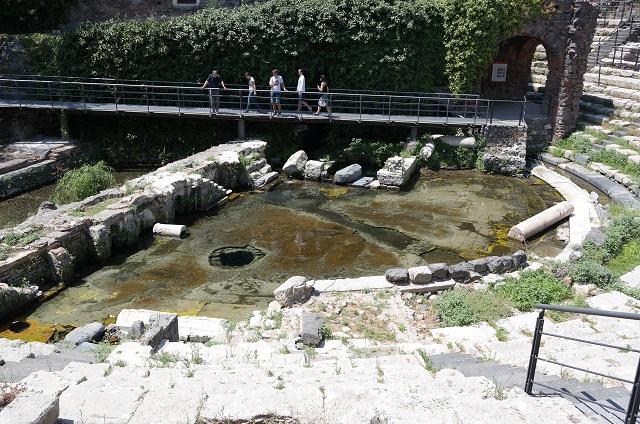 Monastery San Benedetto-a UNESCO site
Monastery of San Benedetto
If you eyes for aesthetics in the way the Sicilians, you would not fail to admire their love for crisp and clean dress, preferably in white. I suppose everyone carries several handkerchiefs to wipe away the prolific sweat. Yes, Sicily can be hot and humid.
Museo di Arte Contemporanea- contemporary Art Museum
Benedictine Monastery of San Nicolò l'Arena- a beautiful building of nearly 700 years old. It is a UNESCO protected site.
Achillee Thermal Baths
Agrigento, Sicily

This is the city where thousands of Roman architecture lovers, students of Roman history and civilization, believers of Roman Christian religion gather throughout the year just because one piece of a historical landmark called the "Valley of Temple".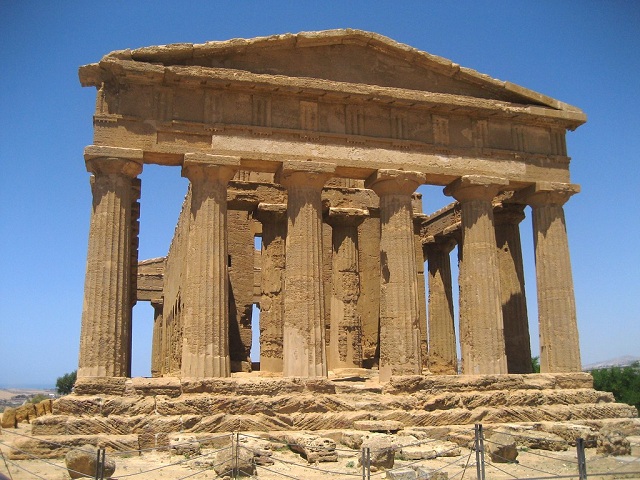 Ah! It looks very familiar to you-eh? The style of building is Greek written all over it. Yes, those towering pillars reveal it is Greek art.
Agrigento city itself is perched on a hill where another archeological importance is the ruins of Akragas, an ancient city where typical Roman civilization flourished.
Again, the Valley of Temples in the city of Agrigento, Sicily is protected by the UNESCO.
Temple of Concordia
It is part of the seven valley of temples built in the Greek style of architecture.
The other temples that are part of the Valley of Temples in the city of Agrigento in Sicily are:
Temple of Olympian Zeus
The Temple of Heracles
Temple of Hera Lacinia
Syracuse
Syracuse is the third most important coastal city and the fourth largest city in the island of Sicily in terms of area occupied. It is located on the Ionian coast of Sicily. Similar to the other historic cities of Sicily, Syracuse is also full of ancient ruins, cathedrals of immense beauty, and places of archeological value.
Tourist landmarks in Syracuse- Sicily:
Archaeological Park Neapolis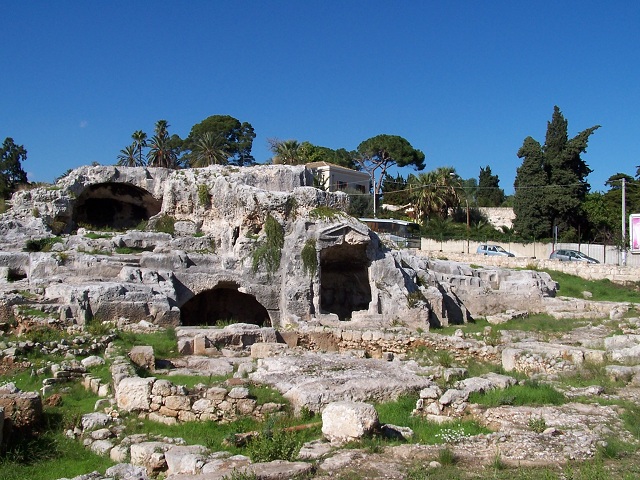 Cathedral of Syracuse
Roman Amphitheater called the Teatro Greco
Orecchio di Dionisio- a limestone cave that is known by the name "Ear of Dionysius" because it resembles a human ear.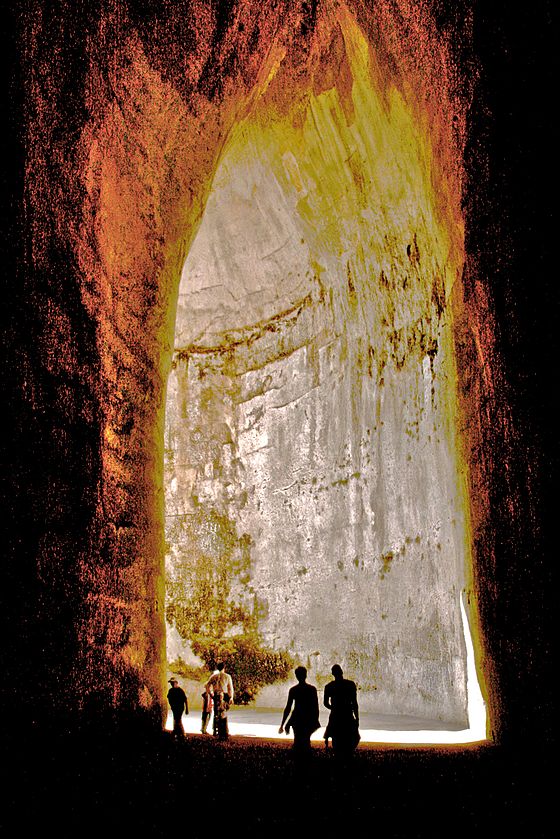 The Museo Archeologico Regionale Paolo Orsi-a museum of fine arts
Ortygia Island-it is part of Syracuse city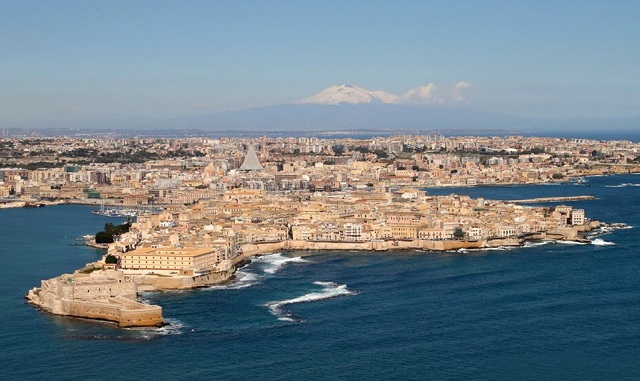 Porto Grande harbor
Plemmirio marine reserve
Gallina Beach
Ortygia market-a typical fish market on a coastal Italian city that is now selling perfumes also along with bad-smelling marine creatures.
Maniace Castle and Eurialo Castle-these castles are located right on the beach facing the Mediterranean.
Erice
A mountainous town, Erice is a quaint Sicilian town where 'peace' written all over it.
There is not much to do in Erice except the Tower of Chiesa Madre.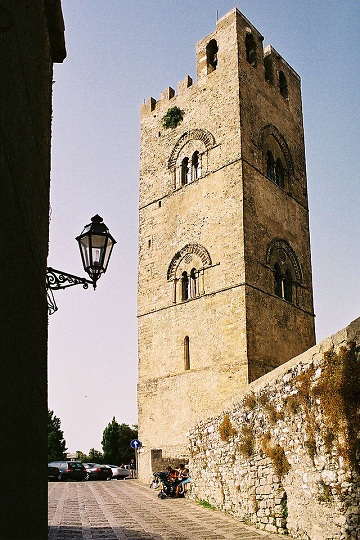 The local cakes and pastries are said to be soft, juicy, and absolutely delicious.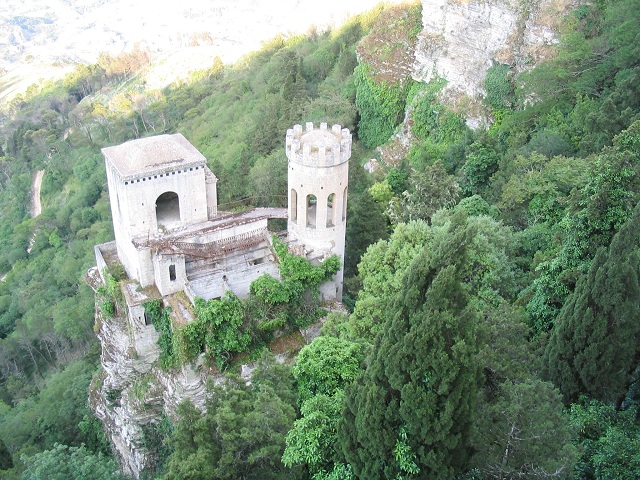 What you see in the above image is stone residence located on a tall cliff, overlooking the sea offering a breathtaking view. It reminds me of Capri, the stunning looking beach city of Italy.
Monreale
It is a sacred town for religious Italians. Its most important tourist landmark is the church, a cathedral actually that is named after the town- Monreale Cathedral.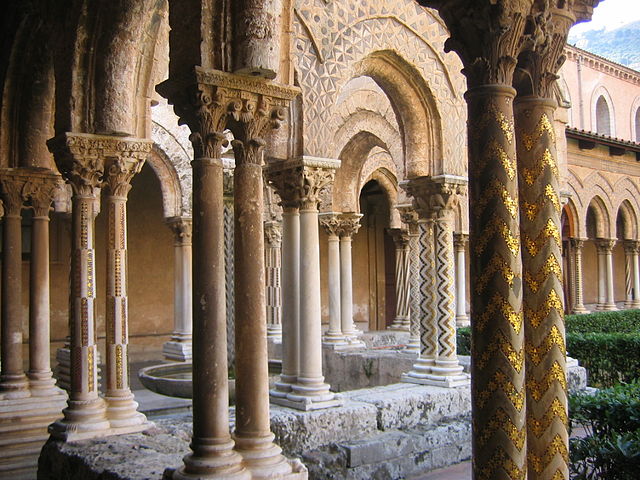 But for this most important and UNESCO recognized the church, there is nothing else for you too in Monreale which is actually a marked off locality in Palermo.
The Monreale Cathedral is built on a rocky slope, like several other Christian monasteries in Italy and Greece.
Have you read about the Christian saint Thomas Becket who was killed by his own friend and the king? Well, Thomas Bucket was actually killed at Canterbury Cathedral but a small sculpture is found on the cathedral of Monreale.
The city's location and landscape, the stunning cathedral, the relaxed atmosphere would make to spend a whole afternoon. Monreale is just a two-hour drive from the heart of Palermo. Your Palermo hotel can organize a taxi for you.
Enjoy a breezy and uninterrupted lunch accompanied by a few glasses of fine Italian wine.
If you have more time to stay in Sicily, there are several villages and minuscule towns that all offer relaxed evenings and spectacular ocean views.
Overall, Sicily required a full week stay to enjoy the other side of Italian life.