16 Greek Food Souvenirs to Bring Back Home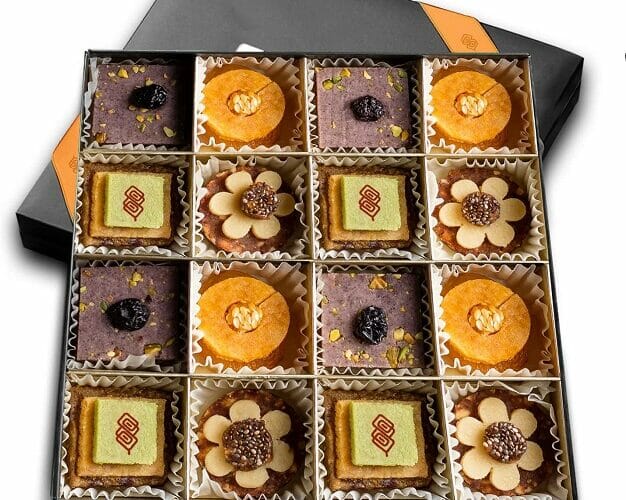 We travel far and wide. Wherever we go, we buy something as gifts to friends, colleagues, neighbours, and relatives. Among gifts, we first buy edible gifts that include chocolates, cheese, and cookies.
Greece is one of the highly visited holiday destinations in the world. By Greece, I mean the Greek Islands, as the majority of the tourists go to Greek Islands only.
16 Greek Food Souvenirs to Bring Back Home
Greek Islands are exotic with diverse culture, beliefs, architecture, and tourist attractions. Apart from the places to see, Greek Islands are wonderful when it comes to buying gifts.
Among souvenirs, edible souvenirs from Greece are highly sought-after shopping items. The range of Greek Food souvenirs is large.
Some of the main edible gifts from Greece include honey, olive oil, olive fruits, herbs, and spices. This list of Greek Food souvenirs may exceed 15.
Let us peruse the list of food gifts you can buy from Greek Islands. I also include drinks in the list of food gifts.
Greek Spices
The majority of us do a bit of research as to what to buy from our place of holiday. After searching and finalizing cheap return flights, affordable accommodations, and arrived at what to do there, we begin our search for what to eat and drink. Finally, we gather information on things to buy and from where.
Greek spices and condiments are popular the world over. In addition, we can shop for edible gifts that we have not heard before. This is true especially among the Greek spices.
Some spices that are all-time favourites include aromatic products such as saffron. You can get the best saffron in Europe from Greek Islands.
Flavoured Tea
Ah, tea makes wonderful gifts and that too if the tea is flavoured such as spicy ginger and cardamon tea and chocolate tea.
Such aromatic tea is great among the Greek Food souvenirs.
Buy some Green Mountain Tea. It enjoys a good patronage.
Coffee
Greek coffee may not be aromatic, but it yields a strong tea. You can make it out from the colour of filtered coffee.
Dried Oregano
You didn't expect this to find in this list of edible gifts from Greece-right? That is Greece for you. You will stumble onto unique products even in small shops in Greek Islands.
The dried oregano is one of the must-buys when you tour Greece. It is advisable to join any organized tour because the local guides only can lead you to the best shops.
Stinging Nettles
Nettle is a herb and find itself in many products including tea, cheese, medicines. Additionally, it is used as we cook spinach because it can be easily smashed and taste similar to spinach.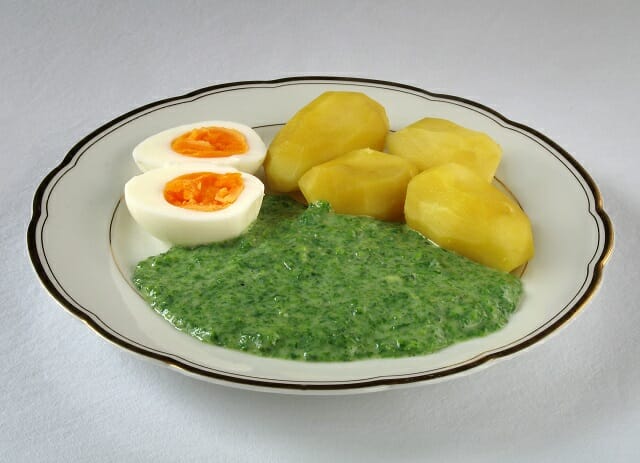 Buy the nettles in dried form and take it back home as one of the edible souvenirs from Greece.
Greek Olive
I think these olive fruits from Greece are ranked high among the olive producing countries. And, I read somewhere on the web that Greek extra virgin olive oil is rated as 'liquid gold'.
I would give you a buying tip for choosing olive fruits from Greek islands. Ask for 'kalamata' olive that will look this :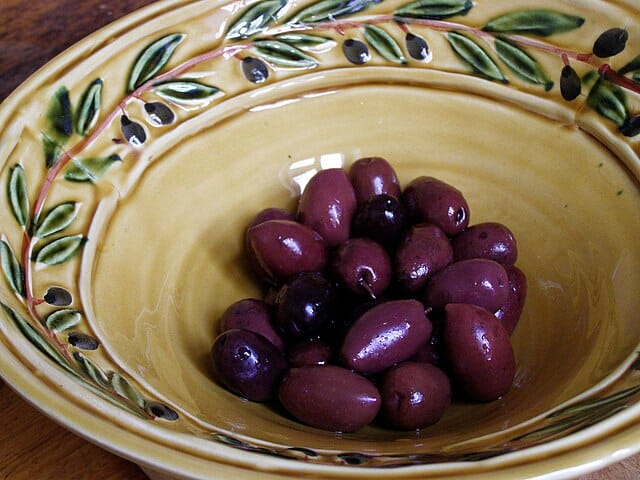 Greek Honey
You just cannot return from Greece without shopping for this world-famous Greek Honey.
There are numerous varieties of Greek honey that will confuse you. Most of the honey made in Greece are aromatic, with a few exceptions.
Look for a couple of bottles of 'thyme' honey in the Greek islands market. Invariably, you get authentic honey because the Greeks consider honey as a favourite food for Gods.
I think the Greek Islands' flowers are loaded with delicious honey.
Greek Pasta
Greek pasta makes great edible souvenirs from Greece. I think you are surprised and scream "Greek Pasta"! I, too, was taken aback and wondered when the Greeks started eating pasta, lest alone make it
Nevertheless, it is a fact that tourist to Greece end up buy buying at least a kilogram of local pasta.
Christmas Cookies
I believe the crispy Christmas cookies occupy the shelves in bakery and supermarkets only about a month before the December 25th. So, if you happen to cruise to Greek Islands during November and December, remember to buy them.
If by chance you go to the islands during other months, you can buy butter cookies called Qurabia as edible gifts from Greece.
Peanut butter cookies in quite a large size are sold everywhere on Greece islands.
Giant Legumes
The Greek giant legumes are 100% unique and are available only in Greece.
They are shipped directly to your home in U.S.A.
Dried Figs
You can see the dried figs ubiquitously in Greece. They are piled up on street corner shop tables.  There are a few varieties of them such as 'organic', and 'wild figs'.
I would try the wild figs. They might spring surprise on my tongue.
If you are not a fan of fig s as fruits, you can think of buy a fig jam as edible souvenir from Greece. No one will say 'no' to any fruit jam.
Pistachio
Actually, pistachio that are grown in such remote islands taste better and lasts longer in your kitchen shelves.
Buy roasted and salted pistachio generously. It makes a valuable food souvenir.
Homemade rusks
These homemade rusks look so much different that I have seen ever. The rusks are coated with white sesame seeds.
Baklava
Baklava is a popular snack in Greece and also in Turkey. It is a sweet pastry that is stuffed with honey soaked nuts.
Hmm… it looks delicious!
Rose liqueur
It is a beautifully looking liqueur that is rose flavoured. It can bring a big smile on the gift recipient's face.
Caramelized peanuts.
Peanuts in any form is a healthy snack. When they are coated with caramel, the kids and some grown-ups too can't resist scooping them in their fists.
Even when unbranded, they are excellent Greek Food souvenirs.
In Greek Islands, you can buy myriad gifts of cheap value. Skip them and focus on finding well-packed Greek Food souvenirs that bring cheer to the receiver.