20 Delicious Mediterranean Vegetarian Dishes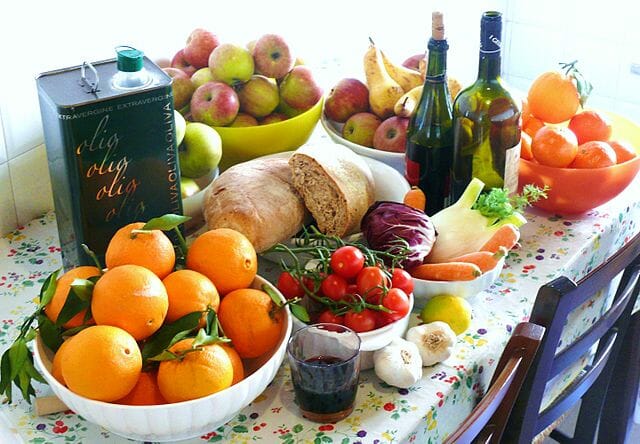 My first taste of Mediterranean vegetarian dishes was nearly 30 years ago. I don't remember what I ate but I recall the taste and the fact that I fell in love with Mediterranean cuisine.
Have you any idea how many countries have a Mediterranean coastline? As many as 21 countries have something to do with the Mediterranean Sea.
They are:
Syria
Greece
Turkey
Italy
France
Morocco
Spain
Algeria
Tunisia
Libya
Egypt
Bosnia & Herzegovina
Croatia
Cyprus
Albania
Israel
Montenegro
Lebanon
Malta
20 Delicious Mediterranean Vegetarian Dishes:
Imagine how many vegetarian dishes are cooked collectively by all these Mediterranean Sea-facing countries.
Surely, Mediterranean cuisine will be a mixture of cuisine from twenty-one countries! Depending on the individual indigenous spices, condiments, vegetables, and fruits, the range of vegetarian food will be incredibly diverse.
Even a veteran connoisseur who has published hundreds of foodie blogs would find it really tough to taste each and every Mediterranean Vegetarian Dish and chronicle them.
In this blog post, you can find several Mediterranean Vegetarian dishes but surely not all of them.
Go ahead, and plunge into the world of exotic vegetarian foods from the Mediterranean basin.
Mediterranean Vegetarian Dishes primary ingredient is wheat, especially in numerous forms of pasta and olive oil.
Food specialists have discovered that Mediterranean cuisine has been influenced by some unheard of cuisines that include:
Maghrebi
Levantine
Ottomon
Spanish
Greek
Neapolitan
Italian
Tabbouleh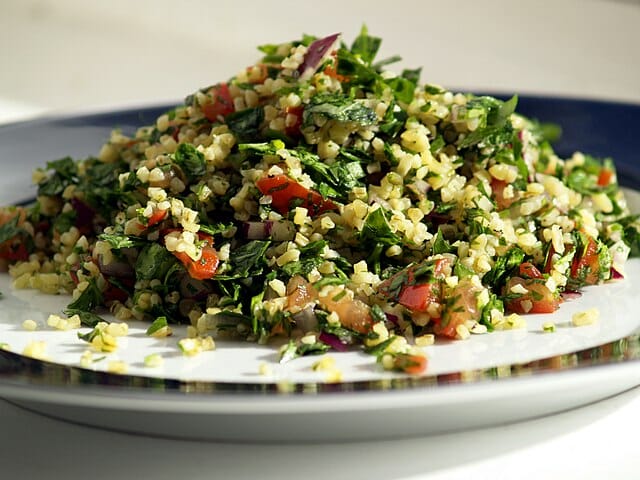 It looks like some uncooked food. Yes, it is a salad comprising bulgur (a kind of cereal), mint, parsley, onion, and tomato. After mixing all the ingredients, lime juice is sprinkled upon it. But before that, a small amount of ubiquitous olive oil is poured over the vegetables.
Diners can find salt and pepper shakers by their side.
Since this Mediterranean vegetarian dish is served predominantly in east Mediterranean countries, Tabbouleh is also called Levantine Salad.
Fattoush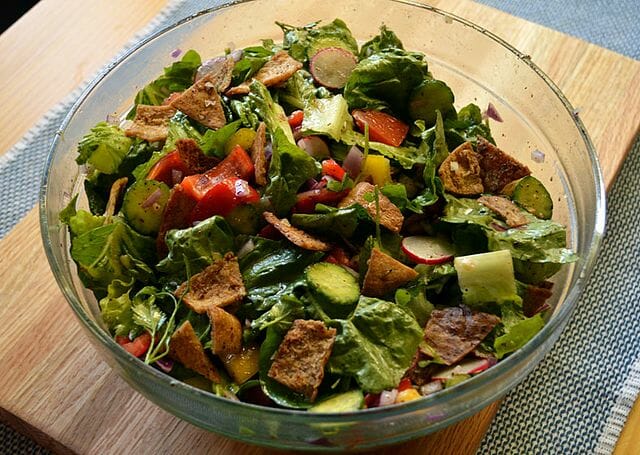 This is one more salad that is very popular in the Levantine region of the Mediterranean basin. The brown chunks you see on the image point to a local bread called "khubz". The other ingredients in this salad are radish, tomato, lettuce leaves, coriander leaves, and sumac leaves (a herb).
Salad lovers should make a note of these two salads and try them. Once successful in making it, they can set up a small kiosk selling Mediterranean salads in Sri Lanka.
Brilliant business idea-eh?
Kisir
A Mediterranean dish, you will find this salad if you are touring Turkey. The major ingredient is 'bulgur', a wheat-based cereal. The red color is due to the salad marinated in a spicy tomato puree.
The salad is dressed with cucumber slices and green olives. Hmm… must be tasty. I reckon it is worth a try.
Eetch
It is obviously a 'bulgur' based Mediterranean food that shows the cereal was soaked in a paste of tomato and chili powder. I can see the tomato and capsicum pieces. In addition, English cucumber slices are also found. Onion rings enhance the taste of the salad that is garnished with olive oil.
Couscous
It is really an exotic dish served in the Mediterranean basin. It looks like a multi-grain snack. Bulgur, corn pearls, and pearl millet are the ingredients.
The presence of red chili powder in individual bowls indicates that users can sprinkle it in the snack as per their preference.
Couscous has taken various avatars along the Mediterranean coastline. So, it is a widely eaten grain salad in Morocco and Algeria.
Hummus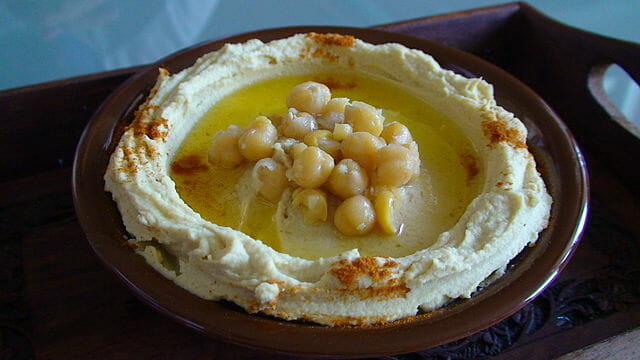 Actually, I should have placed it at the top of the list of Mediterranean dishes. However, it is too popular a dish that I pushed it down and placed an exotic dish at the top.
Hummus is an authentic Greek dish comprising of chickpeas and tahini. The liquid part in the image is tahini, a sort of paste made from sesame. Hummus is the national dish of Israel.
Along with chickpeas, quinoa is also added. A few cherry tomatoes are placed in the Hummus bowl to make the dis attractive.
From the look of it, Hummus is used a sort of spread or dip. Local flatbreads go well with a bowl of hummus.
Skordalia
Imagine a ceramic bowl, preferably dark in color. How will it be enticing if the bowl is filled with a pale yellow semi-solid dish made of mashed potatoes that are coated with a thick garlic paste?
It is a dip/spread that is placed along with hors d'oeuvres. Diners help themselves by dipping a fritter in the bowl of Skordalia before having a crunch bite into the fritter.
I think I have described it appetizingly.
Spanakopita
It is a pie all right! Spinach paste is stuffed into the pita bread along with cheese (feta), salted, and baked to perfection in an oven.
Rustico
A savory pastry that is popular in Italian restaurants. It is basically a puff (flaky savory with fillings) with cheese and onions used as stuffing.
Borek
It is again a puff with potato and onion stuffed inside and fried in oil. In some Mediterranean countries, instead of frying in oil, it is baked in an electric oven. In that case, it is called a 'pie'. These Boreks will go well with any Mediterranean dip.
Caponata
Doesn't it look like 'baingan ka barta'? Caponata is a Mediterranean version of the same. The main ingredient is baked eggplant (brinjal).
With baked and mashed eggplant, a liberal quantity of onion and tomato are added in mashed condition. Then, the whole mixture is sauteed on a flat pan.
Pasta salad
The pasta salad with typical Mediterranean white sauce is almost a staple in Italy, southern France, Gibraltar, and Turkey.
Pasta comes in all shapes, sizes, and colors. When you added yellow, green, and red bell peppers, the dish looks much more attractive in a white base.
You can be innovative, dear. Add olives (green or black), corn pellets, chickpeas, and grated cheese. I would even add cubes of cucumber and boiled potato.
It is a 100% vegetarian dish in which, only the pasta is cooked. White sauce is readily available in supermarkets. You can make this Mediterranean food in under 20 minutes. The leftover can be refrigerated overnight and eaten the next day or the second day.
Pasta cooked in Arrabbiata sauce
What a name and what a bloody color! I like anything red, be it a solid or a liquid. Arrabbiata sauce is a native of Italy. The major ingredients must be tomato and red chili. The semi-solid mixture of both these ingredients is cooked in olive oil. You can add garlic paste or onion paste.
The cooked pasta is then mixed with the Arrabbiata sauce and served.
Lasagne
This vegetarian lasagne has penetrated into some less-popular towns in  India long before. More than 15 years ago, I saw this dish being served in Agra.
Lasagne is a kind of pasta (same source) but inti thin sheets that are stacked in layers. Cheese and garlic paste would be found in between the lasagna layers and also on top of the dish.
It should be eaten piping hot. You eat it straight without any accompanying dish.
Baked Ziti
Ziti means a kind of pasta that is made to look like tubes. Similar to the normal pasta or macaroni, you bake the ziti tubes after breaking them into small pieces. Baking is done on a medium of tomato and mozzarella cheese.
Panne all vodka
So, it will be the first time you will be eating a pasta dish that has vodka as one of the ingredients. Panne is the name of the pasta that we are all familiar with. Look at its image below and you will nod your head.
It is a creamy dish, an innovation of the Italians that the Americans imported. They like anything creamy-right?
The red color is due to the presence of tomatoes.
Timballo
An out-and-out Mediterranean vegetarian dish that contains pasta baked with rice and potatoes.
Peperonata
It is a delicious stew made with bell peppers, onion, tomato, and carrot. On an after-thought, small Julianne cut carrot  are added raw that get soft in the hot stew.
Risotto
Risotto is a typical Mediterranean vegetarian food made of long-grain rice, cooked in the vegetable stalk. The surprise element is when you eat Risotto in northern Italy, you will recognize the distinct taste of white wine.
The creamy appearance is because of butter. Peas and mushrooms are added as a healthy note.
Spanakopita
Yes, it is a pie of spinach, cheese, and onion. It is a different version. It would like the Asian samosa, a deep-fried savory dish with stuffing made of onion and potato.
In order to make a Mediterranean dish from your Kiwi home, you have to understand the basic ingredients that including pasta, white creamy sauce, and bell peppers.
When you try to make pasta salad, you can be as innovative as you can when adding lentils, vegetables, and even chunks of musk melon, pears, peach, and watermelon.