Most Popular Sicilian Dishes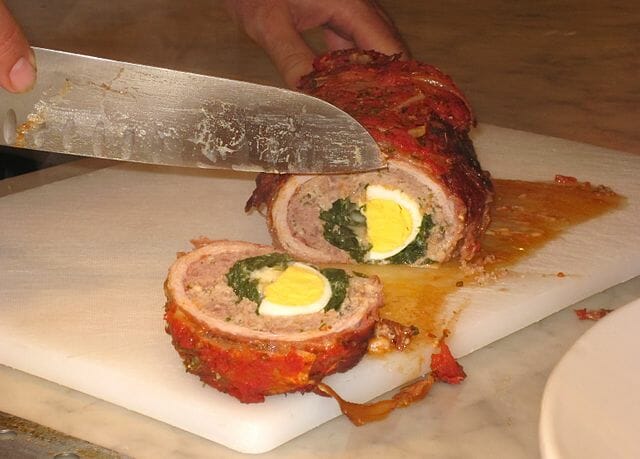 What food can you eat in Sicily? In this blog post, you will come to know what to eat in Sicily and what Sicilian dishes you can find on the restaurants' menu cards.
Among all the cuisines in the world, Italian cuisine is the most liked one. Even the Chinese and Spanish cuisines are listed after the Italian cuisine even though Chinese and Spanish foods have penetrated the world well.
Mainland Italy food, the foods of various Italian islands including Sicily, Mediterranean cuisine, and Venetian cuisine are the different foods the Italians consume based on their location.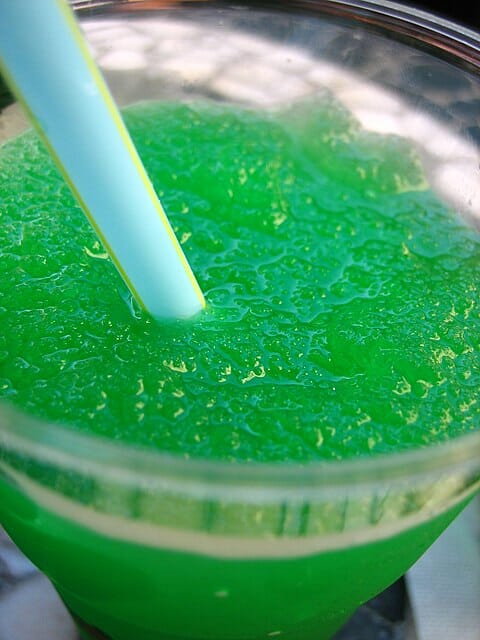 I would say Sicilian dishes stand apart from other Italian cuisines because of their long-standing culture that the Sicilians are fiercely proud of. They are equally proud of their traditional food culture.
Most Popular Sicilian Dishes
Let us walk through the gastronomic paths of Sicily.
Pasta alla Norma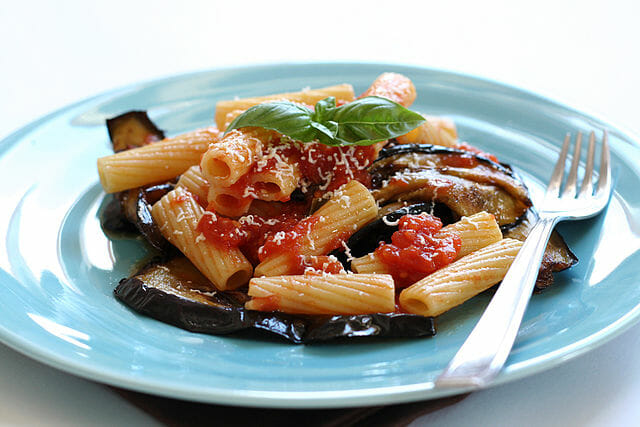 After my recent visit to the United States, I concluded that the present generation of children is crazy about pasta and its other avatars that including macaroni, lasagna, Fusilli, and spaghetti.
Pasta alla Norma is a crunchy pasta dish that is a popular food in Sicily. However, the addition of some of the sauces in Sicily varies distinctly from other parts of Italy.
The cylindrical-shaped pasta is known as Spaghetti. Pasta alla Norma is spaghetti that is cooked separately and mixed with a strong dose of tomato ketchup. Along with the spaghetti, cubes of eggplant are added.
The dressing of this spaghetti salad is goat milk cheese and in Sicily, it is known as 'Ricotta Salata cheese.
Pasta all Norma was so widely eaten and reviewed that it was voted as the Dish of the year 2108.
I ate a similar dish in Mont-Tremblant in Canada.
Caponata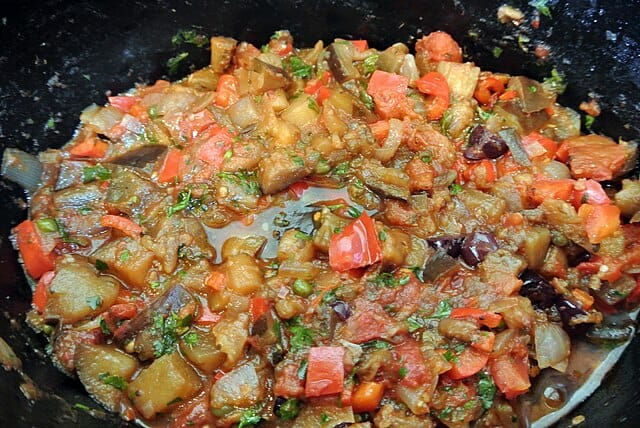 If you find the words Greek, Arab, French, and Greek in Sicilian dishes, don't be surprised. It is the process of evolution or calls it the law of reciprocation. It implies two things. Italian cooks who were responsible the exporting the local foods to the neighboring nations also brought back the foods of the other nations into their kitchens.
Caponata is a kind of starter in Sicily but it looks like the main course item. My stomach would be full if I eat a small bowl of Caponata which consists of tomato, green peas, aubergine cubes, and olive fruits, and dressed with olive oil.
A sweet and sour sauce called 'agrodolce' is sprinkled over the dish.
Maccu
Among what you eat in Sicily, know that Maccu is a soup made of fava beans and fennel seeds.
Though it is widely consumed daily in rural Sicily, it finds its way to the dining tables in Palermo on Saint Joseph's day that falls on the 19th of March, every year. I think some belief is attached to Maccu to be made on this special date.
Couscous
Both the name and the dish itself of this food in Sicily are very odd. In this Sicilian food, the basic ingredient is semolina wheat which is boiled in granule form. When served, the food plate or bowl also contained onion rings and baked potato.
During the offseason, semolina wheat is replaced with pearl millet. I find it strange that it is one of the dishes in Sicily's main course.
Frutta Martorana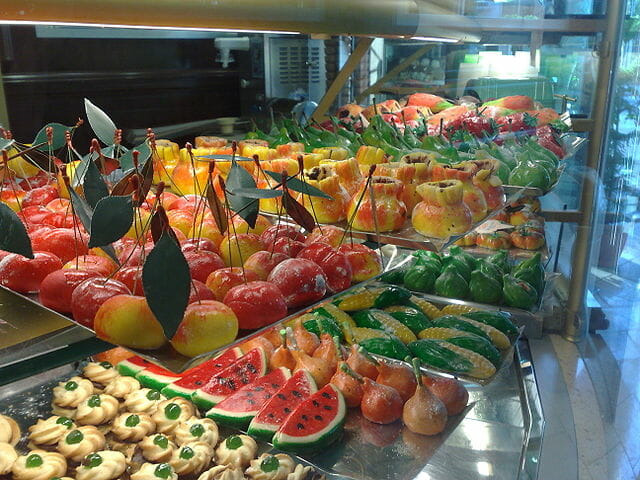 What do you make of these Sicilian foods? I know them. They are 'marzipans'. It is made of pure milk and shaped and colored like vegetables and fruits.
Marzipans are my childhood favorites and I still like them but they have become a rarity these days.
The makers of Frutta Martorana are exceptional artists because the sweets resemble strikingly similar to the real vegetables and fruits that include, okra, tomato, apple, pineapple, and guava.
Arancini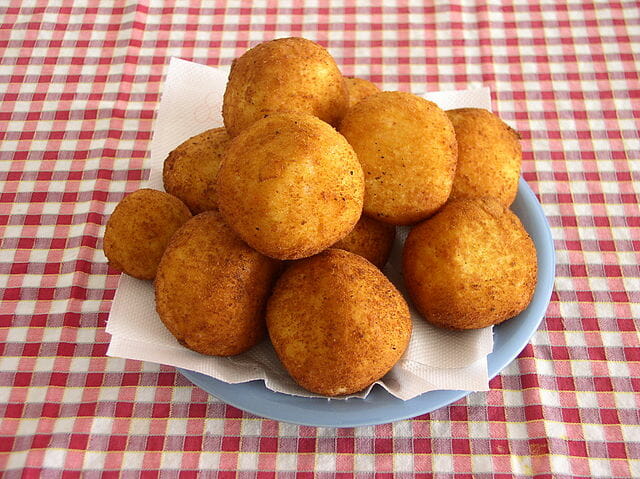 They look as if they are coated with breadcrumbs. Arancine (plural of Arancini) are stuffed rice balls. These rice balls resemble Indian stuffed 'bonda'.
Arancini is filled with onion, ragi, and green peas. Of course, the fillings vary throughout Sicily. Even meat is stuffed inside the rice balls and I believe it is always the fish meat.
Remember, Sicily is an island in Italy.
Here is another avatar of Aricini in Sicily.
It is made to look like the iconic Mount Etna, Sicily.
Canoli
Yes, Canoli is a pastry in Sicily. The outer shell is pasta and the stuffing includes ricotta cheese, cream, sugar, and chocolate.
Cassata Siciliana
Sicilians are fond of cassata cake that is used to be covered with ice cream. All cassata cakes are fruity in Italy. In Sicilian cassata, flavored liquor is also one of the ingredients.
Colorful fruit candies are used liberally to decorate the cake.
Sicilian pizza
It is an uncommon pizza that is vividly red in color. It is a palermitan sifncione. The specialty of Sicilian pizza is the addition of fish to the dish!
Stigghiola
You can call it a grilled lamb gut and it is a specialty in Sicily. Among various Sicilian foods, this one is a complicated dish that takes time to cook that involves skewing and grilling.
Skewers are generally classified under street food.
Sicilian Orange Salad
Hmm… it looks yummy. All salad lovers would say that. It looks as though the pulp in orange is scooped out carefully and laid out on a plate. Strangely, black pepper seeds are placed on the pulpy orange.
Pantesca Salad
The basic ingredients of this fresh dish to eat in Sicily are boiled potato and raw tomato cubes. Onion rings are placed on top and oregano is also used to add flavor to the Sicilian salad. In some restaurants in Sicily, raw mackerel fish is also added to the otherwise vegetable salad.
Sicilian Edible Souvenirs You Can Buy:
Food souvenirs give us immense pleasure, just like buying other gifts. For example, after you taste a bit of unique Sicilian cheeses, you can buy and gift them to neighbours and colleagues back home.
Gelato
Among the ice creams of the world, the Italian ice cream known commonly as 'gelato' occupies on the list of top ten ice creams in the world.
Gelato shops are everywhere in Italy and Sicily is no exception.
Gelo di Melone
I have never seen such a beautiful sweet. This must be rated high amidst the Sicilian dishes. The appearance suggests it is a watermelon pudding.
My Food Souvenir Ideas from Sicily:
Caciocavallo
Sicily makes a few kinds of cheese that taste different from the usual cheddar or mozzarella cheeses. Caciocavallo cheese is made either from cow's milk or sheep's milk. This kind of cheese falls under the category of 'stretched-curd'. It is the name given to a particular method of processing cheese.
Ragusano cheese
This cheese is also a stretched-curd cheese.
Biscoti Regina
Among the bakery items that you can eat in Sicily is Biscoti Regina.  This is a two-in-one bakery product that tastes sweet and savory.  The final product is heavily coated with sesame seeds that generally appear appetizing. Biscoti Regina is endemic to Sicily and makes a wonderful edible souvenir.
Buccellato
It is again an exclusive Sicilian dessert. It's a cake that is garnished with fresh fig slices.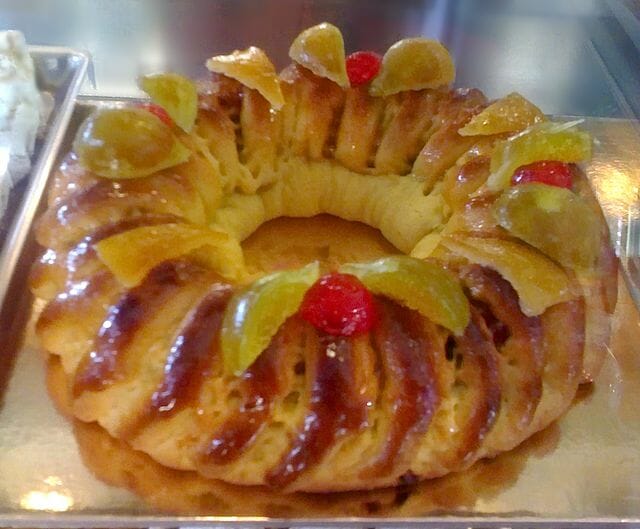 It looks like an anytime food gift. Buccellato is considered a Christmas delicacy in Sicily.
Cioccolato di Modica
I think it is handmade chocolate and is popular among all age groups in Sicily.
Cucciddati
Wow! It is inviting! These desserts are stuffed with figs that are decorated with colorful candies. It is a must-eat in Sicily.
Nzuddi
Nzuddi cookies contain egg white, almond, and strangely ammonia. Is ammonia edible?
From this long list of foods that you can eat in Sicily, selecting a few is a difficult task. As far as I am concerned, all of them appeal to me as 'must-try' Sicilian dishes.
I think you need to plan an exclusive Sicilian food tour that can demand a day more than a weekend. Is any long weekend around the corner, buddy?