Turks and Caicos Islands Travel Guide
Among the Caribbean Islands, Turks and Caicos Islands that are always mentioned as TCI are two main islands and several smaller islands and cays. Turks island is smaller than Caicos Island.
Collectively, they belong to the United Kingdom. They fall under the British Overseas Territory.
These two islands comprise several more small islands (8 mainislands and 22 smaller islands) and cays. In all, about 45k people live here permanently.
In spite of its stunning beaches that wear white sand, great seafood, and exciting water sports, I would say it is a less-visited island because other Caribbean islands such as Jamaica, Cuba, Bahamas, and Dominican Republic garner the limelight and the maximum number of tourists.
However, true island lovers know the value of spending a week long vacation in TCI.
Turks and Caicos Islands Map:
Here is a map of TCI.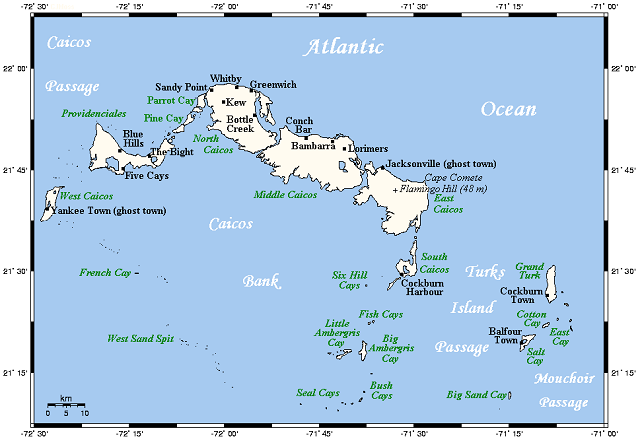 The map shows all the major and smaller islands as well as all the cays (key) of Turks and Caicos.
With several islands and cays surrounding the main two islands, you as a tourist have a lot of scope to see around these floating lands. Island hopping is one of the major things to do in TCI.
Turks and Caicos Islands' breathtaking beauty, sunny weather, and relaxed life style attract more than a million visitors every year. That is a sizable number of tourists making it an important island vacation destination for the Americans.
Where the Turks and Caicos Islands are located?

TCI are located in the Atlantic Ocean, to the east of Cuba and to the south of the Bahamas, As a matter of fact, these twin islands belong to the Bahamas archipelago (Lucayan archipelago) in which the big Bahamas is also a part of.
As you can see from the map, Miami is approximately 925 km away, to the north of TCI.
How to reach Turks and Caicos?
Flights from most of the big North American Canadian cities that include, Montreal, Toronto, Chicago, and New York, deposit you at the international airport of Providenciales, one of the islands of TCI.
Even flights from London, Bahamas, Cuba, Jamaica, and Dominican Republic operate flights up to Providenciales.
The flying duration varies but you can imagine 4 hours of flying from most of the east coast American cities.
From there, you can take a domestic flight to reach Grand Turk Island. In spite of their existence since long time, there is no ferry service between Providenciales and Grand Turk.
However, you can board a ferry from Providenciales to North Caicos Island. The sea passage takes about 30 minutes only.
What to eat in Turks and Caicos Islands?
Seafood is the staple in TCI. Local specialties include spiny lobster and big conch. They taste delicious when grilled in an open beachside kiosks. Compared to established restaurants, the street food vendors are generous in applying spices on the grilled fish and crab species.
Somehow, the islanders have developed a taste of boiled fish. Generally, people like fish when thoroughly cooked in an oven or grill.
Here in TCI, a plate of boiled fish pieces are always accompanied by a bowl of porridge that is called 'Grits'.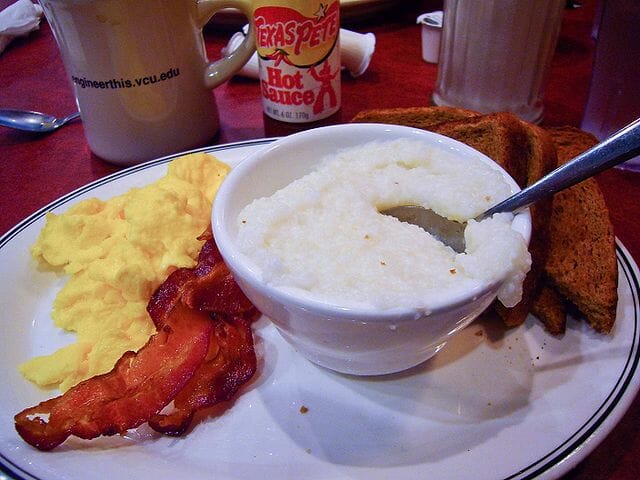 It is actually a corn meal.
For snacks in the evening, conch fritters that are served piping hot with tomato ketchup is highly recommended.
Crab and rice is another widely eater dish during lunch. For this, I read 'blue crab' is used. I think aromatic rice is cooked and served along with fried crab.
Blue Crab
Here is another unique specialty of TCI. First, look at the image below.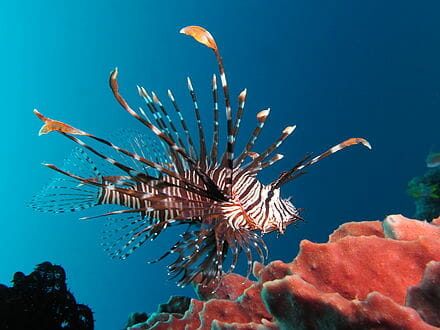 This is known as "Pterois". It is a fish,  an attractive one really. Unfortunately, when cooked and served, it won't retain its beauty. Pterois is also called 'turkeyfish' and 'butterfly-cod', and Lionfish.
Jerk chicken is also popular in TCI restaurants and street food stalls. I think you will love the crunchy jerk chicken.
If you are used to eat Indian cuisine, you should try the kidney beans pulav or peaspulav. Don't be surprised if you taste coconut flavor. Yes, the cooks use coconut milk during the later stages of cooking the pulav.
Other exotic dishes of Turks and Caicos that you must try:
Vegetables and conch meat thick soup
Conch salad
It seems conch is caught in abundance off the shores of TCI.
Where to stay in Turks and Caicos Islands?
When an island is attracting a million visitors every year, surely, there will be more than enough resorts, hotels and bread & breakfast inns.
Moreover, these islands have been inhabited a few centuries before. So, there won't be any dearth of staying options.
The most sough-after place to stay is Grace Bay. Long Bay is also another preferred place to find hotels rooms.Coral Gardens is the top most hotel in Grace Beach.
Another recommendation is Grace Bay Beach Club. I am sure in such a premise, the service will be excellent.
If you are traveling with your full family (I mean with spouse and children), you need a large place to stay. In that case, look for some spacious Airbnb properties.
Types of places to stay on TCI include all-inclusive resorts, beachfront resorts, boutique hotels on private islands, budget hotels and holiday rentals.
Other places where you should stay include:
Cockburn Town-Grand Turk Island
Turtle Cove-Providenciales
Grand Turk Island
Whitby-North Caicos
The Big Settlement-Caicos Island
Strangely, there are no overwater villas on TCI in spite of a big island vacation destination and that too in the Caribbean region. If only someone builds floating bungalows on TCI, I am sure they can expect year-round occupation.
Best Things to do on Turks and Caicos Islands:
I would arrange all the things to do on TCI under four subheadings like this:
Water sports on TCI
Wildlife watching on TCI
Island Hopping tour on TCI
Visiting attractive places on Turks and Caicos
Water sports in TCI:
I understand there are some interesting water sports on TCI that you might not have read of thus far. Don't scorn, mate; read further to believe it.
With turquoise water on all four sides, with mini Cays and small islets that are strategically located for various water sports, the opportunities for playing on the water are really abundant.
Water Sports in Turks and Caicos  mainly involve moving on and under the water by different methods. As a matter of fact, it so on any water surface in the world.
Moving on the water surface includes:
Surfing
Sliding
Swimming
Snorkeling
Boating
Moving underwater means:
Swimming
Diving
Seafloor walking
Submarine rides
This is the water sport I meant that is unique on TCI and you might not have heard of subwinging before. Watch a short video clip below that will explain how subwinging is played in the water.
If you have snorkeled before, you won\t hesitate to play this water sport. In sunwinging too, you the rider wear a snorkeling mask. Once in a while, you surface to exhale and inhale air.
As you ride underwater, you can see extraordinary marine creatures and reefs. If you can attach camera to your head, you can shoot stunning videos that capture he movement of colorful fishes very closely.
Grace Bay is where subwinging is available. In addition, you can visit the Caicos Cay, Pine Cay, Water Cay also to hire snorkeling mask and get underwater to be pulled by a boat while you hold onto a board that is attached to the boat with a string.
Isn't it a thrilling water ride? Do you think you will indulge in this unique water sport?
This water sport involves you standing on a board and connected to a parachute like wing called 'kite'. The wind moves you over the water at a considerable speed. It is such an exciting water sport that will make you indulge in it again and again. Turks and Caicos Islands are blessed with ideal wind condition that is suitable for kiteborading or kitesurfing.
Providenciales is a popular spot for this water sport.
Kayaking is nothing but row boating with some distinct differences. First, the boat that is used in kayaking is rather narrow that can accommodate one or two persons only at a time.
Another difference is the paddle you use to propel yourself in the water. In kayaking, you use a double-sided blade.
On TCI, you can't find huge waves that make kayaking difficult for a single person to paddle.
In this water sport, you stand on a board and use a paddle to surge forward. Usually, as you gain experience, you get bold and try this water sport in white water conditions too.
While standing up on the plastic board or on an inflatable, your feet are harnessed to the flat surface.
This is another unique water sport that you are not likely to have enjoyed before.
Here is how a sea scooter works:
So, this is a scooter without wheels!
It is almost a scuba diving sport but limited to only a few meters under water. Basically, it is an advanced snorkeling where in, you move faster under water wearing a snorkeling gear.
When you hold onto the sea scooter and switch it on, it pulls you inside the water. It is snorkeling with almost nil effort. Children and seniors can use these sea scooters to surf on the water's surface.
Got it?
Man, I would visit Turks and Caicos Islands just to indulge in this thrilling water scooter fun.
Sea Scooter has alternative names: DPV (Diver Propulsion Vehicle) Underwater scooter.
On TCI, sea scooter water sport is available on Providencials Island and Grace Bay.
It has another name known as 'Hydroflighting". After seeing how this water sport is played, you will say 'hydroflighting' is a more appropriate name.
In this high-thrill water sport, your legs are strapped onto two flyboards (I would say just an external heel to each of your foot). Theseboards are then attached to a long water hose which itself is attached to a watercraft.
When the high pressure water jet is directed beneath your feet, you are throuwn up high in the air.
I think flyboarding water sport is also rather scatted over the globe. TCI offers you this exciting game on the water.
Again, you have to reach Providenciales to enjoy hydroflighting game. It seems Providenciales is the happening place on Turks and Caicos.
You the rider isstapped to a wakeboard. I mean, your legs only are bound. Your wakeboard is attached to a fast-moving boat by a rope. You hold on the rope and when the boat starts moving forward, your ride on its wake.
Veterans will play a few aerial tricks while riding.
Providenciales, Little water Cay and Donna Cay are the locations for enjoying wakeboarding on TCI.
Other water sports on TCI include scuba diving and freediving.
Various forms of fishing including the basic angling are allowed on TCI. Other forms of fishing are bone fishing, fly fishing, reef fishing.
If you enjoy fishing, you have to join a private fishing tour on TCI offered by a few companies.
Beach Combing means meticulous hunting on the beach for seashells. It is one of the popular things to do on Turks and Caicos.
You get to find myriad objects such as bottles with a message paper inside, sea glass, queen conch and so on apart from the usual seashells including starfish, cowrie shells, tritons, tulip, and bivalkves.
Since seashell hunting is restricted on TCI, you have to join an organized beach combing tour that will takeyou  to places where beach combing is allowed.
It is interesting to know that range of seashells is so large on TCI that the local government is exporting them.
Visiting the best beaches on Turks and Caicos Islands
You are visiting some remote ilsnads in the Atlantic Ocean. There are islets, and cays surrounding the main islands. With sea on all four sides, there are too many beaches that one can explore.
While some beaches are small where there is only a few feet of sand, some beaches are true to the nature of Caribbean beaches with sizable area of white sand.
Here some of the best beaches on Turks and Caicos.
The island of Grand Turk has the most beautiful beaches. The sea wears a magnetic blue shade that is rare to see. The best beaches on this TCI Island include:
Cruise Center Beach
Pillory Beach
Cockburn Town Beach
Beaches on Providenciales Island are the most-visited beaches on TCI. The Grace Bay Beach's sand is a lovely white.Other beautiful beaches you should visit when you are on Providenciales are Bight Reef Beach, Smith's Reef, Long Bay Beach, and Turtle Tail Beach.
There are several more beaches that are worth visiting on TCI. However, you may not find time to visit all of them.
Visiting nearby islands and islets is one of the top most things to do whenever you are touring an island nation. You will never get another chance to visit such distant islands.
When you are touring the Turks and Caicos Islands, the following islands can also be visited. Ideally, you should find and join a guided boat tour.
Grand Turk
Providenciales
South Caicos
North Caicos
Middle Caicos
Cays near Turks and Caicos Islands that you can go to:
Salt Cay
Pine Cay
Parrot Cay
Ambergris Cay
Uninhabited Islands & Cays
East Caicos
West Caicos
Water Cay
Little Water Cay
Little Ambergris Cay
Fish Cay
Long Cay
Mangrove Cay
Private chartered boat tours are available and offered by experienced island hoppers. They know the Atlantic Ocean very well.
Wildlife watching on Turks and Caicos
The Caribbean Islands are among world's best places for bird watching. The Caribbean birds that find excellent prey in the Atlantic Ocean are diverse seabirds. In addition, a great range of birds are living happily in the tropical forests on TCI.
Birds that you can watch on Turks and Caicos Islands
Great Green Heron
Egrets
Grebes
American Oystercatcher
Brown Pelicans
Whistling Ducks
Pelicans
Ospreys
Bahamas Woodstar
Yellow-crowned Night Herons
Where are the bird watching havens on TCI?
Northwest Point National Park
Bird Rock Trail
Northwest Point Pond Reserve
Ramsar Nature Reserve
Flamingo Pond-North Caicos Island. It is a terrific sight to watch so many pink flamingoes that are a delight to watch when they walk.
West Harbour Bluff
Pigeon Pond Nature Reserve
French Man's Creek National Park
Other things to do on Turks and Caicos
Mudjin Harbour for spectacular and uninterrupted of the Atlantic Ocean horizon. This attraction is located in Middle Caicos Island.
Chalk Sound National Park-it has several tiny cays and islands that are home to some rare wildlife such as iguana (a kind of lizard), stingrays, and whales. It is a lagoon, a large one that is good for kayaing and standup paddleboarding.
West Caicos Marine Reserve
Conch Bar Caves
Best Time to visit Turks and Caicos
February to August is a glorious period to enjoy the TCI. December and January are also great but it is a peak season for the tourists from snow-bound Canada and Europe. There will be crowd that escalates the boarding and lodging prices. Even the chartered boats will be difficult to get.
Well, I would include even a monsoon season for ardent nature lovers who go berserk when they see rough seas, torrential rain that bring up the hidden insects from beneath ground, exclusive birds that arrive from other parts of the world because of abundance of prey, and above all, reduced prices of hotel rooms.