10 Day Trips from Sorrento, Italy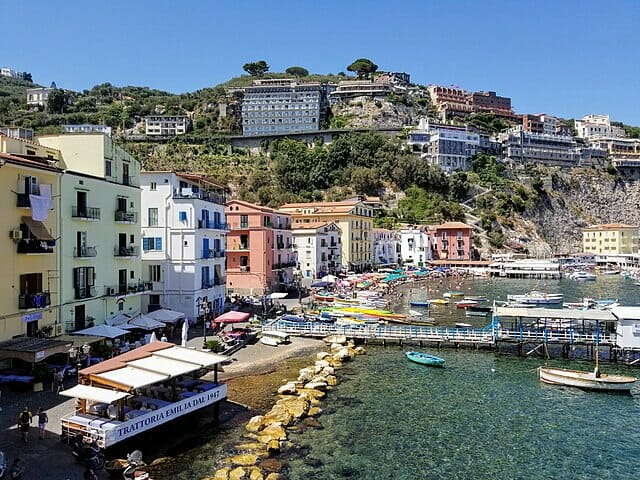 The mountain that is seen from Sorrento is the world-famous Mount Vesuvius, a volcano and an active one but now dormant. Let us know ten best day trips from Sorrento, Italy.
Sorrento, one of the well-known tourist towns is located in Southern Italy, abutting the Bay of Naples, a part of the Tyrrhenian Sea.
Sorrento is ideally surrounded by several extremely beautiful islands of Italy that include Ischia, Capri, Procida, and more.
Hence, if you keep your base in Sorrento, you can make several day trips to quite a handful of islands that are also great for weekend holidays.
Since these Italian islands are not very large, you can go around them and see important natural attractions and return back to your hotel in Sorrento on the same day.
Ferries ply between the islands and also from Sorrento. In addition, apart from the serene islands, you can plan a day trip to nearby historic towns such as Pompeii, a UNESCO World Heritage Site.
10 Day Trips from Sorrento, Italy
Amalfi coast is included in your day trips from Sorrento. You might have heard so much about the beauty of Amalfi coast which is finally within your reach.
Sounds alluring-eh?
Let's go, buddy!
Ischia Island
Ischia Island is the closest Italian Island to Naples. It is 100 km west of Sorrento.
The beautiful of city of Naples, one of the highly-visited city in Italy is just 55 km away.
In spite of measuring just 10 km long and 7 km wide, it is considered as the largest of Phlegrean Islands that are located in Tyrrhenian Sea.
The beauty of Ischia is its mountains spread throughout the island. Naturally, all the buildings are high on the hills, giving breathtaking view of the sea. That's why it is a foremost day trip from Sorrento.
The volcanic mountains account for numerous natural thermal springs. The weekenders to Ischia from Naples and Sorrento spend much of their time in and around the natural geysers.
Secondly, the beaches in Ischia Island are simply stunning with the backdrop of the volcanic mountins.
Here is beach scene photographed from the cliffs.
The several breathtaking scenic spots on the island are favourites for film and television serial makers. Surely, you should not miss visiting Ischia Island when you are either holidaying in Amalfi Coast or Naples, or Sorrento, the three highly visited Southern Italy vacation destinations.
Amalfi
Amalfi town is located east of Sorrento, just 40 km away. Both the destinations are on the mainland of Italy and hence connected by road. The journey time is only an hour.
Your drive to Amalfi coast is extremely dramatic. The road is laid on top of the cliffs overlooking the Tyrrhenian Sea.
The image above shows how breathtaking Amalfi is.
Amalfi is facing the Gulf of Salerno and its coast line is known as Amalfi Coast.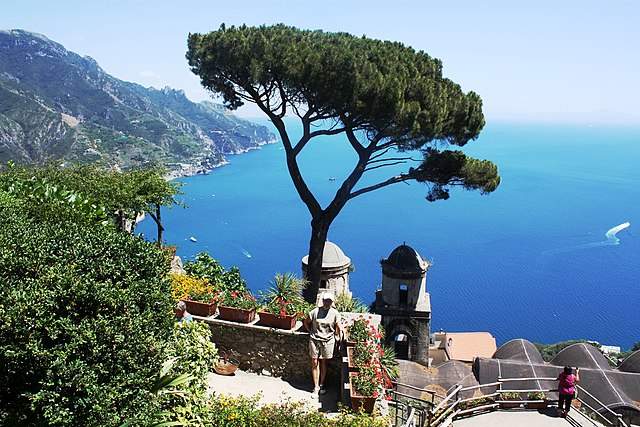 The towns located around the Amalfi coast are important holiday destinations. They include:
Positano
Salerno
Ravelto
Cetara
Tramonti
Minori
There are more towns on the Amalfi Coast. I believe 17 towns attract the tourists with luxury resorts and sea-front hotels.
For your information, the entire Amalfi Coast towns and beaches are classified under UNESCO World Heritage Sites.
I remember reading even Rome and Sicily, the two great tourist destinations stand behind the Amalfi Coast in the list of top Italian vacation spots.
Again you stand to gain by taking a day trip from Sorrento to Amalfi coast because of high cost of lodging there.
Don't ignore to visit the St. Andrew cathedral; it is awesome.  It is located above the Piazza Duomo.
Another immaculate sight is The Chiostro del Paradiso. See the picture of it below.
When you have completed your appointments with the history and religion, it is time to hit beaches in Amalfi Coast.
The clear water, the beautifully painted houses on the cliffs overlooking the Tyrrhenia Sea, and the myriad cosmopolitan tourist crowd will make you keep appreciating yourself for choosing this day trip from Sorrento.
Nerano
Nerano is one of the towns in the Amalfi Coast. It is known for its delicious seafood restaurants. Its beach-front has got some stunning sights.
The towns of Amalfi coast are known for cultivating grapes for wine making.  The grape orchards pregnant with the grape bunches will steal your heart.
Positano
Positano is also a fishing village in Amalfi coast.  It is inexplicably blessed with very friendly climate that impressed with the Roman rulers. Many of them have made Positano as their summer escape destination from Rome.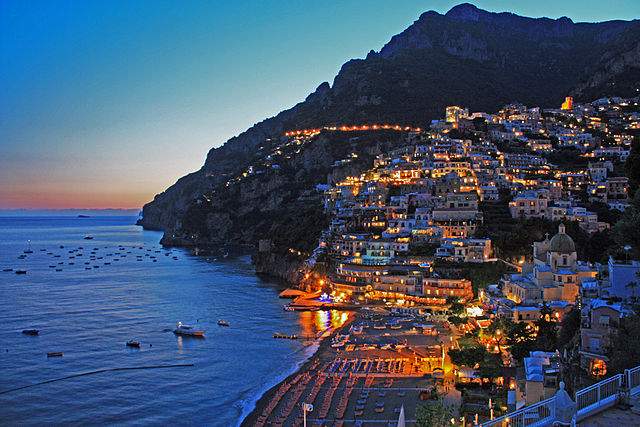 Residents have to climb down the steps to reach the lovely beaches below their houses. Wouldn't that be the way to live? It is an absolute luxury.
Pompeii
The historic city of Pompeii is only 27 km north of Sorrento. Pompeii is also the nearest city to Mount Vesuvius.
Pompeii attracts large number of tourists throughout the day to see its historical importance, and archaeological ruins.
It was ruined once due to the eruption of Vesuvius. Thick ash covered the city up to a staggering 20 feet! Imagine the devastating effect of the volcano.
Pompeii was all glory during the Roma reign.
Even now, it is one of the biggest tourist attractions of Italy.
Mount Vesuvius
Mount Vesuvius National Park is a very popular tourist attraction for the visitors to the Amalfi Coast. There are a few trekking trails on the mountain to reach the volcano's crater.
It is interesting to note that several thousands of people are living on the volcano's slopes and base.
From your Sorrento hotel, you can join a full day tour to Vesuvius. A short tour of Pompeii is also included in the organized tour of Vesuvius by train and bus.
I think the tourist bus goes up to some extent on the Vesuvius. From there, you may require a walk of half an hour to reach the crater's rim.
During your trek, if you are a birder, you can spot several known birds that include:
Hoopoes
Kestrels
Wood-pigeon
Buzzards
Vesuvius National Park is a thrilling place to watch, near Sorrento or Pompeii.
Capri
Capri is an island in Tyrrhenian Sea and is connected by a ferry from Sorrento. The short distance makes it a great stop for a day trip from Sorrento. The ferry ride involves just 30 minutes of sea crossing.
Capri's extraordinary beauty, sunny weather, fantastic beaches, luxury resorts are great crowd pullers as far as from Hollywood. Capri is literally a paradise for the rich and famous, and the bold and beautiful.
Since it is an expensive place, it is a better to make a day trip from cheaper Sorrento.
There is a place called "Anacapri" on the Capri Island. The biggest tourist attraction of Capri is the chair lift ride up to the Monte Solaro peak from Anacapri.
The glistening Tyrrhenian Sea far below is sight to behold. The sea also bekons adventurers to its Blue Cave. A boat ride to the Blue Grotto should not be missed in Capri Island, which is a day trip destination from Sorrento.
Naples
Naples city is 50 km north of Sorrento, facing the Bay of Naples. It is a sought-after vacation spot for the Italians, Greeks, Middle-East country people and of course the Americans.
Due to proximity to Sorrento, Naples is ideal for a day trip from Sorrento, Pompeii, and Amalfi.
Naples also acts as the gateway to several islands on the west coast of Italy.
Naples is another historical city that retains all of its past glories in its fine architecture, food, festival celebrations, the dress, and drinks.
You should see it to believe why it is such a terrific holiday favourite of thousands of people from all over the world. Due to many of the ancient ruins, temples, palaces, castles, etc, Naples is declared as one UNESCO World Heritage Sites.
Moreover, Naples is located close to the Vesuvius, one of the ultimate attractions in Italy and in Europe.
Do you know?
Do you know the widely eaten Pizza known as a poor man's dinner is a native of Naples? Pizza is classified under Neopolitan cuisine.
Not only the pizza but several more dishes are known to have originated from Naples. Even today, Naples is a haven for gastronomes. So, leave early from Sorrento so as to reach Naples for breakfast itself. Before returning back to your Sorrento hotel, eat your dinner too in Naples.
If you are a first-timer to Naples, join an organized food tour of Naples.
Naples is now an ultra-modern city with beautiful skyscrapers. Here is the image of a tourist landmark in Naples known as "Centro Direzionale".
Herculaneum
Does the name sound familiar to you? It is another Italian town near Sorrento that is rich in history. It is more of an archaeological site than a modern town.
As a daytrip from Sorrento, you can go to Herculaneum either by car or by train that goes to Naples. The distance is 40 km from Sorrento.
When you wander through the excavations, you will recognize it as an ancient Roman towm. It was destroyed by the eruption of Vesuvius in 79 AD.
Before you visit Herculaneum, read a bit about it Wikipedia.
Ask your hotel desk in Sorrento if there is a guided train tour of Herculaneum. If the time suits you, it will be an ideal tour.
Procida
Procida is really a tiny island in the Bay of Naples. It is located just 30 minutes boat ride away from Sorrento. You can easily contemplate a day trip from Sorrento.
However, some ferries first go to Naples, pick up passengers and then go to Procida, In that case, you can add an hour extra if you boarding the vessel from Sorrento.
As a matter of fact, you can think of visiting Capri also on the same day, allocating half a day to each of the much-talked about Italian islands by island lovers.
You will appreciate the brightly painted houses and cafes on the water front, love the beaches, and enjoy authentic Italian sea food that is swallowed with a glass or two of highly popular Italian wine.
One or two beaches of Procida wear black sand due to volcanic activity in the past.
You will be awed at the sight of stacks of rocks that the nature created them over the centuries. Here is once such geological wonder of Procia, which is a day trip away from your base at Sorrento.
Similar to most of the southern Italian coastal towns and islands, the sea is abutting tall cliffs on which, houses are built.
Location of Procida:
Since the island of Ischia is only 24 Km south of Procida, you can combine your tour of Procida easily with a visit to Ischia.
The sea is swimmers' friendly in Procida. That invites snorkelers also.
Finally, since Procida is an historical island that was ruled by Spain long ago, it is considered as a real Italian cultural center.
If you are fond of lemons and lemon-based beverages, Procida sells extra-large lemons that you can buy. Don't forget drink a bottle of Limoncello, the all-time favourite drink of Italy.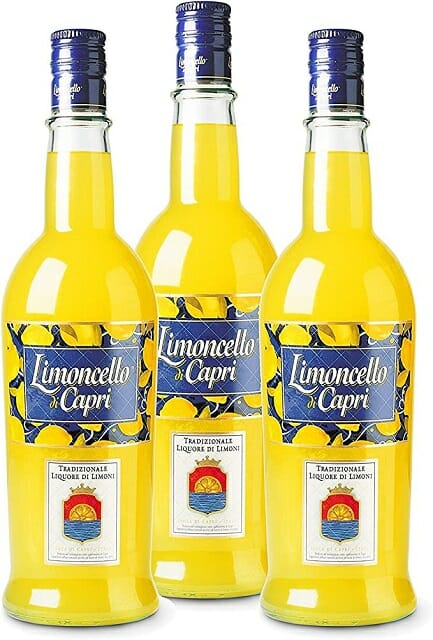 Beautiful, lemon yellow.
That's all about the day trip from Sorrento, Italy. You have plan an exclusive trip to Sorrento; you cannot see Rome and go to Amalfi coast. In that case, your holiday will be for two weeks.