20 Best Things to Do in Capri
The legendary and one of the highly sought-after Italian islands is Capri. It is located on southern Italy, on its west coast. Capri is facing the Tyrrhenian Sea, a part of Mediterranean Sea.
I think, next to Sicily, Capri attracts the most number of tourists from other European countries, Middle Eastern nations, and Canada.
In this blog post, we will look at the various things to do in Capri. It is highly recommended to buy a trust-worthy travel package since you may find it difficult to speak the local language.
In addition, you are not likely to miss important tourist landmarks during your tour, when you join a guided Capri Island tour.
You saw the location of Capri on the photo above. It is not very far from Rome. 265 km is the distance between Rome and Capri.
However, Naples, one of the major tourist cities in Italy is nearer to Capri, at just 45 km south.
Let us now explore the accessibilities of Capri from Rome, Naples, and other parts of the world.
You can reach Naples from Rome in just 4 hours. The distance covered by the train is 225 km.
From Naples to Capri Island
The remaining 45 km from Naples will only take fifty minutes in a ferry.
Ferries ply between Sorrento to Salerno, Positano, Ischia, and Amalfi.  These are all small towns on the Amalfi Coast. The ferries make a stop to allow passengers to disembark here.
Though, a stay in Capri will give you utmost pleasure, you can also make one or more day trips both from Naples, and Rome.
I think the image below will clear your doubts about the travel options from other places that include the Ischia and Procida Islands.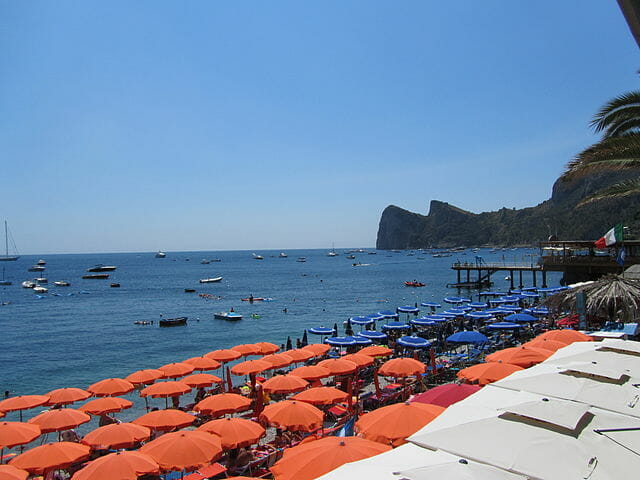 Best Things to Do in Capri:
At the outset, please be aware that Capri is not a new island that became a popular island for vacation. It has been the darling of rulers of Roman Empire. Now, it is a full-fledged resort island of Italy.
As a matter of fact, all the islands of Italy are located in different seas that include:
Adriatic Sea on Italy's east coast
Ionian Sea on Italy's south
Ligurian Sea on north west Italy
Tyrrhenia Sea on the west of Italy
Mediterranean Sea
Marina Piccola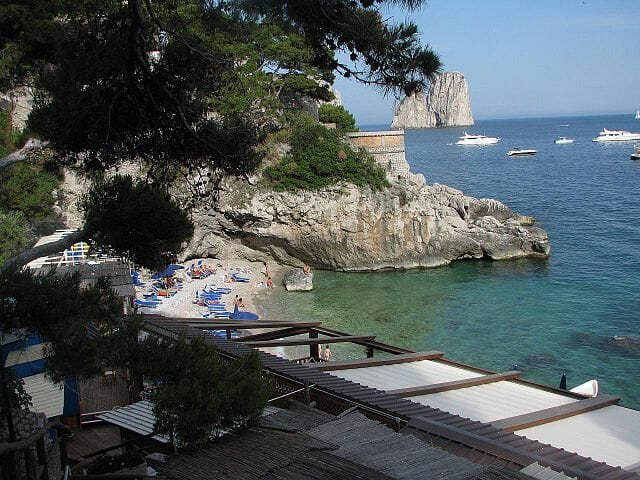 Marina Piccola is where a small harbour town. This harbour was used in as early as the reign of Augustus and Tiberius. When you visit this tourist spot in Capri's south, remember this information and you will feel a thrill.
Belvedere di Tragara
This is a promenade, facing the Tyrrhenian Sea. Generally, promenades are very beautiful with great views. Over the years, promenades are developed with shops, bistros, and bars, provided, there is width.
Faraglioni Rocks
These are just rocks jutting  from the sea. There is nothing very beautiful about them. Geographically, these rocks are called "Sea Stacks".
Nonetheless, they will be in your itinerary of Capri Island tour when you join a guided tour package of Capri, from Naples or from Rome. I am sure, your hotel reception desk can arrange it for you and even, may drop you off at the Rome railway station or the ferry docks in Naples.
Marina Grande
Marina Grande, as the name suggests, is the grand main harbour of Capri Island. Marina Piccola is a small harbour.
If you are visiting the Marina Piccola from Marina Grande, you will clearly see the Faraglioni sea stacks.
The main harbour has a lovely backdrop of houses on terraced cliffs with brightly painted colors. The scene is really mesmerizing when you view the Tyrrhenian Sea from the cliff side.
Blue Grotto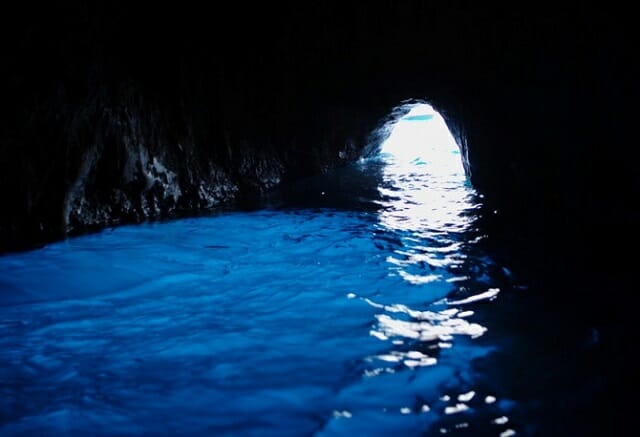 Unquestionably, the beautiful Blue Grotto is magically attractive. Visiting this sea wonder is one of the interesting things to do in Capri.
A 'grotto' is nothing but a naturally formed cave caused by the relentless wave erosion. Somehow, when you enter these grottos, the navy blue color of the sea will catch you off guard. The water is still inside which is ideal for swimming.
The cave is nearly 160 feet long. Can you swim that long? I used to do that long ago.
You are taken in a small vessel that can carry just four visitors. Please be aware that, you have to lie down flat when the boat enters the Blue Grotto.
If you choose the noon time to visit the blue grotto, you can see the brilliant blue, dazzling in front of you and tempting you to take a dive into the sea.
Your Island tour is not complete, if you don't visit the mesmerizing "Blue Grotto".
Villa Jovis
Among the things to do in Capri, there are some buildings left behind by the ancient Roman rulers. Villa Javis is one such building, which is actually a villa but in dilapidated condition. It was built for the use of Roman emperor Tiberius in 27 AD!
Touching the ruins will give you goosebumps if you are one of the admirers of ancient Roman reign.
Best Things to Do in Beaches in Capri:
Being an island, beaches are, on all four sides of Capri. I would go to secluded beaches if I want to enjoy the Tyrrhenian Sea to myself. However, when I want to enjoy people watching, I would go to popular beaches, of which, there are several in the Island.
We have already seen the beaches in the two harbour areas namely Marina Piccola , and Marina Grande.
Below are some more beaches that are always crowded.
Lighthouse Beach (Faro di Punta Carena)
This beach is known for watching the brilliant sunset. It is more enjoyable, if you buy yourself a drink, probably, the famous Spritz from one of the bars by the beachfront.
Since it is closer to the Blue Grotto, it is one of the highly visited beaches.  However, it is almost deserted in high noon.
Grab a can of chilled beer and gaze at the horizon without any obstruction.
While the beach area is small, the lacuna is made up when you get to view the Tyrrhenian Sea from the terrace of Torre Sarcena Hotel, situated right in front of the sea.
I read, this is the most visited beach in Capri. It is a pebbles beach with bars and cafeterias.
When you go to Marina Garnde as part of your tour, you can get on board a boat to Bagni di Tiberio beach. It saves precious time if you are short on time budget.
This is a picturesque beach and at the same time, a hidden gem. As a lesser-known beach in Capri, it is always quiet. It's a great beach just for relaxing and listening to the sound of gentle lapses.
You can have a look at this beach when you visit Marina Grande. In about 10 minutes walk, you can approach the Palazzo a Mare.
Villa Sam Michele
Overlooking the Tyrrhenian Sea, it is an example of celebrity style of living on the island.  As part of tour, tourists are taken to this spot with pride by the tour operators. It is a sort of viewpoint in Capri. From here, you can see the volcanic Mount Vesuvius in the distance.
Mount Vesuvius
There are boat trips to the volcano. Hike up to the craters to sink in a breathtaking view of the seascape.
Pompeii
It is a history-rich coastal city, located about 10 km east of Naples. You will anyway visit the ancient city when you go to hike the Mount Vesuvius.
This is how Pompeii looks from Mt. Vesuvius.
When you look at the remains of ancient Basilica (picture below), you will know it is iconic of ancient Roman architecture.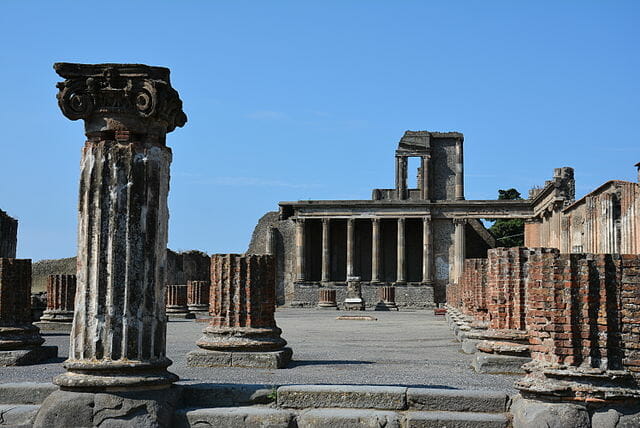 You would not want to miss seeing this as it is one of the most important things to do during your Capri travel.
Apollo is the Greek God of all Gods.
These are all the best tourist landmarks in Pompeii, nearer to Naples.
Herculaneum
Another one of great ancient Roman city near Capri. It was once a thriving city that became a victim of Vesuvius volcano eruption. Visiting Herculaneum is considered as a 'must see' place on your Capri Island tour. The remains of Herculaneum can be seen during your visit to Pompeii.
The remnants of Villa of Papyri and several houses of ancient Roman rulers can be seen when you roam around the culturally and economically rich city once.
Your trip to Capri will be truly memorable when you visit these two ancient Roman cities. You will be proud of yourself for setting afoot on Pompeii and Herculaneum.
Augustus Gardens
Again, the plural of garden is confusing me. Well, nonetheless, one of the tourist attractions in Capri is these so-called "Gardens of Augustus".
However, the gardens have nothing to do with the Roman Emperor Augustus. It was developed only several decades before in the 20th century.
The gardens overlooking the sea from a height is rich with numerous flora including the strikingly beautiful Dahlia.
Surprisingly, there is a statue of Lenin in the Augustus Gardens.
Mount Solaro
It stands just behind the main harbour, the Marina Grande.
The mountain's summit is at an altitude of 2000 feet, approximately. From there, the whole of Capri can be seen.
Do you know?
Do you know who first set his feet on Capri Island? It was none other than the legendary Emperor Augustus.
As an acknowledgement of this fact, you can see a statue of Augustus on Mt. Solaro.
The mountain proudly hosts numerous flora species numbering as many as 900. I believe, none can accurately and firmly say the number of species of flora in any given place.
The stars of them on Mt.Solaro are Rock-Roses, and Laurels.
For photography buffs, the summit of Mt. Solaro is a haven because they can capture both the Gulf of Naples, and the Gulf of Salerno, in their cameras.
Arco Naturale
Yes, it as an arch of natural occurrence. It is an iconic sight of Capri in the Tyrrhenian Sea. Viewing this natural beauty is considered as one of the things to do in Capri.
Here is another stunning view of the limestone arch in the sea.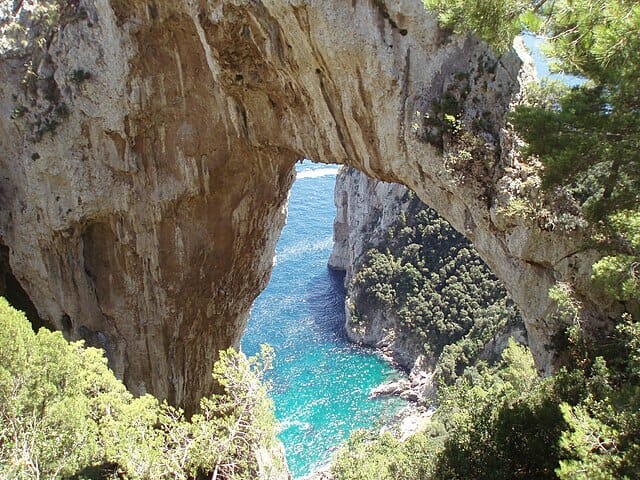 While staying, inquire around for guided boat tour of Arco Naturale. I think, even, Viator.com is a source to buy a ticket to see the natural arch. The duration to reach the sea arch is 30 minutes from marina Piccola.
Certosa di San Giacomo
As you can see, it is a monastery that every Christian tourist to Capri will certainly visit. The 14th century built monastery is now functioning as a museum only.
Occasionally, it is a site for cultural festivals.
Philosophical Park
We have heard about various parks of flowers, trees, amusements, and even sculptures but a philosophical park?
Nonetheless, there exists one such on Capri Island's Anacapri town.
Inside the park are numerous stone tablets that bear the inscriptions philosophical quotes from sixty philosophers from around the world, mainly the western countries.
Green Grotto
There is a competitor here in Capri for the Blue Grotto. Amusing-eh? Among several sea caves in Capri, there is one called the Green Grotto.
The video here shows the green water clearly.
It is all due to the sunlight reflection on certain time of the day.
A complete boat tour of grottos, will first take you to the sapphire sea cave and then to the emerald green grotto. It is surely one of the most memorable things to do in Capri.
If you feel an irresistible urge to take a plunge, just yield to your temptation. After all, you don't see such magical places often-right?
Moreover, you can sit straight in the boat while entering the sea cave. That's a relief!
The boat tour of Capri not only takes you to the blue and green grottos but also to a 'white grotto' (will get to it shortly) and the 'Arco Naturale'.
White Grotto
Though your boat tour includes a visit to the 'white grotto', I could not get a suitable photo and hence cutting short on this  point of the Capri travel.
Scala Fenicia
Alternatively called the 'phonecian steps', they are numbering about 800+.
Atop, the view of the sea, and the coast of Naples are truly spectacular.
Can you take the strain? I would not, even if I can.
Though, there is a proper road now that connects the Capri's coast to Anacapri, located at 900 feet, these stone steps were the ancient mode of reaching Anacapri from Capri at the sea level.
What to buy in Capri
Women buy several pairs of homemade sandals called "Canfora Sandals".
I read these Canfora sandals were once bought by none other than Mrs. Jacqueline Kennedy. It's no wonder the sandals are selling even today.
Considered to be sign of luck and charm, tourists are lured to buy these bells made of metal and ceramic.
The Capri Bells make lovely memorabilia.
Just about everybody, who goes to anywhere in Italy, would taste the high-favorite of Italians, the Limoncello, a vodka based liquer, a sort of sweet alcoholic drink. Once they fall in love, naturally, the tourists would buy a bottle of Limoncello, as an edible gift.
What is the most recommended food to eat in Capri?
Look for the word "Ravioli Capresi" on the restaurants' menu cards during your tour. It is the most popular dish in Capri.
It's a kind of stuffed pasta dish, the cheese being the stuff found inside the pasta in the form of cylindrical roll.
So, when are you planning your trip to Capri?