Travel Guide to Egadi Islands, Italy
A group of 5 islands make the Egadi Islands that are also known as "Aegadian Islands". They are all located in the Mediterranean Sea.
A large part of Sicily's west coast is visible. Out of the five Egadi islands, there are noticeable in the map. They are:
Levanzo
Favignana
Marettimo
Formica and Maraone islands are the other two Egadi islands that are not visible, are located between Levanzo and Sicily.
Here is a view of the Favignana Island: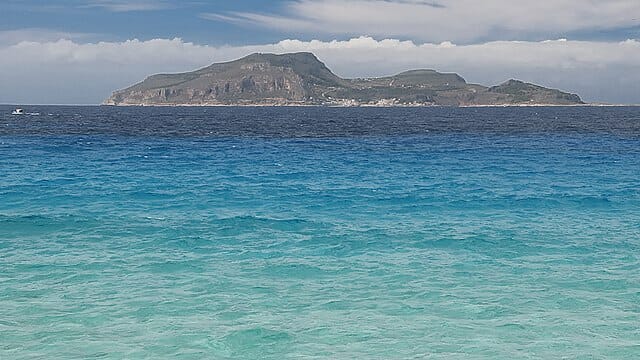 It looks splendid.
How to reach Egadi Islands?
Favignana Island, one of the Aegadian islands, can be reached only by a ferry from Trapani, a portal town in Sicily. The voyage takes only 45 minutes.
Similarly, Levanzo Island can also be reached by a ferry from Trapani. The duration of travel is 50 minutes.
Marettimo Island, the last main island of Egadi islands, is also accessible from Trapani by a ferry in 75 minutes.
Please remember that ferries can carry your cars also. The distance to the three islands from Trapani port is 16, 13, and 24 km respectively.
The rest two Egadi islands, Formica and Maraone are not inhabited. Both of them come under a protected plan and hence, tourists are banned to enter them.
What to do on Egadi islands?
Island hopping is the foremost thing to do on Egadi islands. Since the accessibility between them and also from Sicily is quite good, you have the ability to visit the three of them in quick time.
Either you can explore each one of them leisurely, allocating a full day, or you can make quick trips to the other two islands in a day if you are based at either in Levanzo or Favignana.
Alternatively, you can choose to stay in Trapani, Sicily and visit all the three Aegadian islands in a single day. This option is least advised because, you really cannot experience the serene way of living on Egadi Islands.
Due to less human traffic, diverse wildlife lives here. In addition, the complete lack of human life and the status of preserve of the two entry-barred islands make a range of wildlife live happily without the danger of poaching.
Monk Seals live here in good numbers.
Do you know Monk Seals have no ears?
Seagulls are noisy and a pest. I have seen them in Ottawa. The islands of Aegadian are home to many seagulls. The Mediterranean Sea feeds them abundantly.
The scenic beaches and lovely promenades offer great scope for cycling.
The Marettimo Island has mountains. So, hiking them is a pastime for the tourists. While hiking, the Mediterranean Sea can be seen.
Diving and snorkeling is allowed on all the three islands. They are bewitched by several rare marine species. Reefs are absent in this part of Italy.
Coves, the underwater caves are present in Favignana Island. If you let a local fisherman accompany you, you can swim there. It is a totally mind-boggling experience to swim in coves.
Favignana Island has no big beaches. They are rocky and hence, jumping in the water is fun there.
Levanzo Island is blessed with a beautiful sand and pebbled beach and is called Cala Fredda Beach.
Where to stay in Egadi Islands?
From what I gathered, only Favignana Island is good to stay overnight. The other two main islands are not equipped with good hotels.
More than 50 hotels dot the shoreline of Favignana Island. These three islands don't offer much to see around. They are good for a comfortable, and peaceful stay.
If you want to escape from the clutches of city's noise, the Egadi islands are the best and also the cheapest island escapes.