Aeolian Islands Tour
Have you visited the Aeolian Islands? It comprise 7 islands in the Tyrrhenian Sea, on the west coast of Italy. All seven islands are big tourist attractions where the climate and culture are truly exotic to the majority of American and Canadian holidaymakers.
After watching the video, don't you feel like visiting those Italian islands that are located in the Tyrrhenian Sea? All islands have that effect on us. They beckon us irrespective of the best time to visit them.
Italy is a blessed country with diverse culture, cuisine, and climate. The rich Roman history, immaculate cathedrals, sprawling piazzas, and fantastic coast make Italy an all-time holiday destination.
In addition, the 400 islands of Italy are located in as many as 6 seas namely:
Mediterranean Sea
Adriatic Sea
Tyrrhenian Sea
Ionian Sea
Ligurian Sea
Sea of Sardinia
Imagine the diverse things to do and places to see in these islands coupled with exotic drinks and foods!
Aeolian Islands Tour
In this blog post, I will speak about the seven Aeolian Islands in the Tyrrhenian Sea of Italy.
The names of the 7 Aeolian Islands are:
Lipari
Stromboli
Volcano
Salina
Filicudi
Panarea
Alicudi
Here is a map of the Aeolian Islands: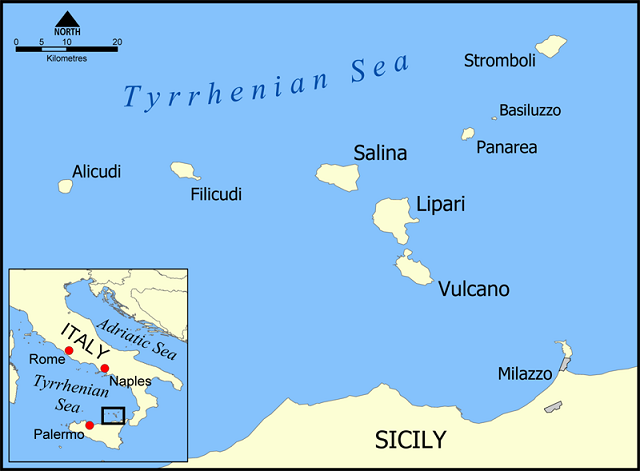 All seven islands are located north of Sicily, the biggest of all Italian Islands.
Volcano Island is the closest to Sicily at 270 km north.
They are volcanic and hence attract a large number of visitors who have a fancy for seeing volcanoes, Etna is the biggest volcano in Sicily, Italy. Just for the sole reason of volcanic geography, flora, and fauna, the Aeolian Islands are listed as World Heritage sites by UNESCO.
How to get to the Aeolian Islands?
Milazzo in Sicily is the gateway to the Aeolian Islands. There, fast boats called 'hydrofoils' from Milazzo to Salina and Volcano Islands.
Messina, another port town in Sicily also operates hydrofoil to Stromboli.
Most of the voyages involve one and a half to three hours of the sea passage.
Suppose you are based in Palermo, Sicily, or Naples, you can find out if any boats are scheduled for Salina Island. If so, you should gleefully take your vantage seat and enjoy nearly 4 to 5 hours of boat ride at breakneck speed. The journey will be simply breathtaking and memorable.
Video clip of hydrofoil ride in the Tyrrhenian Sea.
Oh, man! The hydrofoil (fat boast) is huge!
Since the Aeolian Islands are not far off from Sicily and are located close to each other, some tourists who are in a hurry, plan a day trip from Sicily.
When is the best time to visit the Aeolian Islands?
I would prefer the monsoon when the sea is ruff but for the majority of the tourists, the summer season is ideal to visit these Italian islands. The season begins in June and ends in September.
A preview of the activities on the Aeolian Islands:
Since the islands are volcanic, hiking these mountains is the prime activity. Most of the trekkers go up to the crater in the mountains.
Mud bathing in the dormant volcanic crater is said to cure many ailments.
Drinking all the exclusive and exotic Italian cocktails including the Spritz and vermouth.
Water sports
Shopping
Island hopping
I will get the top attractions on each of the Aeolian Islands after briefing you about other minor things such as where to stay and how to see all the seven islands in minimum time.
Island Hoping to all the seven islands:
This is not very expensive for anyone. In addition, a week should be sufficient to cover all the islands. This means, there are not many places to see on each island with some exceptions.
Since Salina Island is the most important island and is strategically located, it is recommended you stay in Salina. More boats are operated from Salina. Moreover, the staying options on Salina Island are wide.
You require one day to see around Salina. The next day, you can complete seeing two more islands namely, Stromboli and Panarea Islands.
On the third day, you can visit Volcano Island. You will be able to return to your hotel in Salina only in the evening.
Lipari is also one of the most visited islands among the seven islands. It requires you to allocate a full day. That will be your day number 4.
On day #5, you can hop on to Filicudi and Alicudi islands.
The penultimate day is reserved for shopping and relaxing on the beaches.
I am sure if you follow these itinerary guidelines, you can leave the shores of Salina with full satisfaction.
Time taken to travel between the Aeolian Islands:
From Salina Island, the sea passage duration for other islands.
Panarea Island takes an hour.
Lipari connection is 90 minutes
You can reach Stromboli in about 2 hours
Filicudi and Alicidi take 40 minutes and 90 minutes respectively from Salina.
Now, to the things to do and places to see on the individual Aeolian Islands:
Lipari Island:
Lipari is by far the largest of all seven islands in the Tyrrhenia Sea.
Quattrocchi is the first place you will be taken to on Lipari Island. It is an observation point from where you can even see the island of Sicily.
Apart from that long sight, the island's volcano is also visible along with the lovely Tyrrhenian Sea.
By the way, do you know the meaning of Quattrocchi? It means 4 eyes. It implies the view on all four sides of the viewing platform.
A beach with the backdrop of the cliff is how this beautiful place on Lipari can be explained. You get exciting views from anywhere on the cliff abutting the sea with a beach and pebble stones.
This is the island's most visited beach for swimming and relaxing on beach couches.
Though it is on the itinerary of the local guides, I reckon there are few takers.
Don't forget to drink a glass of sweet/semi-sweet Malvasia wine.
Lipari is famous for cultivating rare varieties of grapes. One such variety is known as 'Malvasia'. An aromatic sweet or semi-sweet white wine is extracted from the grapes and it bears the same name of the grapes. You can go to Columbia and return without sipping and buying the world-famous Columbian coffee-right? Similarly, you must try to taste the Aeolian Islands' pride-the Malvasia wine.
Salina Island
Next to Lipari, Salina is the second most-visited island in the Aeolian archipelago.
There are as many as six volcanoes in such a small island. However, all of them are dormant now. As a matter of fact, the last time one of the volcanoes sprang to life and erupted was 13,000 years ago! Even now, there is an evidence of once a hot spot by way of presence of a small natural sulphur spring in the vicinity.
They are sleeping geographical beauties. Salina's naturally beautiful landscape is equivalent to the beauty of Sardinia, one of the most visited islands in the world. Fossa Delle Felci is one of the six volcanoes that has rich vegetation along its lopes. It is the favourite of trekkers.
Similar to Lipari, Salina also produces large quantities of grapes, lemon, and olives. Another horticultural item known as 'capers' is also cultivated in a large scale on Salina Island.
Santa Marina is the people watching place on Salina. As the volume of tourists swell, the shops get busy in the evening. The most bought items are olive fruits, olive oil, and Malvasia wines. People are awed at the big size of lemons that are locally grown.
Malfa and Pollar are two fishing villages that attract the tourists with their lush landscape, strange beliefs and traditions.
Sail a little distance in a boat to see a wonderful and natural rock formation as window.
It is a terrific sight and a popular tourist attraction in Salina.
Special food in Salina
Have you ever tried 'stuffed squids'. If not, you can taste it in Salina. The local pizzas are great to eat. Order a plate of fried swordfish along with your pizza.
Black sand beaches
Due to volcanic activity, the beaches of the Islands wear black sand top. Oddly, even the black sand is an attraction in beachfronts.
Wildlife in Salina.
I could not unearth any information about the wildlife in Aeolian Islands. I am baffled at this lacuna.
Volcano Island
As the name suggests, the main attractions of this island are volcanoes and craters. Hike to the summit of Solfatare di Volcano or Piano Volcano for breathtaking views of the island and the Tyrrhenian Sea.
If you happen to see a tourist or two covered with mud on their body, don't be shocked. Mud bath using the mud from the crater is said to have medicinal properties.
Panarea Island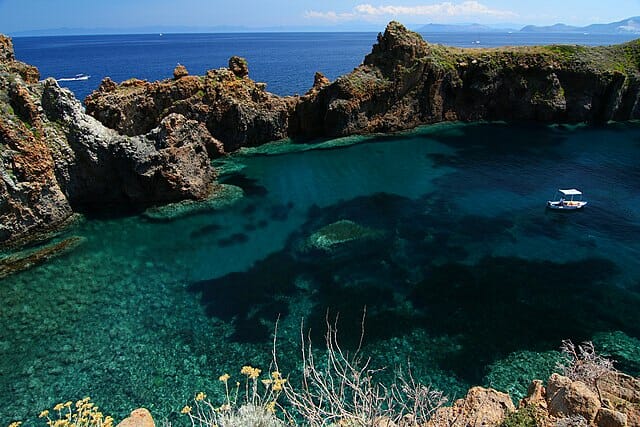 It is the smallest of Aeolian archipelago and is known for unspoiled marine beauty and deserted beaches that you call your own.
There a wreckage of a ship here that attracts scuba divers. Hire a boat to wet your feet on numerous, uninhabited islets that lie scattered around Panarea Island.
This is a 'skerry' that is nothing but accumulation of rocks into a mound. There are numerous skerries off the coast of Panarea Island.
Note: There is an active volcano on this small island.
Stromboli Island
Here too is an active volcano that last erupted in a big way in 2004. So, as of now, it is dormant but still, keep a very safe distance from it.
The volcano's comb stands at 3000 feet.
The Stromboli volcano keeps erupting even now but visible only from certain points on the islands.
See how the mount is erupting and spewing fire.
It is a beautiful sight, however scary it is. As a result, the beaches on all four sides of the island contain black sand and it is really dark in Ficogrande beach.
The sea here is seen with huge rocks of different sizes and shapes. Even I could spot a face of a human being while viewing a video of the Stromboli mountain.
As per a legend, this is where the Greek God Aeolus lived.
Alicudi and Filicudi Islands
I guess these two are the least visited Aeolian Islands off Sicily's north coast.
Both of them are volcanic but there is nothing there now. Of course the evidence of the extinct volcanoes are seen in the black sand beaches.
The beach here is a very thin strip of land with pebbles. I think you can collect some dark pebbles here that you can show off as proud catches.
As islands for holiday, the Aeolian archipelago of seven islands give us a different experience when compare to the Greek or Croatian Islands in Europe.
Well, if you are not convinced of an exclusive trip to Aeolian, you can think of making a day trip from Palermo, Sicily where you will eventually go at least once in your lifetime.