Top 13 Places to Visit in Central Sulawesi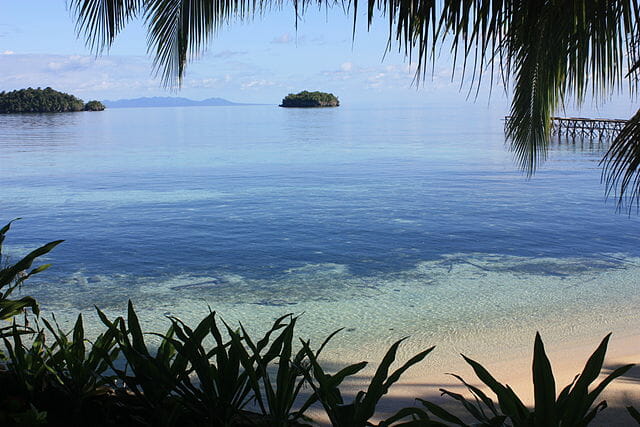 Enlarge the below map of Sulawesi Island and see the white colored portion that depicts Central Sulawesi, one of the provinces of Sulawesi Island.
That is quite a large area-right? Well, the overall size of Sulawesi Island itself comprises a staggering 1,80,000+ sq. km!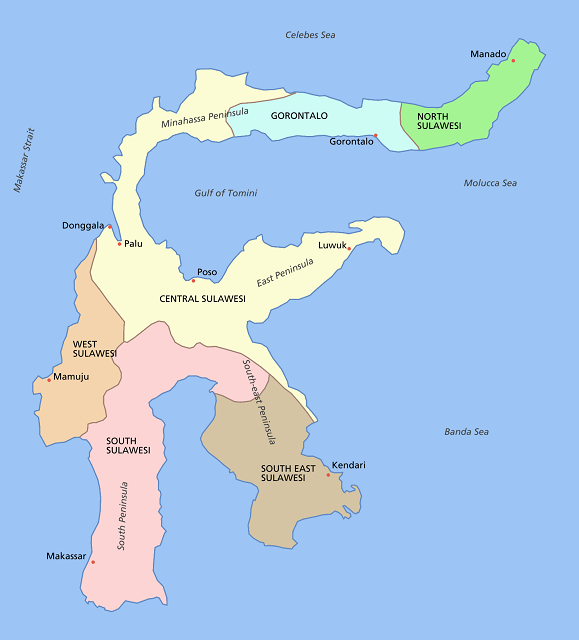 That is why Sulawesi Island is divided into the following provinces.
North Sulawesi
Gorontolo
Central Sulawesi
West Sulawesi
South Sulawesi
South-East Sulawesi
I hope you know Sulawesi Island belongs to Indonesia.
Sulawesi is surrounded by the following seas:
Celebes Sea in the North
Gulf of Tomini in the Center
Molucca Sea in the East
Banda Sea in the South-East
Makassar Strait in the West
Gulf of Borneo in the South Central
Flores Sea in the South
13 Best Places to Visit in Central Sulawesi
In this blog post, we will explore the top places to visit in Central Sulawesi that occupies a large area of 62,000 sq. km approximately.
Floating Mosque
At such a location, the mosque is one of the foremost Central Sulawesi attractions.  You can easily visit it in Palu, the capital city of Central Sulawesi.
A bridge is built over the Celebes Sea to access the floating mosque. It is quite a feat to construct the mosque on the sea.
Do you know the mosque is a survivor of a Tsunami that hit the Palu Bay in 2018?
Lake Pose
Lake Pose is quite a large freshwater lake in Central Sulawesi. Its length and width are 32 km and 16 km respectively.
As the large water body is surrounded by picturesque forests and mountains, it is one of top places to see in Central Sulawesi. Its location is 300 km south of Palu.
Saluopa Waterfalls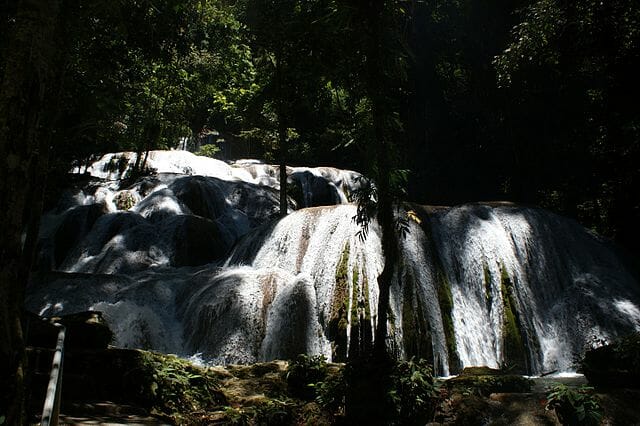 When you are touring the Poso Regency in Central Sulawesi, don't miss seeing the Saluopa Waterfalls. Its actual location is Tonusu Village, Tentena Town.
It is certainly a bit out of the way but it is worth visiting this Central Sulawesi attraction. The waterfall itself is situated at a height of 2300 feet.
In all, you can count ten waterfalls that invite you to stand beneath them and enjoy the cool water.
Tentena Town
It is one of the top places to see in Central Sulawesi. Treated as a mini hill station, it is gaining popularity as a hot tourist spot. The hill's' slopes are densely forested. Even cloves are cultivated among the trees.
To meet the tourists' demand, a few hotels and homestays have come up to provide boarding and lodging. The pleasant weather is a big crowd puller.
Another attraction in Tentena is a dish that is absolutely exotic. It is Fruit Bat, mate! You have to eat it by dipping its pieces in a very hot (Spicy) sauce.
Eat Fried Sugili
You might not have eaten or even heard about this dish. Sugili is a species of eel that lives in the Poso Lake. Yes, it is a freshwater eel that grows up to 7 feet! These fishes swim like a snake and incidentally, they also look like a snake.
Loree Lindu Ntional Park
It is a favorite among trekking buffs and wildlife enthusiasts. It is quite afar from Tentena (410 km) and close to Palu (140 km).  But the drive through high mountains (6500 feet elevation), and roadside forests is scenic and enjoyable.
The NP's attractions include more than 70 species of birds that are endemic to Central Sulawesi, and several megaliths.
In addition a monkey that is classified under Tonkean Macaque is found here. It is an endemic mammal of Central Sulawesi.
Morowali Nature Reserve
Located at 230 km south of Tentena, Morowali Nature Reserve is one of the must-see places you have to see in Central Sulawesi.
The forests that cover the area come under "Cloud Forests' category. That implies copious rain that leads to numerous species of insects and birds that prey on the marshland.
The lush green meadows, rivers, and the high altitude hills are great to look at.
The Morowali Nature Reserve is rich with forest animals that include bears, monkeys, and wild boars.
Bada Valley
The valley adjacent to Lore Lindu National Park is worth visiting for history buffs whose curiosity is piqued when they come across huge rocks (megaliths) that are incongruously found. I mean, the rocks have no place to be there in a valley that is surrounded by green pastures and rivers.
Here is a megalith.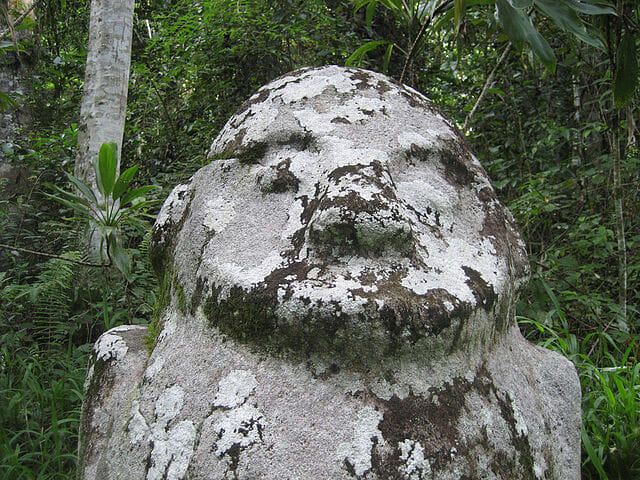 Togian Islands National Park
Togian (Togean) Islands, comprising 56 islands are located 250 km east of Palu, in the Gulf of Tomini. These islands are some of the top places to see in Central Sulawesi because of rich marine lives and numerous wildlife within in the island.
Look at these staggering figures:
The Togian Islands National Park covers a huge 3400 sq. km of sea and 250 sq. km of land.
The Reef Fish species alone account to roughly 600 species. The reef fish are some of the extremely colourful fish that live amidst coral reefs. Look at such a neautiful reef fish below.
Certainly they need to be protected and preserved. In addition to corals and reef fishes, the Gulf of Tomini provides habitat to Sea Cows, sea-jellies, and a few species of endangered turtles.
There is a strange wild animal called Togian Babirusa found living in one of the Tongian Islands.
Pentai Talise Beach
Among the beaches near Palu city, Pentai Talise is the highly visited one.
Siuri Beach
You can take a peep at this colotful beach when you are visiting Poso Lake.
Why you must visit Siuri Beach?
It is the color of the sand that is unique and cannot be seen anywhere in the world. The sand wears yellowish brown.
Sembori Island
This is another beautiful but secluded island off Central Sulawesi coast.
City Park, Palu
If new flora interests you, especially the flora of a remote island in the South Pacific, you must walk up to the Palu City Park.
Sulawesi is a remote Indonesian island. The people don't speak your language. The culture is different and also the food. Therefore, you need a guide to see around Central Sulawesi.
Find some Central Sulawesi Tour Packages so that your trip to a distant land is worthy of the time and money.