25 Best Places to Visit in Maluku Islands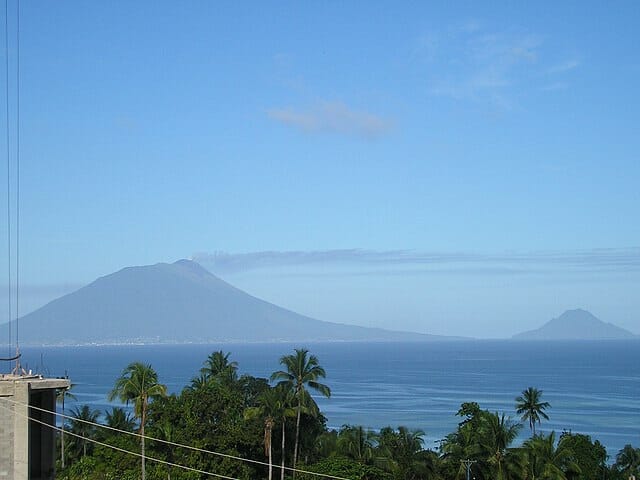 Maluku Islands archipelago is administered by Indonesia. The islands numbering a whopping 1000 are sprawled in between Sulawesi Island and Papua Islands. There are plenty of best places to visit in Maluku islands.
These islands are East Indonesia islands and are surrounded by the Molucca Sea, a part of Central and South Pacific Islands.
The Maluku archipelago comprises a huge 79,000 sq. km area. This means the islands are scattered around a vast area in the Pacific and are largely isolated and remote.
The map of Maluku Islands below shows the spread of big and small islands in Maluccu Sea.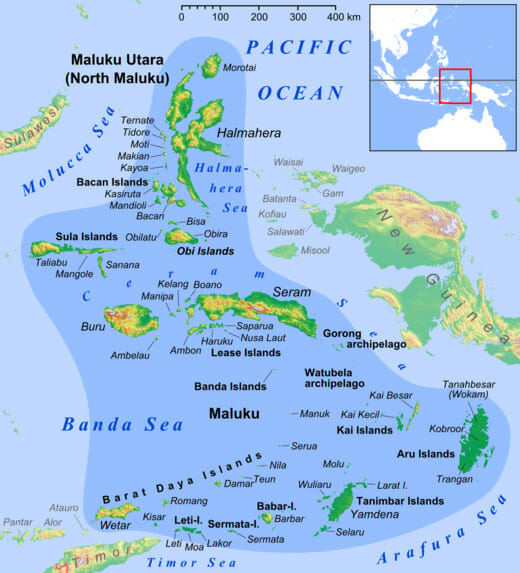 Another implication is, the majority of the islands are uninhabited and are covered by tropical forests, isolated but beautiful beaches, and unidentified wildlife and marine lives.
Important islands in Maluku archipelago:
Before we know how to go to Maluku Islands, we should know the names of some of the big islands.
Maluku islands are divided in two provinces namely Maluku and North Maluku.
The names of the larger islands are given below:
Ambon-capital of Maluku Island
Tidore-Maluku Island
Morotai-Maluku Island
Ternate-North Maluku
Halmahera-North Maluku
Jailolo-North Maluku
Bacan-North Maluku
The entire archipelago of Maluku produced huge quantities of cloves, nutmeg, and mace and thus was called the 'Spice Islands'.
The lure the spice trade invited wrath to the native islanders from Portuguese, Spanish, Danish, and the English.
Let us see how to get to the two provinces of Maluku archipelago.
Ambon is reached by flights from several Indonesia cities including Jakarta, Makassar, and Manado.
Makassar is located in South Sulawesi and Manado is in North Sulawesi. The entire Sulawesi is one of the largest islands in the world and belongs to Indonesia.
While you can approach Maluku Islands by ships, none prefers that mode of transport in spite of 79 islands that can accommodate ferries in their docks.
Ambon acts as the gateway to several islands of Maluku chain. As many as 25 islands can receive flights from various cities of Indonesia.
25 Best Places to Visit in Maluku Islands
Best Places to Visit in Maluku Islands and North Maluku Islands:
Ambon City is the most visited place in Maluku Island. It is situated on higher plateau and thus offering terrific sea views and forests.
Apart from pristine beaches and thick rainforests, you can visit a couple of museums, an old fort, and a mosque.
Merah Putih Bridge is one of the scenic places to see in Maluku Islands.
Beaches in Maluku Islands wear white sand and hence look different and lovely. White sand and the blue sea offer a memorable contrast. Liang Beach Lubang Buaya Morea Beach, and Pintu Kota beaches are popular attractions of Malukku,
Wisata Kolam Morea Larike is a marine park known for the Eel population.
Scuba diving and snorkelling are the two main water sports in Ambon.
Tarno is the only waterfall in Ambon Island, Maluku.
For souvenir hunters, there are 3 shopping places to buy myriad items such as antiques and apparels.
Gourmet bloggers can try different kinds of stews and noodles.
Island hopping seems to be one of the Best Places to Visit in Maluku Islands. Nearby islands that you can visit from Ambon include the Banda Islands, Saparua Island, Kei Islands, Buru Island, and Ternate Island located in North Maluku. Island hopping is possible both by plane and ship.
Seram Island visit is another one of the things to do in Maluku. Go round the city of Masohi. You need to allocate a day. The sea water is damn clear here that snorkelers and scuba divers prefer for better viewing of the underwater creatures. It is a huge island of Maluku archipelago comprising an area of a little over 17,000 sq. km!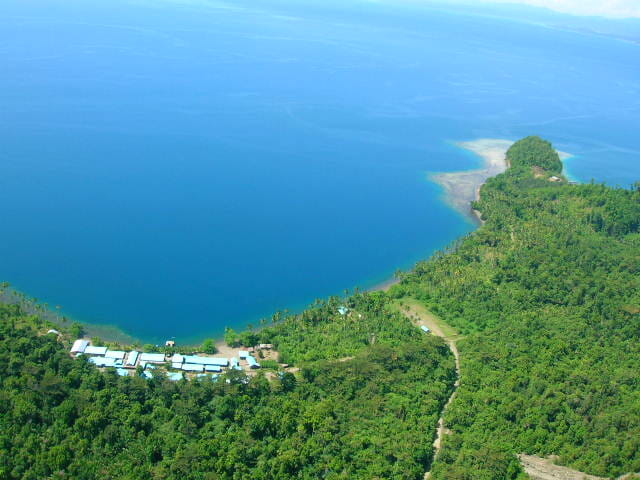 Attractions of Seram and Binaiya islands:
The main attraction of Seram Island is the Binaiya Mountain whose slopes are covered with thick rainforest trees.
The mountain has a very deep cave known as Hatu Saka.
If you have never seen a subterranean river, Seram Island gives you a chance. Sapalewa is its name. Don't miss this; you may never get another chance.
Bird watching in Seram Island is highly recommended. If you are lucky, you can spot several endemic birds that chose Seram Island as their only home. They refuse to fly to other Indonesian Islands.
Some of them are mentioned below:
Eclectus Parrot
Moluka King Parrot
Salmon-crested Cockatoo
Purple-naped Lory
Apart from these bird species, Seram Island is home to numerous rodents and marupilas that are said to be endemic.
Ardent nature lovers, rainforest buffs, and endemic wildlife researchers would instantly fall in love with this rich NP. There are as many as 6 mountains in the park of which the Binaiya Mountain is also one.
Quite a few bat species are found hanging upside down on the inner walls of the karst rock caves.
Tanimbar Islands archipelago
At the start of this blog post, I mentioned the Maluku archipelago consists of 1000 islands that are further part of several other archipelagos.
Similar to Seram Islands, Tanimbar Islands is one more chain of 65 islands that are all part of Maluku Islands.
Out of these 65 Tanimbar Islands, we will see about Yamdena Island.
This island also is quite large covering an area of 3000 sq. km approximately.
Yamdena Island too is known for its rich rainforest-covered hills.
These Maluku islands are all thinly visited by tourists. Hence, you will find the beaches are near deserted. You will have almost all of the island to yourself and enjoy unique beached to the hilt with your family.
Halmahera Island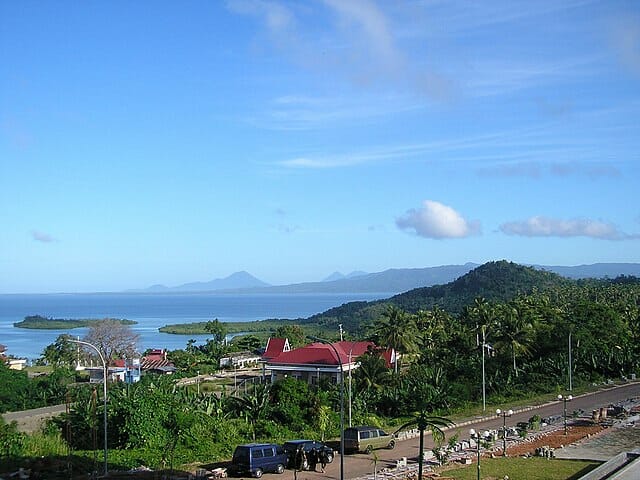 Look at the size of this Maluku island. It measures a staggering 17,780 sq. km! Think of the various things to do here. I am sure you may have to spend more than weekend in Halmahera Island.
As a matter of matter of fact, you may have to plan several trips spread over a few years to see all the best places to Visit in Maluku Islands.
You only need to locate an experienced tour operator who can give you customized tour packages to Maluku. I think the ideal search tern should be "boat tours of Maluku Islands".
Halmahera Island is a part of North Maluku province. For you information, Indonesia has 38 provinces that extend up to New Guinea in the eastern Oceania.
Boki Moruru Cave
This is actually a sea cove and is quite deep. No one has seen the end of the cave. Only up to 8 km, the cave was explored. So, don't dare go beyond it, to get into the Guinness Book.
It is quite eerie down there-isn't it? I am a chronic claustrophobic and thus would not enter the cove.
Aketajawe Lolobata National Park.
OMG! What a name! I looked at the images of this attraction of Maluku Island. It looked almost as dense as Amazon rainforests.
I don't think no one has ever counted the exact number species of trees, shrubs, bushes, animals, birds, reptiles, and insects. The jungle is too dense for meticulous exploration.
This NP's number of endemic bird species is responsible for the park to come under Birdlife International. A staggering number of 243 species of birds is to live inside Aketajawe Lolobata National Park.
Incidentally, Halmahera Island carried another name in the past. Jailolo was its former name.
Toboto Underwater Garden
Well, it is a naturally formed underwater garden. The rich and diverse underwater plants and animals draw scuba divers and snorkelers from all part of Indonesia, Singapore, and Malaysia. This is one of the biggest attractions of Maluku Islands.
Dukono Volcano
It is an active volcano but now dormant. If you hike up to its crater, you can still find it filled with dark ashes.
Telaga Biru Lake
Visiting this small lake is one of things to do in Maluku islands. The lake wears a startling blue drape and stores one of the clearest and purest waters in Indonesia.
Waterfalls in Helmahera Island
There are bound to be waterfalls on such a tropical island that is almost covered with dense rainforests. There are breathtaking waters you can watch when you are touring North Maluku. Their names are Sapoli waterfall and Kahatola Waterfall.
Nearby islands to Helmahera Island
You have more island hopping to do when you are visiting Maluku Islands. After all, there are  100 islands, friend!
Halmahera's neighbours are:
It is a popular snorkelling spot and known for isolated beaches.
Tagalaya island
Meti Island (this is my favourite)
Kakara Island
There are a few more uninhabited islands that are worth visiting.  They are all part of Best Places to Visit in Maluku Islands.
Tidore Island
The only way to get to Tidore Island is to take a ferry either from Ternate in North Maluku or from the island of Halmahera.
Once an important clove producing island, it has lost its glory as a spice kingdom but did not lose its raw and rustic beauty.
First reach Ternate by flight from Jakarta. A speedboat deposits you on Tidore Island in less than half an hour.
There a couple of forts and a palace too. The Forts were built by the Dutch, when they seized the island from the clutches of Portuguese.
Other places to see also are of historic importance.
There is a beach here that people go but not to bathe in the sea but in a couple of natural hot springs.
You can see a dormant volcano called Kiematabu. Whenever you tour a foreign land and hear about the presence of a volcano, don't miss seeing it. You are one of the lucky people in the world to go near or hike on a volcano. It is a geographical beauty.
Have you ever sipped a spiced coffee? It is a totally different experience. One of the things to do in Maluku Islands is to taste a spiced coffee called "Kopi Dabe" in Tidore. I assure you, it won't be like a spiced tea (cardamom tea).
Due to lack of big hotels to stay and nothing much to see around, you can make a short day drip from Ternate, North Maluku.
Ternate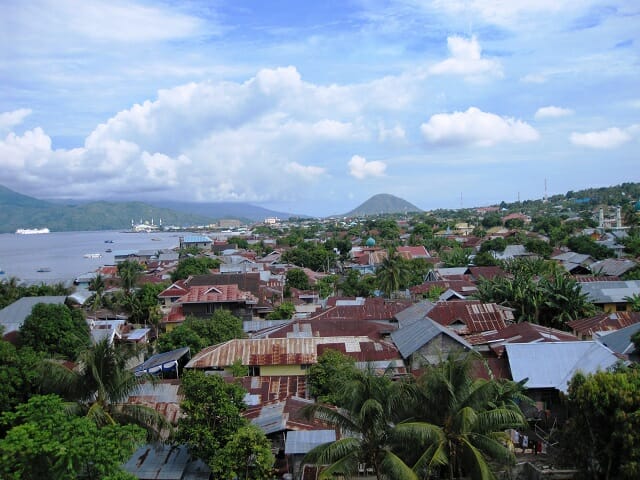 Ternate is one of the important cities in North Maluku province of Maluku Islands. It also acts a gateway to several neighbouring islands.
Ternate is well connected with flights from Jakarta, Makassar, and Manado.  Even Ambon city in Ambon Island operates flights to Ternate.
Similar to Tidore, Ternate's main attractions are forts and mosques. Forts were built both by the Spanish and Portuguese.
Black Sand Beaches:
Sulamandaha Beach is where you will notice the black sand. It is due to a volcanic mountain that arises from the sea. However, the water on the sea is clear and good for snorkelling.
Three more beaches in Ternate that are woryth visiting include Bobane Iciy Beach, Jikomalano Beach, and Kastela Beach.
Since Ternate is situated on the western coast of North Maluku, sunset watching is one of the things to do in Ternate's beaches.
Morotai Island
This Maluku Island's dense tropical forests attract forest lovers from Singapore, and Malaysia. Morotai Island is quite a large island. Its length is 82 km and the width is almost half of the length. It is administered from North Maluku province.
Morotai is located at the tip of Maluku Islands' northern side. Even Halmahera Island that is a part of North Maluku is 120 south of Morotai.
Reaching Morotai Island is possible from Ternate by flight. Another option is ferry that leaves the northern port of Halmahera Island.
Places to see in Morotai Island include:
A few monuments
A museum
Several isolated beaches
Hidden waterfalls in the forests
Smaller islands nearby such as Kokoya Island, Kolorai Island, and Tabailenge Island
The Morotai Island has a few hotels but I think the island is a rather less-visited Maluku Island.
So, you have Best Places to Visit in Maluku Islands. To be precise, North Maluku seems to be more worthy of visiting than Ambon Island, which a part of Maluku Islands.