15 Best Things to Do in Makassar, South Sulawesi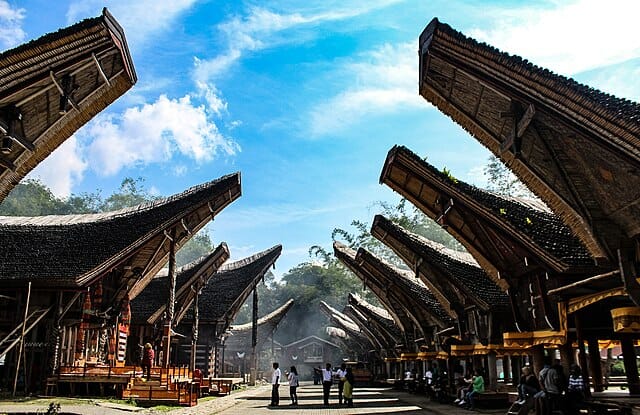 In this blog post, we will see about the things to do in Makassar, the capital of South Sulawesi, a peninsula. It is surrounded by the Gulf of Bone in the east, Flores Sea on the south, and the Makassar Strait in the west.
We are entering a totally new territory of an Indonesian island. I have not explored this huge island thus far.
Sulawesi is an island of Indonesia. The island's size will blow your mind. It comprises an incredible 180,680 sq. km!
It is a province of Indonesia. And it is so large a province in the Celebes Sea that it is subdivided into several sub-provinces that include:
North Sulawesi
Central Sulawesi
Gorantalo
West Sulawesi
South Sulawesi
Southeast Sulawesi
I think the overall map of Sulawesi will give you a clear picture.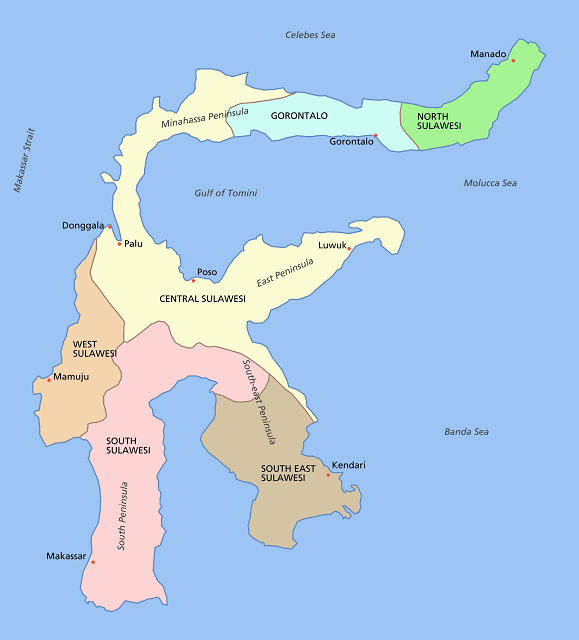 Sulawesi Island is surrounded by the following Seas:
Celebes Sea (North)
Molucca Sea (East)
Gulf of Tamini (East)
Banda Sea (East)
Gulf of Bone (South) (between Soutj Sulawesi and Southeast Sulawesi)
Flores Sea (South)
Makassar Strait (West)
7 seas that surround a single peninsula!
All these seas are part of South Central Pacific Ocean. The islands in this part of the world fall under the 'Oceania' region.
For a better understanding, imagine Australia, New Zealand, Polynesia, some part of Indonesia that fall under Melanesia, and finally the Micronesia constitute the 'Oceania' region.
How to reach Makassar, South Sulawesi.
Now that we know the exact location of South Sulawesi, we will see how to reach its capital Makassar, located on the southwest coast.
Please note the archipelago of Selayar that is situated south of South Sulawesi is also a part of South Sulawesi.
It has an international airport. Most of the important places in Indonesia such as Jakarta, Bali, Surabaya, Labuan Bajo (Flores Island) operate domestic flights to Makassar.
Kuala Lumpur and Singapore operate international flights to it.
A few Indonesian cities including Surabaya offer sea passage to Makassar's Soekarn-Hatta port. The voyage in the Makassar Strait takes only 24 hours.   The distance is around 800 km between Makassar and Surabaya.
How do you move around Makassar?
The cheapest mode of city transport in it is the cycle-rickshaw. Here, it is known as 'trishaw'.
Of course, you can hire a taxi for the places to see in Makassar.
15 Best Things to Do in Makassar, South Sulawesi
Beaches are the predominat places for relaxing with the family. Visiting the beaches is among the major things to do in Makassar.
Losari Beach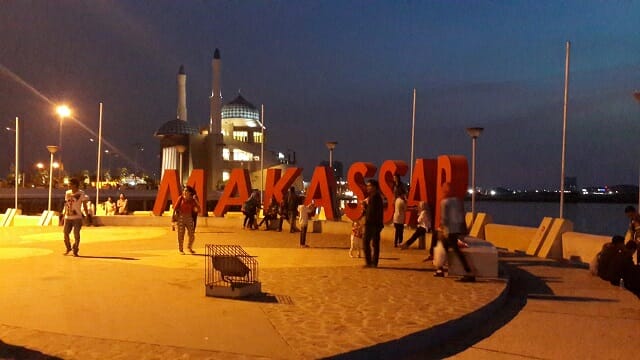 Being a west coast city, watching the brilliant sunset is one of the major attractions during your Makassar tour.
Indonesia is famous for hot and spicy street food. In the Losari Beach, there is no dearth of food stalls lining up to the edge of the water.
Losari Beach is right in the center of Makassar city. The city's lights project a glamorous appearance of the beach.
Akkareno Beach
Lined with coconut trees, it is a scenic beach and is known for the best sunset watch.
Appalarang Beach
With a rocky backdrop, the Appalarang Beach wears a wild and raw look. There is literally no sand; you have to join other onlookers on a huge chunk of rock to enjoy the view and the sea breeze.
If you are a beach buff, staying near the Appalarang Beach is a wise thing to. This beach is one of the finest places to see in Makassar.
In order to reach this picturesque beach, hire a bike and go. Trishaws won't come here because of the slope-up path.
Fort Rotterdam
Fort Rotterdam visit is part of the things to do in Makassar. It is amusing to know it is a Dutch Fort. Surely, they have a long, long way to make their presence felt in Sulawesi Island. It is a major tourist landmark in Makassar. The architecture is pretty impressive and unique.
99 Kubah Mosque
It is a must-see attraction of Makassar. The mosque architecture is so very unusual and brightly painted.
Include it in your itinerary of Makassar tour. I have never seen such a beautiful mosque.
Trans Studio Mall and Theme Park
Surprisingly, it is ranked as the third largest indoor theme park in the world. Makassar is rather an unknown tourist destination in Asia but still, it has managed to attract the attention of award giving authorities.
To engage the visitors and to make them stay longer inside the theme park, the local government have built up several restaurants and shops that sell myriad merchandise.
In addition, it will be interesting to know there is a hotel too, to stay. Apart from so many facilities, there are some apartments also with great view of the sea.
Unexpectedly, you can witness several amusement rides that were developed in the models found in Disney Land.
As one of the important things to do in Makassar, I think you need to allocate one full day to enjoy the Trans Studio
Makassar Trade Center
Every tourist to Makassar will go to the Makassar Trade Center to shop for souvenirs. The main purchase would include laptops, tablets for entertainment, electronic video games, mobile phones.
Island hopping from Makassar
Islands are there everywhere for Indonesia. Their island frontier extends up to Papua New Guinea.
Near Makassar in South Sulawesi also, you can visit a few islands, just for fun. Who knows, you may stumble onto a treasure or turn out to be a saviour of a shipwreck!
Island is called 'pulau' in this part of the world. You can visit the following islands during your Makassar tour.
Pulaua Khayangan
Pulau Samalona
Pulau Kodingareng Keke
These small islands are all located in Makassar Strait. Nobody lives on them. Still tourists go there for uninterrupted diving and snorkelling.
You can reach them in less than an hour. Allocate half a day for this island hopping from Makassar. They are found in the itinerary of the places to see in Makassar.
Bantimurung-Bulusaraung National Park
Quite a long name for a national park; surely, It is located 40 km northeast of Makassar city and visiting it is among the important things to do in Makassar.
This NP is known for the second largest karst area in the world. Karst is a limestone rock that are naturally formed. A large area of karst formation is a breathtaking sight.
In this NP comprising 437 sq. km, krast caves take up almost the entire area. In all, there are 286 caves to explore and see the hanging, jagged limestone rocks.
One particular cave is a kilometre long. If you dare to go deep, you will find a waterfall. What a revelation!
The presence of caves mean, you are sure of finding an army of bats. Apart from the bats, the NP is a habitat for birds that eat the bats. Hornbills are common here but I wonder whether they prey on the flying foxes.
There is a butterfly park within the national park. More than 250 species of butterflies mean, the park will wear a plethora of colors from these gentle, flying creatures.
The Bantimurung-Bulusaraung National Park is a typical Indonesia tropical rainforest with dense trees, birds' calls, and the sound of waterfall.
Here is a short video clip of the Bantimurung-Bulusaraung National Park showing the thick jungle, the butterfly conservatory and the waterfall.
Takapala Waterfall
The water is falling from a height of around 330 feet. The settings of the waterfall will steal your heart. Makassar city is 60 km west of the waterfall, one of the top places to see in Makassar.
Selayar Islands
If you are an island lover and hungry to set afoot in distant islands, you should reserve a couple of days (may be more) to visit the Selayar Island archipelago.
73 islands and islets constitute the Selayar Islands. A few of them are inhabited but the majority of the islands are devoid of human settlements.
From Makassar city in South Sulawesi, Selayar Islands are 150 km south, in the Flores Sea.
Ferry with cars takes the passengers from Makassar to Selayar in about 6 hours. There aare no plane routes between the two Indonesian floating lands.
If anthropology is your interest, you must go to Selayar Island to meet the natives. They are Bugis, Luvu, and Buton. It will be interesting to interact with them.
The Selayar Island, the main one in the archipelago is known to offer excellent diving conditions.
It is so strange that these rather unknown Indonesian Islands have found a way to get into the tourist radar.
Beautiful Asia!
Tanralili Lake
It is a beautiful spot that is located on the outskirts of Makassar. On the backdrop of the Tanralili Lake is a mountain with several trails for trekkers.
It is one of the natural beauty spots and certainly visiting is one of the things to do during your Makassar tour.
Malino
If you travel by car to Malino from Makassar, it will take about two hours to cover a small distance of 60 km. The altitude makes the difference.
Malino is a mini hill village with abundant natural beauty. There is a waterfall, tea gardens, and misty gorges. It will be refreshing change for the residents of Makassar.
Celebes Canyon
Don't ignore this top tourist attraction of Makassar. It is not a very large canyon; only about 650 feet long. However, it is worth seeing from Makassar.
You may have to allocate a full day to visit this ravine as it takes 6 hours of drive, both ways.,
Apart from the jagged rocks, you can manage to see a few enchanting waterfalls if you dare walking on the canyon.
Bugis Waterpark
Spending about 4 hours in Bugis Water Theme Park is one of the enjoyable things to do in Makassar.
You can expect some of the modern water park attractions such as whirlpool, lazy river, and several slides, numbering 20.
That's it about Makassar, the capital city of South Sulawesi, Sulawesi Island, Indonesia.