Best Things to Do in Camiguin Island
What things to do in Camiguin Island?
That is the main harbor of Camiguin Island, a province of the Philippines. It is floating in the Bohol Sea. The port is called Guinsiliban. Don't you agree the whole scene is beautiful and fresh?
Camiguin Island is definitely an under-visited island in spite of its rating as the most beautiful of the Philippines islands. There are a lot of lovely spots on the island such as waterfall, beaches, sandbar, swim-friendly sea, volcanic mountains, and historic ruins.
Mindanao, anther larger province and an archipelago of the Philippines is located near it. Just 10 km is the distance between Camiguin and the northern coast of Mindanao Islands.
How to reach Camiguin Island?
Though the distance between the northern coast of Mindanao and Camiguin is only 10 km, the distance from Cagayan de Oro harbor in Mindanao to it is 125 km.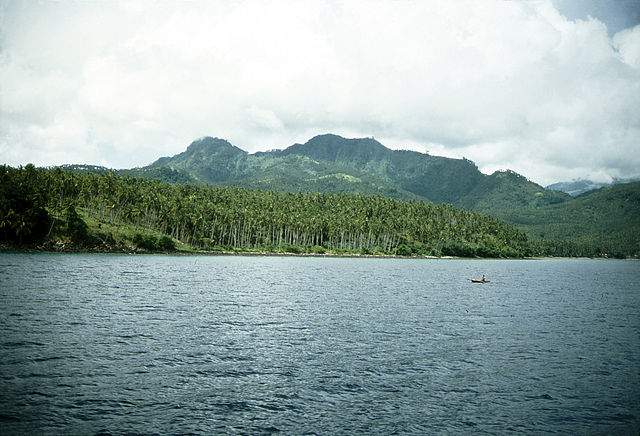 A car ferry from Mindanao will deposit you in Guinsiliban harbor in Camiguin in about 4 hours. I think it is quite fast way to reach it by sea passage in Bohol Sea.
Alternatively, you can fly to Camiguin from Cebu city, the capital of Cebu Island. The flying duration is just an hour.
If you like traveling, you would opt for the voyage to get to Camiguin Island.
Best places to stay in Camiguin Island.
The best area to find hotels to stay in Camiguin is Mambajao, at the foot of Mount Hibok Hibok, a tropical forest-laden volcanic mountain. But, no fear, man, it is an extinct volcano.
Mambajao is a tourist-friendly neighborhood in Camiguin that promise good nightlife activities.
 Best Things to do in Camiguin.
Ardent Hotsprings
These natural geysers are found on the slopes of Mt. Hibok Hibok. It is the outcome of volcanic activities long ago.
Unlike the majority of geo thermal fountains, this is quite large and is swimmable. In addition, the water is very clea and not very hot.
Look at the surroundings;  You are in the heart of a dense tropical rainforest. The picturesque settings generate a pang in me.
The natural hot lagoon is close to Mambajao area.
Santo Nino
Now, for a change, how about taking a dip in a cold spring? The Santo Nino cool spring is not chilly but refreshingly cool in the hot tropical forest.
Again, the setting is beautiful with creatively landscaped area.
For children, there are inflatables for rent. Give them the floats and you go about enjoying your swim.
Katibawasan waterfall
I always am a big fan of hidden waterfalls amidst dense jungles. Katibawasan falls comes under this category.
The setting is breathtaking. It is truly surreal.
The height of the falls is 220 feet! The water is pure, and delicious.
Tuasan Waterfall
Tuasan falls is also amidst dense woods anda  sight to behold. You will find it difficult to get away.
Both the waterfalls are great things to do in Camiguin.
Trekking on a volcanic mountain
Hiking on Mount Hibok Hibok is one of the adventurous things to do in Camiguin.
Thus far, whatever things to do in Camiguin that I have posted showed you the lush green side of Camiguin.
You must be eager to go up on the volcano to spot some really exotic birds. You can spot some green parrots easily. They are endemic and are called "Hanging Parrots".
Another bird worth waiting for to capture in your camera is the 'Purple throated Sun Bird.
As you near the crater at the summit, you can get mouth-agaping views of the Bohol Sea.
If the tides are low, the sea will reveal the White Island that will look more beautiful when viewed aerially from Mt. Hibok Hibok.
The volcano's crater below.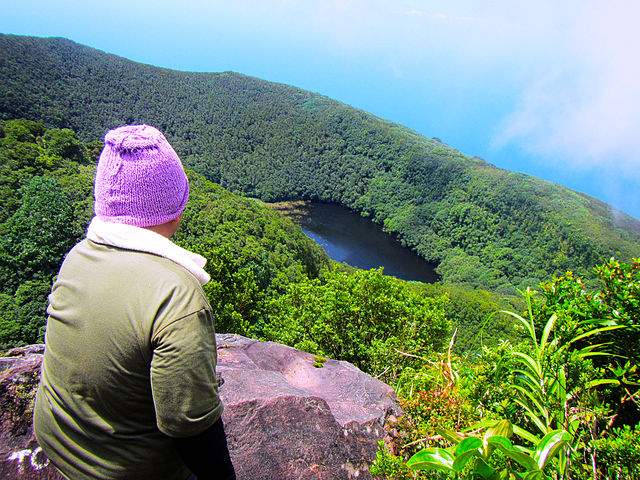 The hike up to the crater might take nearly 6 hours. That's quite a strenuous walk up hill.
White Island
A boat ride from Camiguin will get you to White Island, an uninhabited floating landmass in just 5 minutes only. The distance covered during the sea passage is only 2 km, boss!
The island looks rather naked without any green when compared to the lush Camiguin.
You go there just to have the white sand beach all to yourself.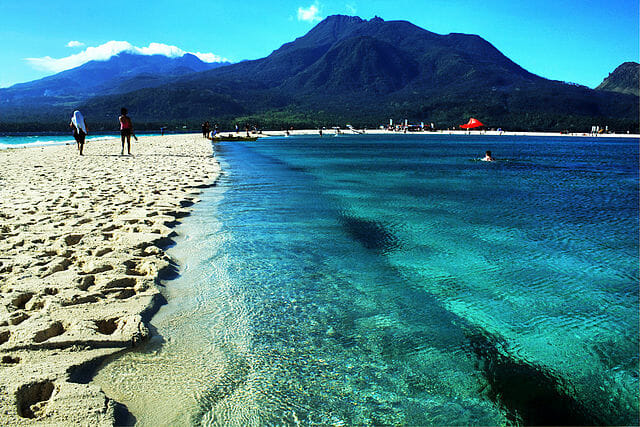 Being a sandbar with sea on either side, you must get yourself photographed in such a terrific location. You don't see sandbars often-right?
Even this spectacular geographical location submerges under the water when the tides are high and voluminous.
White Island is one of the must-see places in Camiguin Island..
Mantigue Island
Are you never tired of seeing a white beach? If so, take a boat ride to Mantigue Island that has an alias, "Magsaysay Island". The voyage involves just 30 minutes.
Nobody lives on this island except sea turtles that enjoy government protected life.
There is a dedicated spot for snorkeling. In addition, scuba divers join the snorkelers with a proud gleam on their face, understandably so.
Snorkeling
Bohol is swimming friendly Sea. That means you can also find snorkeling easy in Camiguin.
The special marine creature that you can spot is the 'clams'. In fact, there is even a sanctuary for clams in Camiguin Island.
Clams alternatively called 'oysters' are our sources for white pearls.
I think it is weird to keep a sanctuary for a marine creature!
Watching the brilliantly colored horizons.
Camiguin is a small island and that makes it a rare place in the world from where you can see the rising sun and the dipping sun.
At both the times, the ocean looks absolutely spectacular. Of course, you need to be at two different places of the island to watch the phenomenon.
What is special to eat in Camiguin Island
It is the rare mahogany fruit known as 'lanzones' that you must taste.
Giant clams are also edible. There is no dearth of it in Camiguin.
I think if you charter a boat and go cruisng the Bohil Sea, you will appreciate the views of the volcanic mountains.