5 Most Visited Islands in Turkey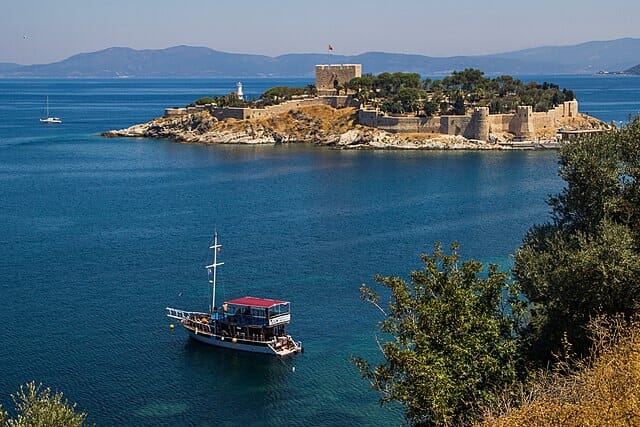 The natural beauty and the absence of commercialism are clearly shown in the above image of an island in Turkey.
We don't hear much about Turkish islands.
In fact, we don't hear any or stumble across traveling to the islands in Turkey. It is mysterious as to why travel bloggers are showing indifference to islands in Turkey after seeing the above image.
The Turkish government is protective of its islands so much so that an entire archipelago is declared as 'care free'. Awesome-right?
Do you know there are as many as 500 islands in Turkey? It must be news to you. It was to me also until a few minutes ago when I started researching travel information on them.
All the 500 Turkish islands are located in the following seas:
Aegean Sea
Mediterranean Sea
Black Sea
Marmara Sea
As a matter of fact, there are 10 beautiful islands that are located very near to Istanbul, the capital of Turkey. I suppose visiting them is part of touring Istanbul, a very attractive city near Greece.
5 Most Visited Islands in Turkey
In this article, I write about 5 most visited in Turkey and the important sights in them.
Akdamar Island
Some Turkish islands are located in lakes. Akdamar island is once such lake island. Lake Van is the host of Akdamar Island.
Though the water of this lake is high in salinity, the island acts as a temporary habitat for numerous migratory birds. At that time of migration, the island attracts large number of bird watchers.
There are no hotels to stay. It is only used for day trips. A 10th century cathedral was once very popular among the Turkish people.
Somewhere along the time, it was closed but still opens once in a year for prayers as well as tourist attraction.
I think tourists from other countries may not show much interest in visiting Akdamar Island as it is too far off from Istanbul. A two hour flying is involved in reaching Lake Van.
2.  Gökçeada Island
At the outset, please be aware this island is now known as Imbros. It is the largest of Turkish island and is located in Aegean Sea. Its land area comprises a big 300 sq. km approximately.
Oddly, it is a volcanic island. Volcano Ilyas Dag is a dormant volcano. See its picture below.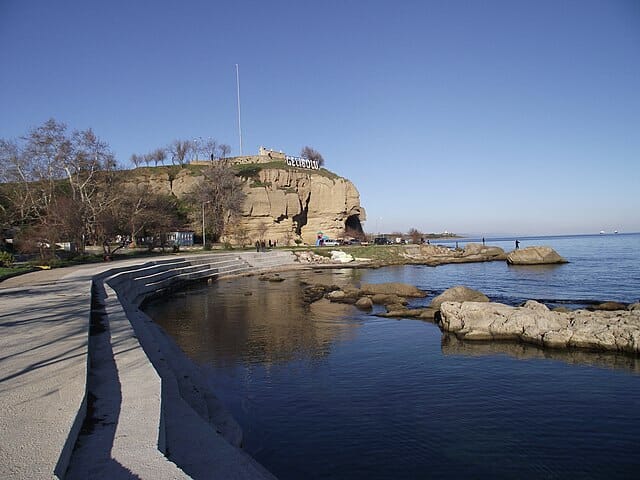 Gokceada Island's pristine beaches are the biggest tourist attractions. There are quite a number of beaches that have become a hit with the visitors.
Here are some of the names of the beaches on this Turkish island.
Kapikaya Beach
Bluebay Beach-there is an underwater marine park here.
Kaskaval Peninsula is a haven for scuba divers.
Marmaros Beach
Aydincik Beach
This is a beach fronting a lake whose water is salty but said to contain medicinal properties. The local people used to take mud bath here.
Places of interest:
The legendary historic Troy is a must-visit place in Gokceada Island. Who is not captivated by the stories involving the Troy queen and her love, the wooden horse and the immaculate fort facing the Aegean Sea. Troy is a World Heritage Site of UNESCO. Join a guided tour of Troy and hear the stories of the Helen of Troy and Homer's epic Odyssy and Iliad.
Are there hotels to stay on this island?
Yes, of course. If you are fond of Turkish cuisine which is a mixture of Mediterranean and Greek cuisine, you should stay in one of the 100+ hotels and taverns on the island.
Hotels are not big here. Even the expensive Castle Boutique that charges just 110USD per night is small by any standard.
Rather, I should say villages where the Greeks live even now. The Greek settlements are all situated on hills overlooking the sea. It is worth taking a guided tour of them.
To name a few villages those are tough to remember and pronounce:
How to reach Gokceada?
Your destination is Gallipoli Peninsula. It is located after a four hour drive from Istanbul. From Gollipoli, you can take ferry to Gokceada. The ferry ride will last approximately two hours in the Agean Sea.
In addition, you can inquire about the flight timings to this island in Turkey from Istanbul.
3.  Bozcaada Island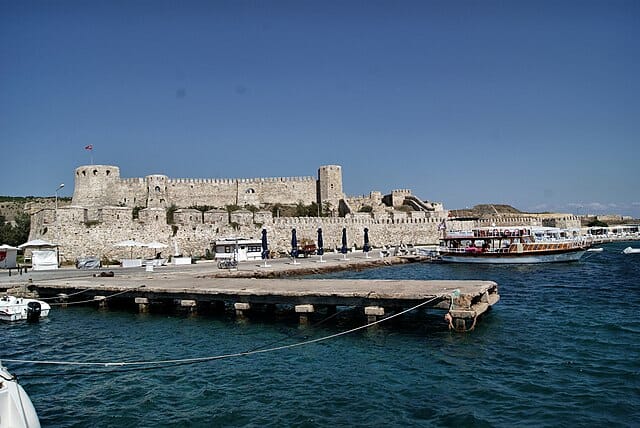 What you see in the image is a castle named Bozcaada. It is difficult to say whether the island is named after the castle or vice versa.
This island in Turkey is a hit among the Turkish people mainly because, apart from the main island, they love to set afoot on several small islets numbering 17.
Though the island is pretty old and rich in history, the houses look quite modern and classy.
The top sight on this island is naturally the attractive Bozcaada Castle, sitting right on the beach.
If you are interested in mosques, this island and the mainland Turkey have many of them.
Reaching Bozcaada
From Istanbul, you have to go to a port city named Canakkale. It is located some 300+ km from Istanbul, in the southwest direction.
From Canakkale, you can visit Bozcaada Island in a ferry that can also accommodate your taxi. Alternatively, there is a hydrofoil (a super-fast boat) that deposits you on Bozcaada in about one and a half hours.
4.  Alibey Island
It's a pretty Turkish Island that has an alias name 'Cunda'.  Interestingly, Cunda Island as it is more popularly known is part of a large archipelago comprising 22 islands and islets, Cunda being the largest and the most important of them.
Alibey Island is situated in Aegean Sea, surrounded by Greek islands. Lesbos is the nearest Greek island to Cunda Island.
The island is littered with several windmills that look idyllic amidst a serene background.
A few Greek orthodox churches are curiously looked upon by the tourists.
Reaching Cunda Island
It is pretty easy to reach the island. You simply have to drive through a causeway that connects the island with Ayvalik town on the mainland.
Ayvalik itself is quite far off from Istanbul. Buses ply from Istanbul and it takes nearly 8 hours to cover the distance of 400 km.
I think rail connection is also available.
There is a nature park with walking trails through groves of pine trees. Pine tree when noticed as a solo tree is not very attractive. However, when you see them in groves, it throws a romantic aura. What do you say?
5.  Gemiler Island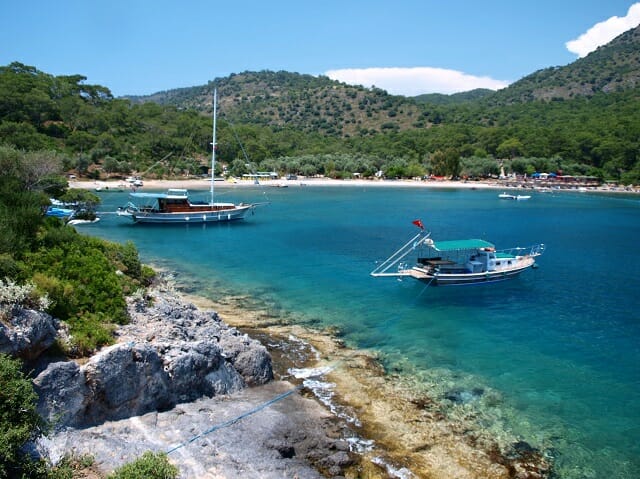 I think this Turkish island is the most beautiful of all the islands in Turkey. As I used to say, any island with a backdrop of greenish mountains is very appealing.
Gemiler Island is surrounded by mountains with lush vegetation.
Did you notice the boat on the right side that appears to be hanging above the water? It implies the water is damn clear.
While researching for travel information on the islands in Turkey, I noticed why they are not much bothered by leading bloggers. The names of anything Turkish are tough to pronounce.