9 Splendid Places to See in Moalboal, Cebu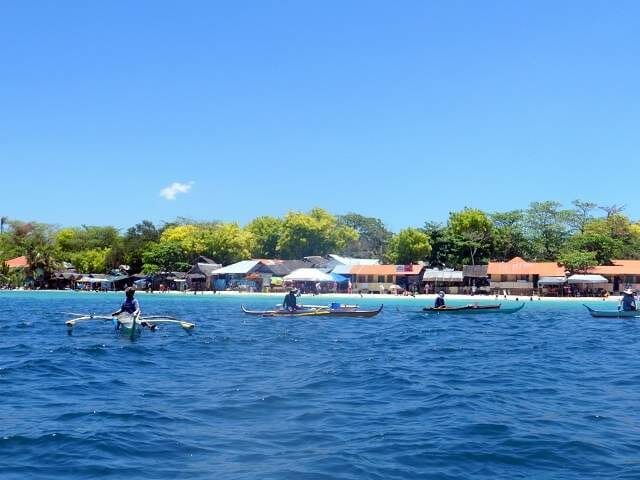 This blog post is all about the Places to See in Moalboal. Moalboal is a city on the west coast of Cebu, one of the provinces of the Philippines, an Asian country comprising over 7000 islands and islets.
 Overview of Cebu:
Cebu province is located in the central part of Visayas region in the Philippines. Luzon and Mindano are the two big regions. Visayas the third region.
 Map of the three regions of the Philippines:
While the Cebu's parent Visayas comprises 6000 island and islets, Cebu itself is an archipelago with 167 islands.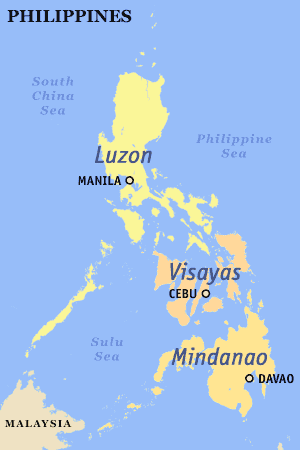 Cebu's capital is also named Cebu city. For the islands' extraordinary natural beauty, it has earned a prestigious nick name, "Queen City of the South". It implies the 'south of the Philippines'.
The island of Cebu is considerably large measuring 196 km long and 32 km wide.
It is interesting to know the Cebu Islands are not surrounded by just one sea but 4 seas. They include:
Visayan Sea in the North
Camotes Sea in the EasT
Tanon Strait in the West
Bohol Strait in SouthEast
Let us now see where Mallboal is located.
Cebu city is 105 km away from Moalboal.
It has a neighbor in the Tanon Strait. Negros Island, a huge island of mammoth proportions.
Another neighbor is Pescador Island in the Tanon Strait is located very close to Moalboal. As a matter of fact, it is part of Moalboal.
The distance between the two destinations is just 5.5 km.
How to reach Moalboal?
Since the road distance from Cebu City is only 105 km, you can either take a Government run bus or hire a private cab,
The three hours bus ride will be scenic as, most of the time, the bus takes the beach road to Moalboal.
Where to stay in Moalboal?
As a coastal town in Cebu's west coast, it is loaded with a few beachfront resorts and a few mid-range hotels.
Some of the well-visited resorts are:
Turtle Bay Dive Resort
Blue Orchid Resort
Dolphin House
Kasai Village Dive Resort
Club Serena Resort
Mid-range hotels in Moalboal:
Neptune Diving Resort
Marcosas Resort
Pescadores Suites
Moalboal T Breeze
Moalboal Tropics (the cheapest)
If you are a backpacker or a solo traveler, you can look up for homestay options or guest houses.
Best places to eat in Moalboal:
Venz's Kitchen-It's an open-to-sky restaurant. These open air restaurants are ideal for islands and sea views.
Betsy's Grill-this is a restobar that serves food and drink.
Achilie Restobar
Trattoria Altrove
Top places to see in Moalboal:
Beaches
When you go to a remote coastal town facing an unheard of sea, you would naturally spend the best of your time in the beaches or restobars facing the sea. As an added thought, a rooftop bar with a sea view is the best place to enjoy a coastal city.
Panagasma Beach is the most visited beach in Moalboal.
Moreover, the best resorts and restaurants are found near the Panagasma Beach.
Savedra Beach is worth visiting because the sand is a beautiful white. This beach is a divers' hot spot. To serve them are beach bungalows built right at the waterfront.
Near the Savedra Beach also, quite a few popular resorts are built.
Lambug Beach is another white sand beach in Moalboal. Strangely, this beach is liked by Starfish. Schools of them can be easily spotted here.
Diving and snorkeling
The water off the coast of Moalboal is rich in marine creatures and numerous species of both soft and hard coral reefs.
Consequently, it is a haven for both scuba divers and snorkelers.
With the soft coral reefs situated close to the water's surface, snorkelers can also enter the sea and touch the reefs.
Marine creatures that the divers can spot under the water include sea turtles and Sardines, a species of fish.
Sardine Run
In the video below, you can see literally millions of Sardines swimming together as a very large school.
This fantastic underwater scene occurs around noon. The 'Sardine Run' attracts hundreds of scuba divers from Cebu Islands.
Those who can neither dive nor snorkel, can still see glimpses of the Sardine Run since the fishes swim, almost touching the surface of the sea.
The place to see the Sardine Run is the Panagsama Beach.
Kawasan Falls
Isn't it a typical tropical waterfall set amidst lush green forest and away from any kind of artificial light?
It is a must-see place to see in Moalboal. Moalboal is a hot place. Stand under the falls and cool yourself.
It is a bit far off from Moalboal. 20 km is the distance to travel.
Since the waterfalls are surrounded by tall cliffs, canyoneering which is a type of adventure is indulged here.
It involves abseiling on the rocks, jumping from the cliff into the pool gathered at the bottom of the Kawasan Falls, etc.
More waterfalls:
Tropical forests are home to several waterfalls that are usually hidden as you drive or walk by. Some falls require a bit of reaching out of the way.
Make a note of the following waterfalls and visit them if you have time. They are excellent Moalboal tourist spots.
Taginis Falls
Monterpillar Falls
Samboan Falls
Mantayappan Falls-this is a terrific looking falls. You need to travel 30 km from Moalboal, towards Cebu city.
Dao Falls
Visiting these stunning waterfalls will make your trip to Moalboal, memorable. Moreover, these are wonderful places for bird watching.
Pescador Island visit
Since it is so close to Moalboal, there are boat trips to Pescador Island. An underwater cave named strangely as 'cathedral', lure divers.
See a diver dramatically enters the cave.
What a splendid videography!
This tiny island is thronged by ardent scuba divers.
Marine parks visit
Two marine parks are Moalboal tourist spots that are great to visit. Ronda Marine Sanctuary and Tuble Marine Park are habitats for sea turtles that are really big, the barracudas, and Hawksbill Turtles.
Dive Centers
A couple of exclusive diving spots provide you rare opportunities to spot very colorful marine creatures.
Savedra Dive Center, Lion Dive Center, Neptune Dive Spot, and Cebu Dive Center are known for exploring diverse coral reefs.
Eskapo Verde
Nature lovers will scream in delight when they see the lush mangrove forests that are home to numerous reptiles and birds.
Busay Cave
Here is one more beautiful place to see in Moalboal. Again, it is a tourist spot that is off the beaten track. You cannot resist jumping into the cool water of the natural springs and enter the lovely cave.
Looking at these Moalboal tourist spots, I think you can see them all during a weekend. Visitors to Cebu City are the regular tourists to Moalboal, Cebu.