20 Best Places to Visit in El Nido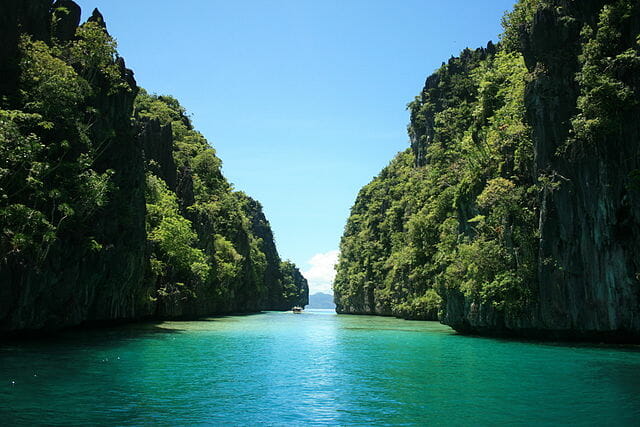 What can you see during a tour of El Nido? Here is the list of 20 best places to visit in El Nido during your visit.
El Nido and its 45 islands and islets are positioned at the northern tip of Palawan Island, one of the provinces of the Philippines. Please know there are 7600+ islands and islets in the Philippines. They are divided into 18 regions and 81 provinces.
Out of all provinces of the Philippines, Palawan is the most beautiful one with extremely beautiful beaches, karst cliffs, surfing locations, and impeccable beachfront resorts. If you go to Palawan for a weeklong holiday, you are likely to inquire how to get a permanent resident visa in the Philippines.
Location of El Nido:
The map of Palawan that also shows where it is located in Palawan.
El Nido is only a small municipality of Palawan province of the Philippines.
South China Sea is on the west and the Sulu Sea is on its east coast.
How to reach El Nido?
Flights are available from the Philippines's capital Manila which is quite far off at 420 km south.
Cebu, another large city of the Philippines also operates flights to El Nido.
There are no direct international flight connections to it, in spite of an international airport in El Nido.
If you want to enjoy a sea passage, there is a 4 hour ferry ride to it from Coron. It will be a Sulu Sea crossing.
El Nido town:
It is part of the Palawan Island. It is situated at the northern-most tip of Palawan.
Attached to its municipality admin, there are 45 islands and islets and the majority of them (41 Islands are floating in South China Sea, on the west coast of El Nido and also of Palawan. 4 islands are on its east coast, in the Sulu Sea.
All the 45 islands are part of Bacuit archipelago. The water surrounding these pretty islands look as clear as glass.
These islands are rated as immaculate vacation destinations. Here is a proof of the beauty of them.
"Shutter Stock has 640 images of them". Ain't it enough to think of your next vacation in El Nido and its islands?
20 Best Places to Visit in El Nido
What to visit in El Nido town?
Kayaking
There are lagoons off El Nido coast that make kayaking, a child's play.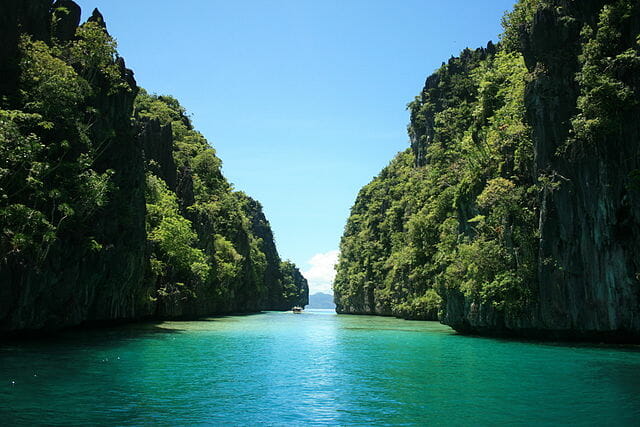 You can spot sea caves and even take your kayak into them to have some ultimate time.
Rent a kayak with a glass bottom so that you can clearly watch the marine creatures swim my beneath you, oblivious of your stare at them.
Kayaking is one of your important adventures during your El Nido tour.
Nakalit-Kalit Waterfall
This is what they call as hidden gem. The waterfall's location is deep inside a forest. You need to walk quite a distance to reach the base of the breathtaking waterfall. Take a local guide with you as you are likely to get lost. Your hotel reception desk will organize the excursion for you. No need to book in advance.
This is a nice place to visit in your tour.
Canopy Walk
I think no one can resist a canopy walk. If the walk is through some dense tropical jungle, the walk on the high walking board will be really pleasant. The myriad birds' songs will keep you in a happy mood.
Ask for ways to go to Nido's Canopy walk.
Las Cabanas Beach
Before you undertake a tour of El Nido Island, you must visit the Las Cabanas Beach in El Nido town. The uncrowded and pristine appearance of the beach will be a prelude to the beaches on the islands you are about to visit.
Corong Corong Beach
It's a perfect beach, a typical tropical beach with coconut trees lining promenade.
Lio Beach
This beach is ideal for first time snorkelers as there won't be people watching you tentatively hit the water on your stomach.
As many as 50 beaches are in El Nido and all of them have white sand. It is no wonder the beaches are not at all crowded, considering the number of beaches.
More El Nido beaches
The backdrop of karst cliffs gives the beach a wild look. The forested-frontage is a final seal of a tropical paradise.
It is an absolutely picture perfect beach, one of the finest places to visit in El Nido. From the cliffs, the view of setting sun is dramatic. Don't miss this place during your tour of Nido.
Nacpen Beach
Isn't it picture perfect? It is "Philippines" written all over it. The visitors' views vouch for the friendly waves for swimmers and beginner surfers.
The friendly local Filipinos sell amazing seafood accompanied by soft drinks and liquor. I think a can of chilled beer would be perfect in the hot afternoon.
Hidden Beach
The approach to the beautiful beach gives the name 'hidden;. In addition to the stunning beauty of the beach, knowledgeable tourists go to some distance in a boat, where sea weeds provide great habitat for the rare 'clownfish'.
I don't see anything 'clownic' about the fish but it is beautiful.
Secret Lagoon
Lagoons are wonderful water bodies abutting a sea shore. They are naturally formed with no sea waves, thus make them children-friendly for swimming, and splashing around with glee.
Secret Lagoon is one such place in El Nido.
The limestone rocks, palm trees, and the hidden location beyond the tall cliffs make it a secret lagoon. The water is ultra-clear. Water taxis are parked on the shore. They take you for a fun ride (literally, folks!) in the South China Sea.
Water adventures in El Nido
There are more lagoons that are simply stunning and are very popular water bodies worldwide. The Big Lagoon and Cadlao Lagoon are two of the must-see attractions in El Nido.
Stand up paddling
You stand up on a board and use a paddle to move forward on the sea. This facility is available all over beaches and on its islands. You can do this only on still water such as a lagoon.
Scuba Diving
If snorkeling is possible, why not scuba diving, the more thrilling underwater adventure? El Dive is the place in Nido, where scuba divers and beginner divers go for a stint under the water.
Birds of El Nido
The rich and diverse geography and eco system of Palawan Island make happy living possible for numerous bird species.
Here are some of them you can spot in El Nido.
Palawan Peacock-pheasant
Palawan Hornbill
Palawan Shama
There is no specific place in Nido to watch these beautiful birds. You can spot then during your beach visits, kayaking sessions, and canopy walk that you enjoy during your Nido tour.
Visit a Few Islands of El Nido: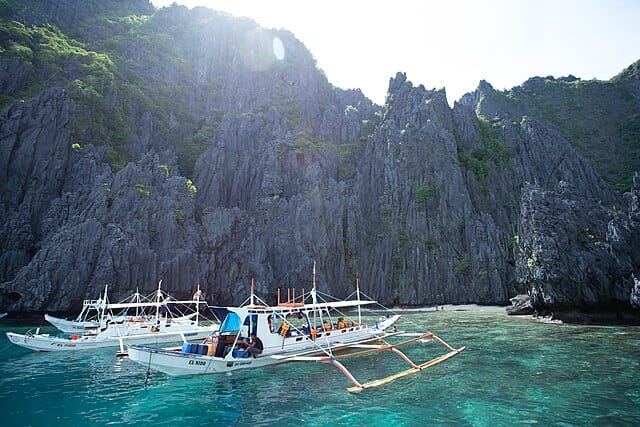 El Nido's fresh-looking islands are a  world apart from the rest of the islands in Asia. Thousands of tourists, mostly young people with their spouse sor girl friends frequent Nido Islands, several times a year.
Finding a boat tour operator in El Nido town or in Coron is not a difficult task.
Snake Island
This is the closest island to Nido, on the west coast. It is visible from El Nido's side. As a matter of fact, you can see a sandbar that is semi-submerged in the sea during high noon when the tides are low to reveal the sandbar.
Some youth dare to walk up to the Snake Island, unmindful of the high tide that may swoop in, without warning.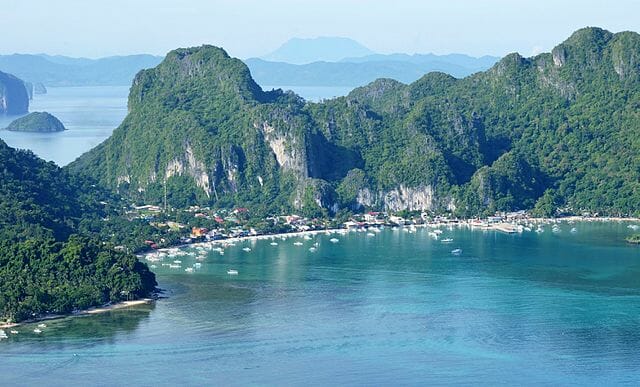 Snake Island is one of the El Nido Islands that the organized island hopping tour operators will take you to.
The 'S' shaped island gets its name 'Snake Island'. It has a few resorts and very quiet there. The distance is only 3 km from mainland.
If you want to see the sandbar that connects the island with the mainland, watch a short video clip below.
Do you think you will dare to walk on the sandbar? I will but won't proceed beyond 100 meters.
Shimizu Island
It is located 22 km from its parent Nido. It is known for diverse marine creatures that are easily visible, even to snorkelers.
Warning: The weather will be cruelly hot. In spite of that fact, it is one of the highly recommended places to visit in El Nido Islands tour.
Miniloc Island
If you travel 22 km to the west, you can reach the Miniloc Island. It is one of the highly visited El Nido islands by ad film makers and television serials producers to capture the incredible beauty of the Big Lagoon and the Secret Lagoon.
The entire island of Miniloc is popular as a resort island.
Lagen Island
If you love forests abutting silent beaches, then, you should visit Lagen Island, one of the islands that you are taken to by the El Nido islands hopping tour organizers.
Behind the sandy beach exists a dense tropical forest that you should walk through. God only knows what wildlife and flora that you can find inside. You may end up as a discoverer sailor, buddy!
Matinloc Island
It is another Island that is situated 25 km west. It is floating in the South China Sea.
The clean water of this island beckons snorkelers and swimmers from other areas of Palawan Island, one of the top islands in the Philippines.
These Islands offer peaceful holiday. The Filipino foods are known for their delicacy worldwide.
Helicopter Island
Interestingly, the island's shape resembles a helicopter when viewed aerially. The small Island has lovely beaches that are not at all crowded.
El Nido Tour operators.
As I mentioned earlier in this blog post, there are too many experienced El Nido tour operators. There is no need to book one in advance. You can approach them on arrival at El Nido.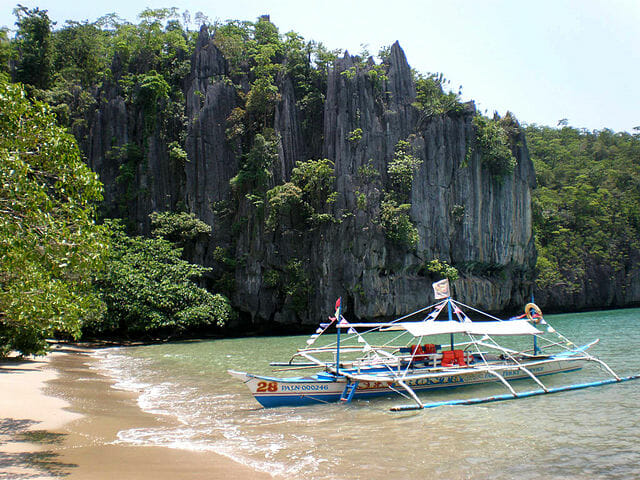 Please be aware that the the Island tours are known as tour A, B, C, D. Each tour takes to a different set of islands. All are day trip boat tours from El Nido town.
In any case, your hotel travel desk can make the arrangements as per your wish.
To sum up, a trip to El Nido is all about spending quality time in the beaches and islands in and around El Nido town in Palawan Island.