Ultimate Travel Guide to Papeete, Tahiti Island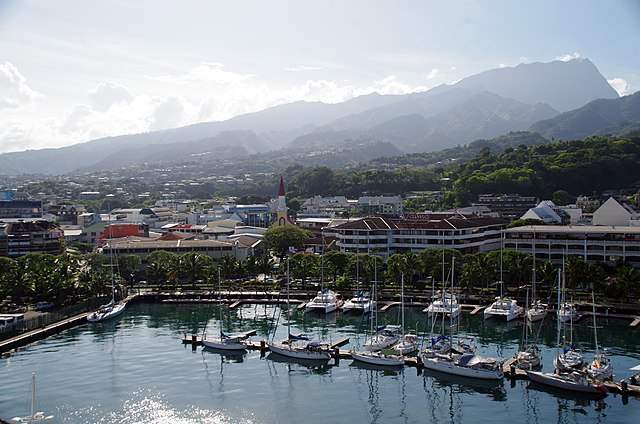 That's Papeete's marina for you. Papeete is the capital city of Tahiti that is also known as French Polynesia. Here is a travel guide to Papeete islands for your next visit.
Tahiti is popularly looked upon as the 'paradise on Earth'. It is an island that is floating in the South Pacific Ocean.
Tahiti is surrounded by several more mini paradises that include:
and a few more.
These are all the South Pacific Islands that are floating above Australia and New Zealand.
In this blog post, we will explore Tahiti's Papeete city, its location, accessibility, and places to visit in Papeete.
Location of Papeete.
This city is located on the northern tip of Tahiti, slightly leaning towards the western coast too. Have a look at Papeete's location map.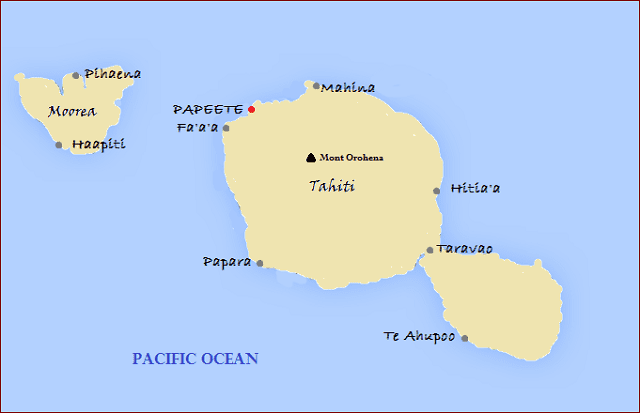 How to reach Papeete?
Faa's International airport receives flights from France, Hawaii, a few cities in the United States, New Zealand, Japan, Canada, and Australia.
Chile is the only South American country that is linked with it by air.
Moorea, another French Polynesian islands operates ferry to this island. Cars can be driven inside the ferry.
I will give you an idea of what will be the flying duration to it.
From Los Angeles, it will be eight and a half hours.
From Sydney, it will be an hour more; 9 hrs and 30 minutes.
Unfortunately, the French people who own Tahiti have to endure more than 21 hours of air passage.
Do you now get an idea of how long you have to fly from your city to Papeete?
Ah, here comes more exciting and interesting ways to get into this island.
Have you ever sailed in the South Pacific? Now is the chance. If you are touring Bora Bora, another highly visited French Polynesian island, you can contemplate reaching this city by a car ferry.
The distance is 230 km and the voyage lasts around 8 hours.
Is hopping around the French Polynesian islands possible by boat?
I have a better suggestion. If you buy an air pass from Air Tahiti, you can fly to several islands of your choice in the South Pacific. It is known as "Air Tahiti Multi Island Pass'.
Where to stay in Papeete?
The good news is booking online, the popular hotels aggregators in the world, allows you to book your choice of hotel in their database without paying anything in advance. I would say it is a fantastic deal.
Therefore, let us browse through the list of resorts, hotels, and serviced apartments for rent in Papeete.
Anapa Guest House
Heitiare Apartment
Suisse Tahiti Guest House
Hotel Hilton
Hotel Tahiti Nui
Pearl Resorts
For the affluent and adventurous travelers, there are overwater bungalows. From what I gathered, these romantic hotels floating in the water are actually affordable by middle-class tourists to it.
For budget accommodations in Papeete, Google offers a few places.
What is special food to eat in Papeete?
Interestingly, apart from French cuisine, you can get Italian, Chinese, Japanese, Vietnamese, and above all, original Polynesian food.
There are several exclusives to eat in Papeere restaurants. Breadfruit that is locally called 'Uru' is widely eaten. This tropical fruit is eaten as such and also fried, boiled, roasted and baked. I think I would try the baked version of breadfruit.
Try something that is cooked in Ahima'a style. It involves cooking in an subterranean oven.
Tarua is local specialty.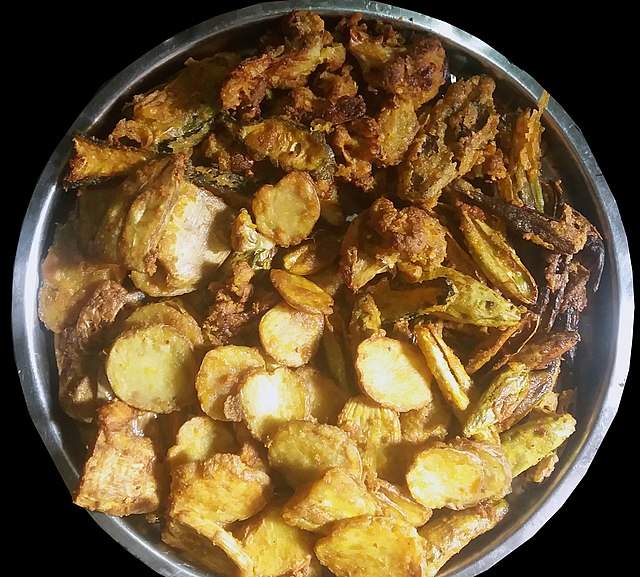 It is a deep fried vegetable dish that is originated from Nepal and some parts of Bihar, India.
Ota 'ika
Oh, yes; here is something truly exotic food of Tahiti. It is raw fish that is marinated in a mixture of coconut milk and lemon juice.
Some vegetables are also added in the later stages such as onion and cucumber.
Limu
Limu on the menu cards in restaurants indicates it is a kind of 'seaweed' or underwater algae. Will it smell 'fish'?
Mahi-Mahi
Try to find this Tahitian special food. It is made from 'dolphin's' buddy!
Firi Firi
Tahitian donuts that taste French all the way.
What to buy in Papete?
As a tourist, there are several souvenirs you can think of buying here.
Cultured Pearls and pearl jewellery are the foremost gifts you can buy in Papeete. Do you know what cultured pearls are?
They are produced in 'pearl farms'.
If you use vanilla essence in your kitchen, you can but it as edible souvenir.
Tahitian coffee.
Tahitian coffee is generally not available in the world except in Tahitian islands. Make a purchase of rare Tahitian coffee here.
Carved wooden articles are displayed attractively in the markets of Papeete.
Perfumed oils made from flower petals are popular Polynesian products. They are generally classified under 'monor oils'.
Special hand woven pillow covers and bed-sheets known as 'Tifaifai' are famous gifts you can buy from Papeete.
Ultimate Travel Guide to Papeete, Tahiti Island
Paofai Gardens
This is the major tourist landmark of this island and one of the places to visit in Papeete. It is a fairly large botanical park with walking trails, fountains, and neatly landscaped park.
The Tahiti's harbour is abutting the park and you can walk through the pathway built along the waterfront.
Bougainville Park
Bougainville Park located in the heart of Papeete is worthy of a short visit. Trees and flowering plants are aesthetically landscaped. If you are new to tropical gardens, you will find the shade provided by the trees, cool and refreshing.
Children can play in the area dedicated to them with slides and rides.
Remember; there are guided walking tours of Papeete. It is advisable to join one before you start exploring the island city on your own.
Vaima Shopping place
Browse through the Vaima shopping center and buy some edible souvenirs and wood carvings. In addition, try to eat a few Polynesian street food and freshly made Tahitian coffee.
In addition, Vaima market is a good place to buy Tahitian pearls and pearl jewellery.
Ah, I just remembered. Since this is a French overseas territory, you can buy authentic French perfumes and dress materials.
I think you will be attracted towards the brightly colored Tahitian dresses, caps, hats, and scarves.
Vaima Shopping Center also faces the South Pacific Ocean.  Sadly, this is closed on Sunday.
Papeete Market
This Market is a kind of flea market. The local farmers, small craft makers, and myriad people set up their stalls and display their wares.
Find stalls that sell tropical fruits and vegetables, handicraft items, and pearl ornaments.
Tahua Toata
Obviously it is in local language and it points out to the Papeete public square.  Moreover, you can find a stadium from where, people sit and witness national public events, concerts, and sporting events, etc.
Tahua Toata public watching place is also overlooking the ocean. It seems, the entire activities in Papeete including the shopping malls are centered around the harbour. I think it is a bright idea.
Tahua Toata is certainly one of the important places to see.
Papeete's Waterfront
The city's life revolves around the beautiful waterfront area. It is a timeless place and you gaze at the horizon for hours together, watching the movements of boats, ferries, and large yachts that visit various French Polynesian islands.
Eateries at Shacks
Shacks are French Roulottes where you can taste whatever is sold by the food vans. You can choose to stand and eat or sit at one of the plastic dining tables laid near the vendoring vehicles.
Tea, coffee, and small snacks including raw seafood are sold here.
Mostly, it will be open air eating. The prices of foods are dead cheap here. You can call the Roulottes as 'budget eating' places.
Pearl Market
This is an exclusive market to buy the famous 'black pearls' of Tahiti. The black pearls are very expensive in the world in spite of being cultured pearls.
Island Hopping
Don't ever contemplate missing a tour of other Polynesian Islands near Tahiti. You won't get anoter chance to visit so many true tropical paradises floating remotely in the South Pacific Ocean.
Ferries ply frequently between Tahiti, Moorea, Bora Bora, Maupiti, Motu Uta, Ralatea, Rangiroa, and Huahine islands.
Interact with native Polynesians, visit their houses, and enjoy coffee provided by them.
You can also visit the islands by the cheap Air Taiti Multi-island Poss and tour the islands quickly. However, voyages by ferry will be more enjoyable.
Beaches
Naturally, you will be spending much of your time in the beaches.
Lafayatte Beach is the highly-visited beach.
It is a black beach due to volcanic activity in the past.
Arahoho Blowhole
This is a furious and savage hit by the waves in the rocky hole resulting in deafening and sound and violent spray of water all over.
Arahoho Blowhole is amongst the best places to see in Papeete.
Vaipahi Water Gardens
It is a breathtaking place of dense tropical jungle with hidden waterfalls, and green mountains. Vaipahi Water Gardens are a bit far off from it. You need to travel 50 km in a cab from your hotel.
Papeete is good for individual exploration. I mean, you go on your own without bothering about guided tours.
If this is your first trip to Polynesia, you are likely to come back again and again as these are truly exotic travel destinations in the world.
Remember to do a bit of island hopping from Papeete.