15 Most Thrilling Hiking Trails and Natural Attractions of Iceland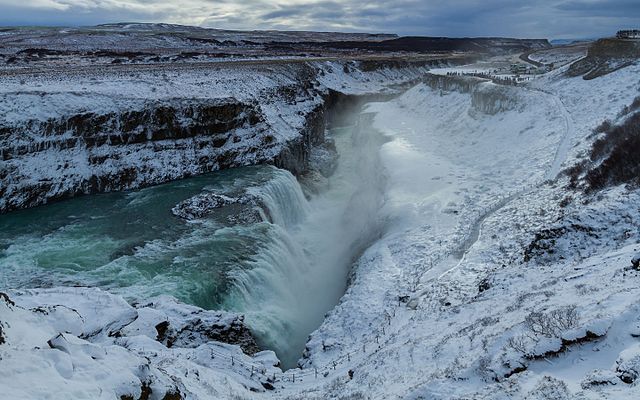 Iceland is definitely not on the map of the majority of the travelers for reasons undisclosed but whatever may be the reasons, I would say they are biased because Iceland is simply a paradise for hiking buffs and unnaturally natural scenes and unimaginable landscape that just cannot be put into words. Only a photographer can capture all the gorgeousness of Iceland's tourist attractions.
Iceland's hiking trails do not beckon a casual walker who cries for rest after walking only 15 minutes. There are some hidden natural beauties that will reveal themselves to those who dare.
For all of us who don't even travel extensively, Iceland means Northern Lights and beautiful fjords only. I am going to show everything in this blog post what is in store for the avid travelers and compulsive hikers.
The world's most exciting hiking trails of Iceland include:
Snæfellsnes Peninsula (see how the letters 'a & e' are joined)
World's longest lava tube (lava cave)
Walking to the base of Dettifoss waterfalls
Lake Mývatn
Geothermal Golden Circle (hot water volcano)
Other beautiful attractions to see in Iceland.
Fjords and Sounds and their difference.
Stunningly beautiful fjords (not to be confused with 'sounds') Look at the two photographs below to understand the real difference of fjord and sound in geography.
Fjord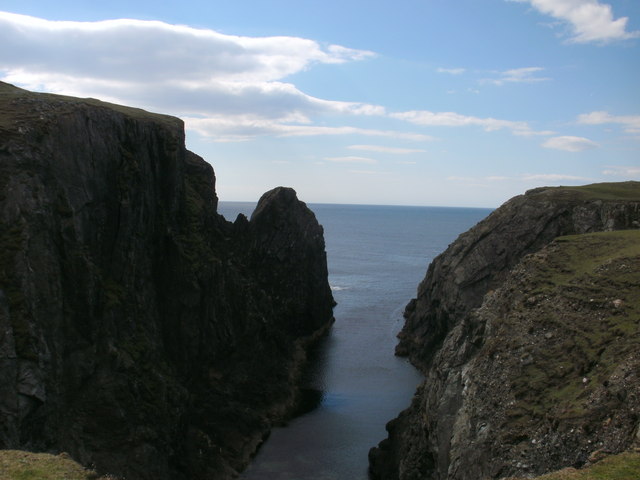 Sound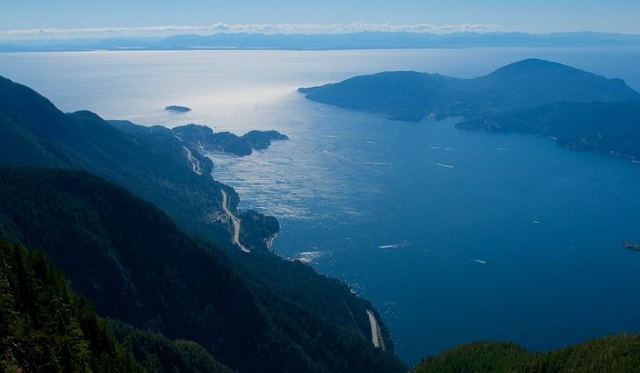 In both the images above, the ocean enters through two land masses. In fjords, the water inlet is rather narrow, big enough to let a large yacht pass by whereas in 'Sound'. The gap is too wide to allow two ships to sail through side by side.
The extraordinary natural treasures of Iceland can be truly enjoyed only if you plan your trip during the winter season. Of course, there would be ice, miles, and miles of it culminating in huge blocks of glaciers. However, if you buy your all-inclusive hiking expedition package from the best of Iceland family expedition organizers such as the highly experienced National Geographic, you would have a most memorable and thrilling holiday you would ever enjoy.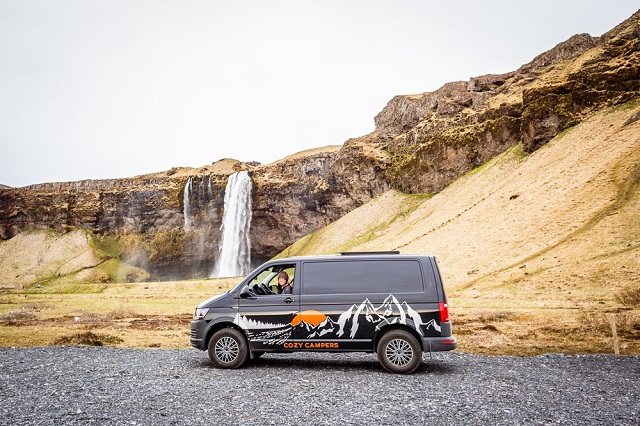 Indeed, an Icelandic road trip is not without stops to the featured spots. Make room for half-day treks and short hikes in your itinerary, and be sure to have your camera ready to capture the scenery. Your 4×4 campervan in Iceland can take you to all kinds of adventures.
Let us explore a little more about all the hiking trails and adventure activities in Iceland.
Mývatn Lake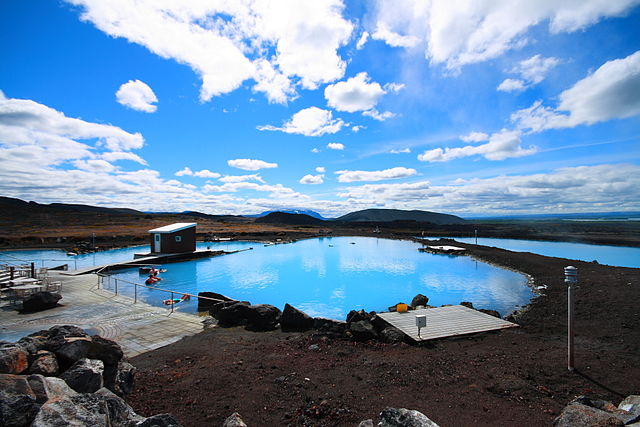 The image above is not of the Mývatn Lake but a hot a swimming pool made by man. It is more of a lagoon to take a dip in the hot mineral bath that is supposed to be very good for your health because of rich minerals contained in the water. The lagoon is fed by the volcanic Mývatn Lake. Your travel guide will approach the information desk in Reykjahlíð village. After collecting all the interesting geographical information that would excite the tourist, you can a walk along the circumference of the Mývatn Nature Bath lagoon.
Námafjall Mountain and Thermal Fountains.
Your Hverir tour starts here.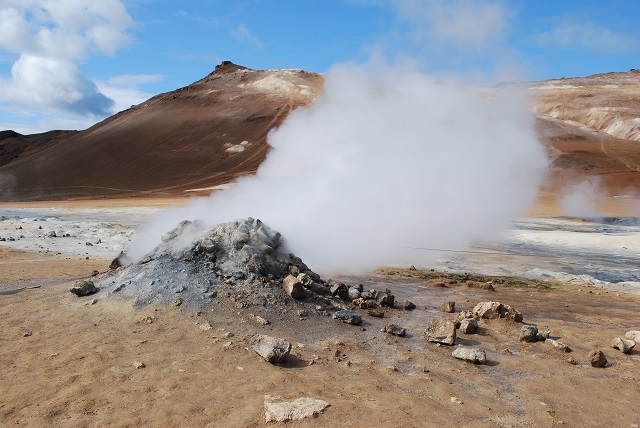 That is neither a mist or nor a fog, buddy but it is hot fumes emanating from a natural hot spring, one of the several such thermal fountains scattered in the Námafjall Mountain that is not too far from Mývatn Lake.
The Námafjall Mountain is volcanic and that explains the thermal baths. The mountain is near bald as far as I can see with no green cover whatsoever. It's so unlike other volcanoes of Indonesia, Italy, and Hawaii.
The hot springs called Hveraröndor Hverir.
Here is a closer look of the so-called Hverir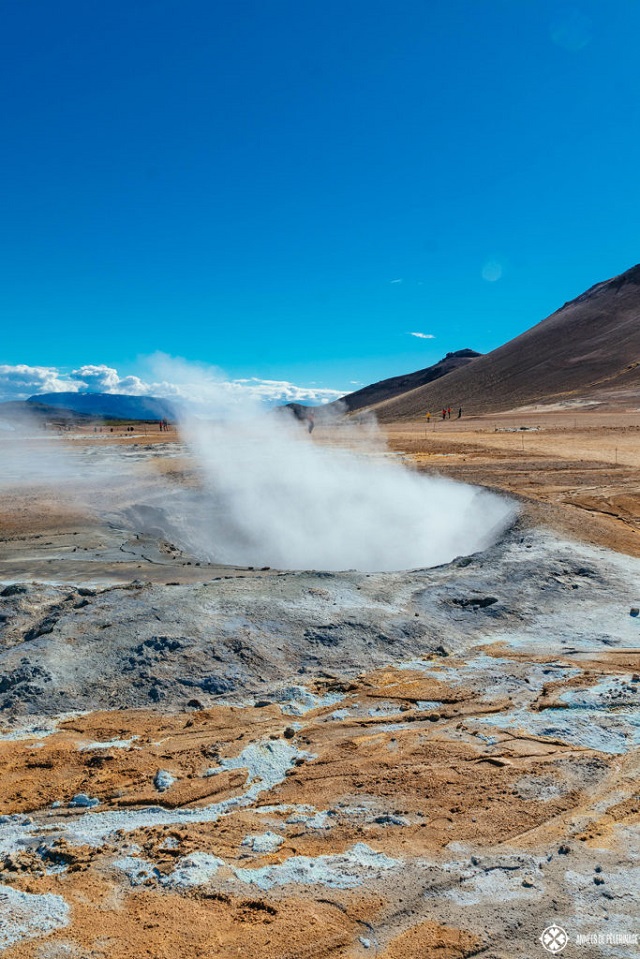 Since the fumes are coming out of a natural hole on the Earth, they are also aptly called "fumaroles". At times, you can see the hot water bubbling, squirting hot water up making it look like a water volcano.
Námaskarð Pass, Iceland
Your next stop in your Hverir tour is the Námaskarð Pass located at about 1200 feet height, another geothermal activity area in the same Námafjall Mountain.
You are traveling too far away from your home to see the extraordinary natural phenomena in Iceland. You should make the most of it by visiting every attraction your guide suggests. Don't ignore anything as these are your once in a lifetime sightings.
The Námaskarð Pass is situated very close to Mývatn lake. You can watch with your mouth agape, all the hot-springs, fumaroles, and mud volcanoes.
If you can tolerate the pungent smell of sulfur, you can click your camera as many times as possible to capture the images of the 'solfataras' (sulfur springs).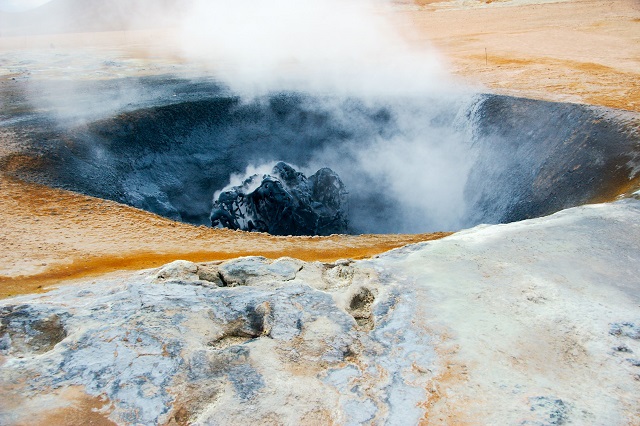 Look the gaping big hole letting out sulfur fumes and water vapor! It is scary as well as breathtaking.
Eyjafjörður Fjord, Akureyri, Iceland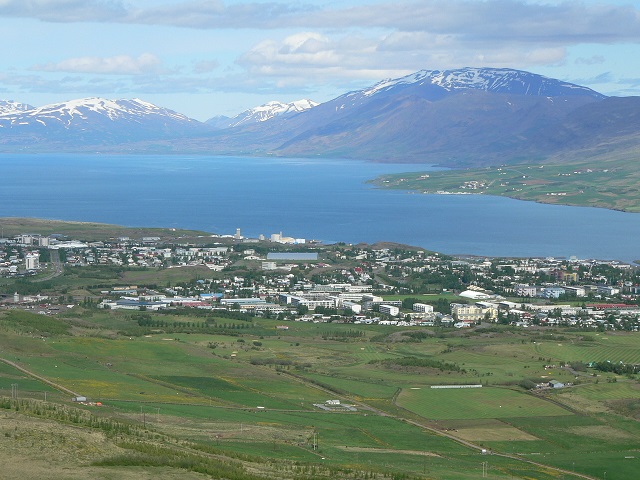 Eyjafjörður, Iceland's is the longest fjord in Iceland. Being a panoramic area, it is an ideal viewpoint to watch the Northern Lights uninterruptedly. The shores of the fjords are wonderfully fresh areas to walk around, breathing the unpolluted fresh and cool air that will be transformed into a dynamite of a person instantly. Your energy will be boundless.
Dimmuborgir Hiking Trails, Iceland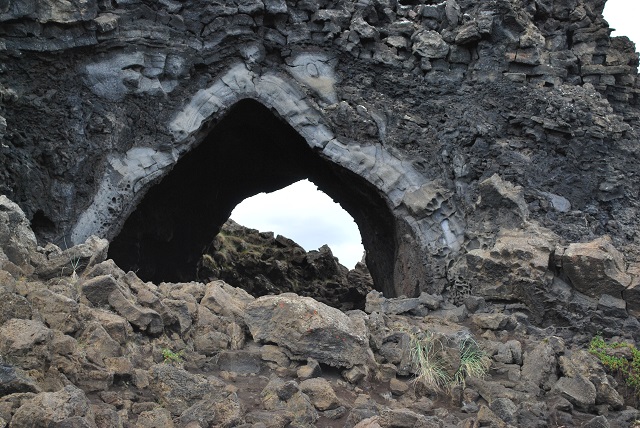 What you see above is the rock cave but formed out of volcanic activities. This natural attraction in Iceland is again not far away from Mývatn Lake. You can see several craters that have long since ceased to be even lukewarm. To reach the craters, you need to hike for a couple of hours.
Longest Lava Tube, Iceland

You wonder what a lava tube is? Here, have a look at it.
That long conduit is not in Iceland but Hawaii. I just wanted you to know how a lava tube would like so that you don't refuse your guide suggestion to see one of the lave tubes during touring of the Mývatn Lake region.
Hike to Viti Crater, Iceland

A caldera is a natural water body formed in a crater. The Viti crater is quite large with a 1000 feet dia.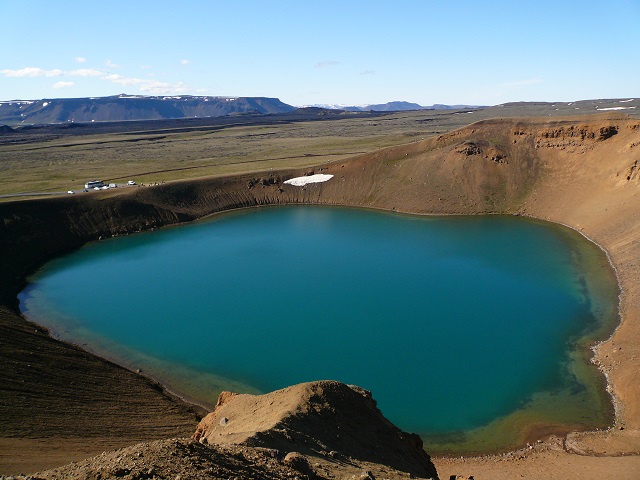 The blue color, the large vista of wilderness and the calmness surrounding the crater is contagious. Don't you think you will feel sheer elation having seen absolute natural beauty?
Leirhnjukur crater Hiking Trails, Iceland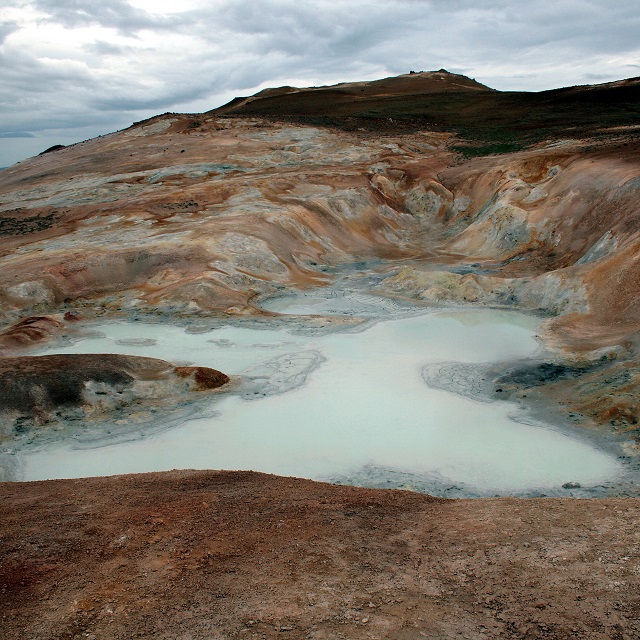 During the winter months, trekking is the most pursued activity and that is made memorable with so many craters, calderas, and fjords beckoning us. All these natural sights are possible only in Iceland. Other countries may boast of such attractions but not all of them in one place.
Dettifoss waterfall, Iceland
View a full screen version.
Did you hear your own audible gasp? I am sure the entire route to this magnificent waterfall of Iceland must be scenic.
Goðafoss waterfalls, Iceland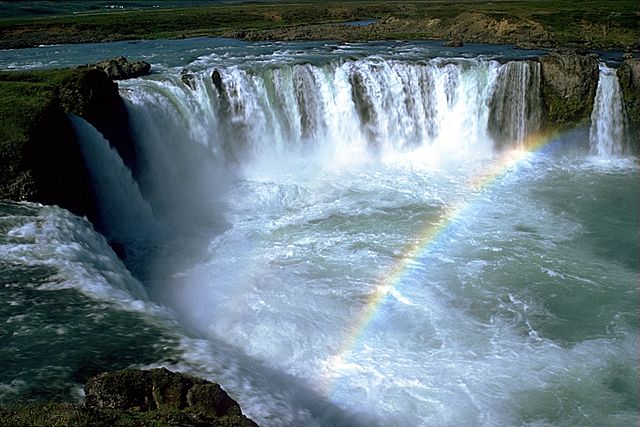 Fed by the Skjálfandafljót river in Iceland, it certainly beat all my visualization of this magnificent and thundering waterfalls. Surprisingly, the spectacular water falls from a height of about 40 feet only but the width is about 100 feet wide. It can be a fantastic sight to watch either from the base or from the top, near its rim.
Snæfellsjökull Hiking Trails, Iceland

It is a stratovolcano that is said to be 700k years old and its peak is situated at an elevation of 4750 feet! However, there is absolutely no sign of a volcano that existed here. It is because its last eruption was in, (can you guess, boss) 200 AD. It may be very difficult to reach up to the peak but still, one can hike at least for an hour or so to take the breathtaking view of Iceland's countryside.
Búðarhraun lava field
If you have not ever seen or gone near a volcanic area, this might interest you. It's a lava field meaning, the ground had been eroded by the molten lava long ago but still, one can easily identify the region as a lava field.
Djupalonssandur Beach
As you can see, it's a black sand beach due to volcanic activity. This scenic black beach is located on the Snæfellsnes peninsula.
Vatnshellir Lava Tube, Iceland
It's a lava cave formed over 8000 years or so. You have to descend through a staircase with the help of a guide.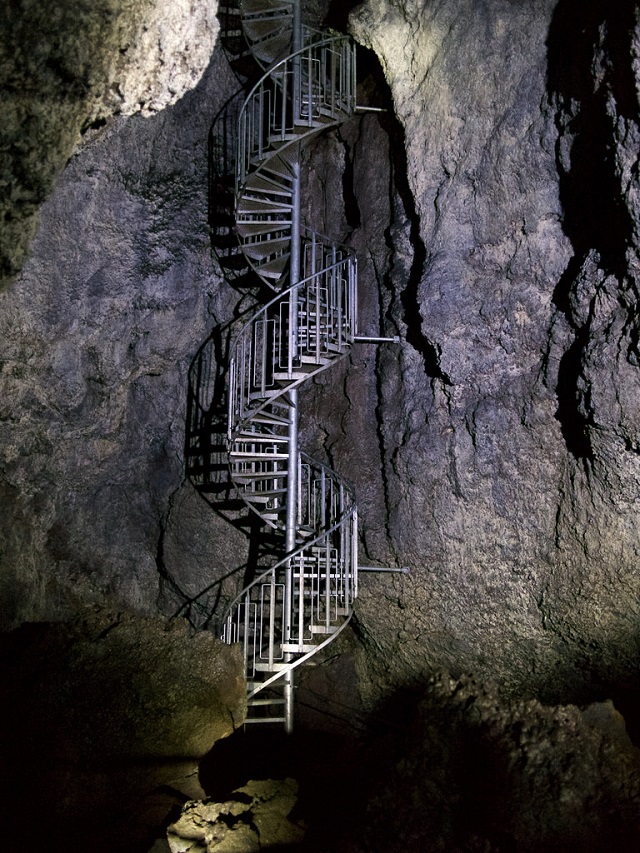 You will land on the earth some 200 meters below from where you started your descent.
Thingvellir National Park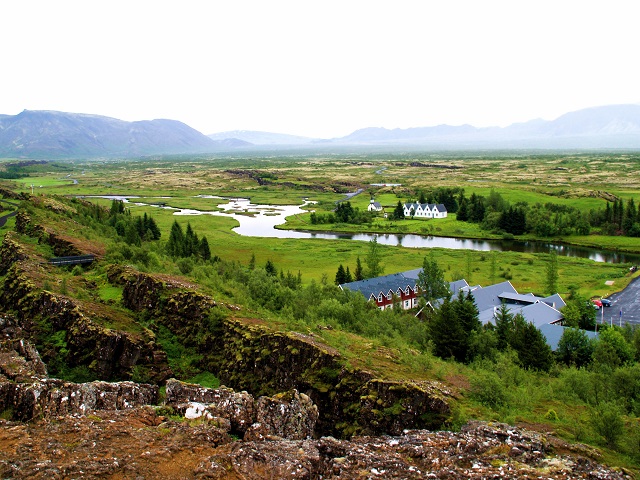 This beautiful stretch of rugged terrain is a pet child of UNESCO. It is where Iceland's parliament Alphing is located from the 10th to 18th centuries. That's a big tourist important landmark in Iceland.